Privateer Profile: Ben Evans
Ben Evans is in his second season as a pro, and he decided to jump up to the 450cc class outdoors. National number 42 is no small feat, but he hopes to do better this year than last. He's a nice guy, he's still really young, and he has a lot of potential, so we grabbed him up for this week's Privateer Profile, presented by Shoei Helmets.
Racer X: You raced supercross this year on an RM-Z250 for the BBMX team, but they don't race outdoors, so did you know from the beginning that you wanted to race outdoors and that you'd have to find a way to do that?
Ben Evans: I kind of knew it was coming because it was a supercross-only contract anyway. It made things pretty simple. Then I got hurt – had some injuries – so I just started trying to get ready for outdoors after I hurt my shoulder at Anaheim 2. It kind of made the switch a little easier. It's a bummer. Obviously, no one likes to be hurt, but I thank Butler Brothers for giving me the opportunity – it's just a bummer it didn't work out better, you know?
That's kind of the nature of our sport, though, isn't it?
Yeah, that's how it goes sometimes. It's cool, though, because I have a good relationship with the TiLube guys since I did my first supercross season with them, and they kind of made a bigger effort with Nick Wey during the supercross season, and it was kind of a tough situation because he was bouncing back and forth between factory Kawi and them, so some sponsors were happy about it and some weren't, and I think they were planning on a full year with outdoors, too, and Nick is one of the top riders and he was bringing in some sponsorship money himself... But the point is that they still had some funding and they had the semi and all the stuff, but didn't have a rider or quite enough money, so it worked out well that I was able to jump in with them and get some help from them.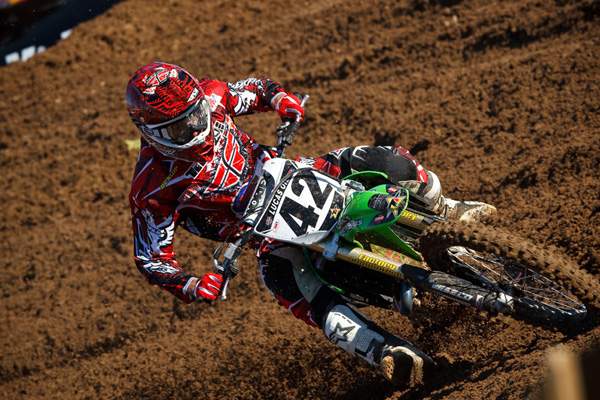 Simon Cudby Photo
But that had to happen at the last minute because Wey didn't even know he was going to have the factory gig until barely a week or two before Hangtown...
I'll be honest, man, it's been stressful. I was hurt and didn't make much money during supercross season, and I just tried to do what I could. I got bikes from my local dealership – Carl's Cycle Sales – and I was just running the thing [a KX450F] bone-stock, man. I didn't have suspension or anything, and I was amazed at how good the bike actually works – how fast they are. I think they're set up for Intermediate/Pro level riders pretty well, so I just kind of took it a day at a time. I was probably going to get some help from Allan Brown doing my motors anyway, and I talked to Factory Connection, and they did my stuff in supercross, so they were willing to help me out, and things just slowly came together. I was getting sponsors here and there, and Fly was going to back me for outdoors – and I've been with them pretty much my whole life. It just fell together right before, and TiLube was like, "Hey, you can use the motorhome, if you want to take that to all the nationals. We'll give you like 3 grand in gas money for now and see how things are going at Millville, then go from there."

You have a built-in hotel room, so that's nice...
Yeah, it's cool. That's the plan right now. Maybe we'll be able to run with the semi if things go better, but we don't know for sure yet. I made the switch to the 450 class, and I'm national number 42, which nobody really seemed to notice too much in supercross, because I only raced the first couple.
I rode the 2010 Kawasaki KX450F at Pala at the press introduction last fall, and I have to say that it's a pretty great bike. It's powerful, handles well...
It really is. I was impressed. I've never been able to hop on a bike and just haul rear on it like that without doing suspension or anything at all. It was set up really, really good – it's plush, but it doesn't bottom very easily, so it can take the big landings. I was impressed, and I think it's one of the fastest out of the box, so as a privateer, that always helps, you know?
Tell us about how Hangtown went for you.
I had some highs and lows at Hangtown. I had some good laptimes and stuff, and in my second moto, I was right there with some of the top-10 guys and was in there with the team guys, but on the last lap of the first moto, my chain came off my countershaft sprocket – I landed on the brakes and I don't know if a rock got in there and popped it off or what. I was somewhere in the teens at the time, and I ended up like 28th or something. I didn't even really check. I was just frustrated about it. But that's motocross. Then the second moto, I crashed in the second turn and came from last to 22nd. I was on the charge, and I was punting people off the track as I was going forward. I had good laptimes, but I didn't have any finishes to show for it, so it's kind of a downer, too. So Hangtown wasn't the best, but you always try to pull the good out of the bad – get those golden nuggets.

You seem big for a 250F, even though you say you don't weigh that much. The 450 must be a bit better for you, though, isn't it?
Yeah, I'm like a buck 68, but I'm a smoother kind of rider, so maybe the 450 is a good switch for me. I felt good in the second moto and was charging the whole time coming from the back, so that was encouraging. You always have a little bit of nerves coming up to the bigger bikes because the bike's a little heavier and more powerful, and the track was really rough, so it was encouraging to me to know that I'm fit enough to do that. Hopefully, that will pay off later in the year on some of the rougher tracks. I'm excited about it, and we're just going to try and get a good start and see what happens.
The fields are so deep right now that the starts are probably 90-percent of it. Even if you are fast enough to run up front, it seems unlikely that you can catch up from way behind. If you start in front, though, a guy like you can probably hang there.
Yeah, so that's kind of my gameplan. I'm really going to focus on starts and burn some clutches up if I have to. You're right, that's what it's going to take. I was battling with Nick Wey, and Short was right in front of me, and Grant Langston was right behind me in the first moto and wasn't really pulling up on me – and I was like 20th or something. I'm like, "This is ridiculous. I'm battling with factory dudes!" They weren't getting away from me, either. It's just kind of where they started, too. Short slid out and he only caught up to 15th. He was just ahead of me when my chain came off. The 250F class was kind of like that last year, too.
This is your second full season in the nationals, right?
Yeah, this is my second go-around.
So, to jump up to the 450 class, that's pretty gnarly.
Yeah, I don't think any class is easy now, but it's fun, so that's why I'm out there doing it now.
Who would you like to thank?
I'd like to thank TiLube, Carl's Cycle Sales, Brown Motorsports, Fly, DRD, Dunlop, Wiseco, RK/Excel, Factory Connection, EVS, DT1 Filters, Scott Goggles, Vortex Sprockets, Icon1 Agency, Truth Soul Armor, Kreed, Alpinestars, PanicRev, my family and my girlfriend, Julie.