MX Legend Doug Henry Comes to Extremity Games 5
Mount Pleasant, MI – 4-time AMA Motocross Champion, and multiple X Games medalist Doug Henry will be joining fellow Adaptive Motocross racers at the 5th annual Extremity Games (eX5) this Memorial Day weekend, May 29, 2010 at Baja Acres in Millington, Michigan.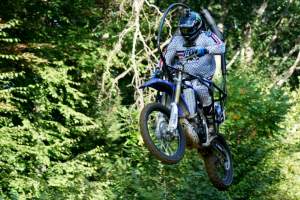 Known to many as a legend of motocross, Doug Henry has been riding and racing in Adaptive Action Sports events since a crash that left him paralyzed in 2007. Since then, Henry has been finding ways to do what he loves most, while recovering from his back injury. Most recently, Henry won a bronze medal in the Adaptive Snocross race during the 2010 Winter X Games.

"The exposure from Extremity Games and Adaptive X Games has opened a lot of eyes, and has given guys, like myself, an opportunity to do what we love to do", says Henry.

Extremity Games, in partnership with Adaptive Action Sports, not only awards and recognizes exceptional athletes competing with limb loss or limb difference, but also serves as a qualifier for the Moto X, Super X Adaptive races at the ESPN® Summer X Games 16. The Super X Adaptive Finals will be televised live on ESPN in late July/early August.
Henry went on to say that he is excited to come out and watch the athletes complete, as well as hanging out with fans and fellow racers. "I think there is some sort of bond for someone who's been injured and still wants to do what they love to do", says Henry. "I hope to get some inspiration from these guys, and inspire some of them at the same time."

To find out more on Extremity Games, visit www.exremitygames.com

About Extremity Games
Extremity Games is organized by the Athletes with Disabilities Network (ADN). Established in 2009, ADN's mission is to promote a better quality of life by creating opportunities for athletes with physical disabilities. ADN organizes Extremity Games, as well as Athletes with Disabilities Hall of Fame, which recognizes and honors men and women who have overcome physical challenges to become elite athletes and superior role models. See more at www.extremitygames.com.

About Baja Acres
Baja Acres is a motocross track in Millington, Michigan focused on providing a safe, fun, and challenging environment for all motocross athletes. Moreover, with quality service and innovative ideas, Baja Acres hopes to increase recognition and growth for racers and the motocross industry. For more information on Baja Acres, please visit their website at www.bajaacres.com.