Monday Conversation: Eli Tomac
GEICO Powersports Honda's Eli Tomac just made a huge splash at Hangtown. The 17-year-old rookie, in his first-ever pro event, led both motos, and although a fall relegated him to third in the first moto, he didn't let that happen again in the second one. He won the overall with a 3-1 score. We caught up with him in the rig after the race, still looking a bit stunned.
Racer X: The last time we talked, you said you were hoping for a top-five this weekend, so what were you thinking when you were actually out front?
Eli Tomac
: The first moto, I was pretty shocked, and the rookie kind of came out of me, I guess. I got a little nervous and I was a little tired, too. But I don't think my mistake was because I was tired. Coming out of the turn, it bucked a little bit, and my front end was weighted weird, and there was a little rut going into the corner and I just dumped it over.
You were up quickly, though.
Yeah, luckily my bike stayed running, and I was able to just jump right back up.
Yeah, my heart rate went through the roof when I fell. I think I had a couple seconds on them, so that helped.
But did it kind of blow you up for the rest of the race?
Yeah, I was totally physically done when I got up from that. My elbows were probably dropping down and everything...
And this was a cool race, as far as temperature, but it's going to get hot, right?
It's going to get hot and gnarly for sure in Texas, so...
Going into the second race, you had to kind of know that you had the speed because you just led the previous race, so what were you thinking about before that moto?
I don't know, but I was kind of bummed out that I got a mid-pack start in the second moto, but we got the red flag, which was lucky for me, but obviously I never like it when someone crashes and gets hurt. You don't like to have that stuff happen, but it did help my race out because it gave me another shot at the start. The second start worked out, though, and I came out second and tried to put on a smooth pace and tried not to wear myself out too much.
And that was it?
Yeah, that was pretty much it from there on [laughs].
Your teammate Trey Canard wasn't that far back, and he stayed pretty much the same distance the whole time, so a mistake or two and he'd have been all over you.
Yeah, I actually started getting a little bit nervous about Trey about halfway through because I started to feel it a little more – getting a little tired – and I made a couple mistakes, but we were kind of yo-yoing each other ever lap, so once I kind of knew we were staying the same, I settled in.
When you knew you were going to win the moto, did you also know you were going to win the overall? Did you sort that out in your head?
Yeah... I don't know if I knew for sure, but I had an idea...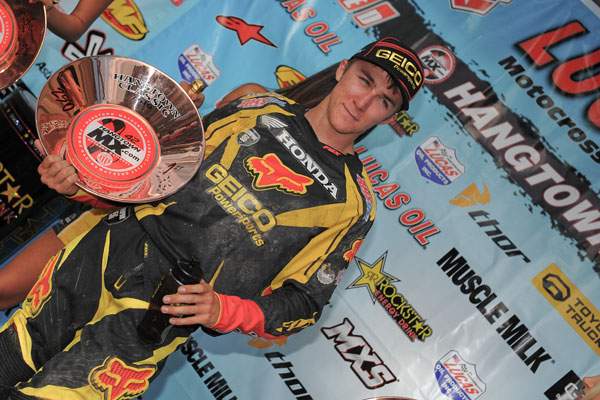 The rookie,
Eli Tomac
.
Photo: Steve Cox
What did your mom and dad do when you came in after winning an overall at your very first AMA National? I'm pretty sure James Stewart is the only rookie to have ever done that...
My dad really hasn't been talking that much – he's pretty much in shock – and my mom's been making rivers with her tears, so that's about how it is for them...
It's probably going to take you a few days to sort out what just happened, huh?
It definitely hasn't set in that I got the overall and all that. I was almost more stoked for my first moto, emotionally. It was almost like I was a different person in that second moto.
Do you have a plan in place to try not to let yourself get too overwhelmed putting pressure on yourself after this?
There hasn't been too much talk about the championship or anything, but everyone around here is super-calm, so that makes me more calm. We're just going to go race-by-race.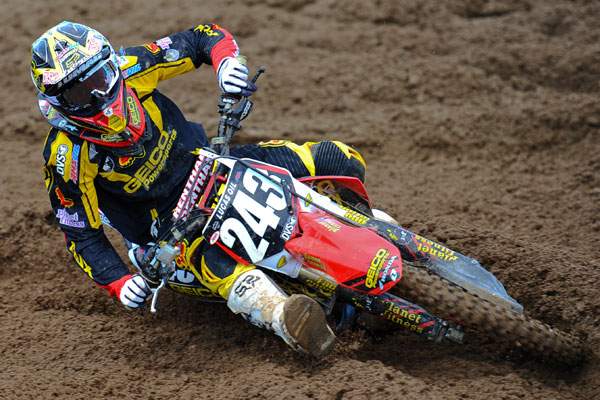 3-1 on the day for the overall win in your first pro national, not bad at all.
Photo: Steve Cox

That's a good idea, but sometimes it's easier said than done...
The series is long, though.
Yeah, that's true. You've got 22 more motos yet to run.
Yeah, that's a lot.
When we talked a little while ago, you said you had a series of goals, and the first one was to be in the top five, and then you hoped to win one by the end of the year. Well, you won one already, so mission accomplished. What do you do for goals now?
I'm just hoping for top-threes! And actually, if you get top-threes every race, a lot of times you'll win the championship, too. So hopefully I'll just get top-threes for the rest of the season.
Congratulations, Eli.
Thanks!