Monday Conversation: Chad Reed
Chad Reed was lucky in 2009 that Mike Alessi got hurt. How often do you read that as you surf around the internet? Well, after the worst supercross season in Chad Reed's career, the birth of his first child, and the lost of a great friend, the Monster Energy Kawasaki rider started out his championship defense with a win at the Hangtown MX National, round one of the Lucas Oil/AMA Pro Motocross Championships. We caught up with him after the race.
Racer X:
I talked to you two days ago and you were talking about Hangtown, and you said you just wanted to get solid points... Then you go out and get the holeshot and you just going to go ahead and win. What's that about?
Chad Reed
: Yeah, like I said, I wasn't downplaying it or anything like that. I'm not somebody that tries to do that. I just felt that the last two weeks have been so hectic for me, on a high and a low. I've spent more time over the last week on an airplane than I have on a dirtbike. Between Vegas and here I only rode one time – it was crazy. I was optimistic about just coming in and trying to put it on the podium and survive this one and not let anything happen like it did in Supercross. I just tried to put myself in a good position to go from here. We've got a two-week break and it's going to start getting hot and nasty and the season will really start. That was really it. So to come out here and holeshot the first one – which felt awesome – it was actually just really, really easy out there. I just rode around and watched Davi, watched Alessi and JG battle... I was kind of laughing to myself about that, actually. Once I was out front, I pretty much used the whole race trying to find some lines, just trying to be comfortable, and as it turned out, I needed those lines in moto two. It was awesome to get a first moto win, though.
Did you wish it was hotter?
Yeah, I mean just because of the fact that when it's hot it's nasty and it's a little more brutal it separates riders more, but the track was tough today. It was really rough. It's not my favorite track – not even in my top five, and maybe not even in my top ten – so to come here and to win a race and to win the overall, it's quite an amazing feeling. As soon as I saw Alessi out front [in moto two], I knew the race win was out of the question because, from my experience with the first moto, it was just so easy to be out front and leading. So, you get somebody that's talented and can lay down some good laps like Mike, and I knew he was going to be dangerous out front. I had a great start in the second one, though. I wheelied a little bit, but I got caught up with Millsaps on the inside and almost crashed. We tangled bars and I was pretty much in a domino effect, but about halfway through it, I'm like, "To hell with this, I'm just grabbing a handful and taking people down with me. If I'm going down, people are coming with me." It was pretty sketch and pretty scary, but we pulled through.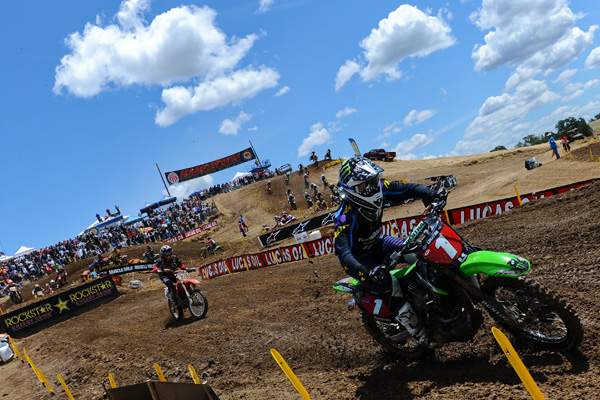 Steve Cox Photo
I had heard somebody else say they wanted it to be hot – Tommy Hahn – and the reason was because he couldn't pass anybody. Nobody seemed to get tired or wear out all that much.
Dude, it was gnarly. I mean, the track was pretty brutal – I wouldn't say the track was smooth or on the easy side at all. I think it was a pretty interesting track as far as being rough. I'm not a fan of [the 450s] being the first moto, though. I mean, I understand why we go first, but I absolutely hate it. I hate being the little bitch that has to go out there and ride when it's all wet like that. Normally, that's what the rookies and the Lites guys are for [lauhgs] – you know, go out there and clean it up for us.
Yeah, you did that for one whole season...
We're doing some serious cleaning up out there, and that's probably my weakest point – and it was last year, too, but I would say that I was a hell of a lot better this weekend than what I was last year. I think with a holeshot last year, like today, I still would have given up 2-3 positions in the first couple laps, but today I was able to hold it and maintain it. I felt like the pace was quite slow, actually. So, it was a good day for me and I'm really, really happy to end like this. Like I told you during the week, I think we really needed to just go racing and find out where we're at – see what we need to be better at. I think a lot of my feelings from testing and from spending time at home training, it shows that we're in a good, happy place, and it's not always as easy to hit your happy, sweet spot in outdoors.
If you got one day of riding in two weeks, that means you must have done all of your outdoor testing way before that, right?
Yeah, I've been riding outdoors for a while now. Pretty much since the week after Houston I've been riding outdoors and concentrating on that. So, no surprises today. I felt like the last two weeks have obviously been tough, but I knew the last two weeks was going to make it hard. I think I was a little bit under the weather the last few days, and I guess that's part of it. I just wanted to get through this race. I didn't want another Supercross experience. And with the ups and downs I've encountered over the last couple of days, I was so happy to be leading the first moto. Then in moto two, coming through, I was around some really talented, fast guys – JG was right on me, and I'm like, "Ok, we're going to push through to the front," and he didn't end up coming with me, so it was a really tough track. I don't even know where Dungey ended up. I know he was kind of buried in the pack both motos, and it was just tough to come through. To make anything happen, you really had to kind of ride on the edge and, as we all know, I'm not necessarily the best guy at riding on the edge, but today I had to ride on the edge a little bit.
And you could tell it was a hard track to pass on because it took you, I think, three or four laps to pass Kyle Regal, and it's not like he's a slow rider, but I mean, you're the defending champ...
Yeah, Regal and Sipes were actually the two toughest guys to pass. They were really fast in places that didn't make sense how they were so fast and then they were slow where I thought they could have been quite easily a little faster, so it really put me off. One minute, I'd be all over them, and the next minute they'd pull away and I'd be like, "Damn, man, he killed that turn," but then he would be struggling in a nice turn – or at least a turn that I was good in – so I was very opposite to those two guys and it took me a long time to get around them. And Metty was riding really, really well. And those two guys [Sipes and Regal], I'm not talking anything negative on those guys – they were riding really well and fighting for the positions and that's all you can ask. This is why we're in the premier class and those guys are fighting for positions. Same as last year, you've got to be at the front. You've got to get a good start and those first three laps are very important.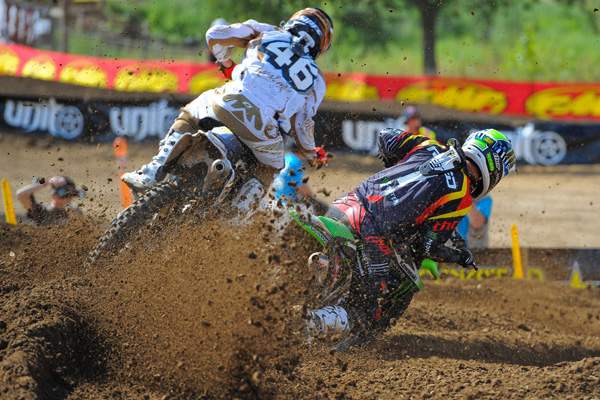 Steve Cox Photo
Obviously, this changes your outlook on the series a little bit, doesn't it?
No, not at all. I want to win this title more than anything.
I meant, do you think maybe it's a little easier than you thought it would have been?
No, it's never too easy. I think Alessi is going to be strong. I think Dungey will come back and have his moments, as well as JG and Short and all those guys. They're all very talented guys and you just got to be there week in and week out. I think if I can get consistent on my starts, then I'll have a great shot at winning motos and overalls. I'm quietly confident with what's happened today and we've got a two-week break and I'm excited for that.
I heard you saying that you won on a real bike today. Was it a little bit of a joke with Mike? He wasn't too happy about it.
Yeah, you know he comes up there all cocky and shit and thinking he won. I don't know, I think obviously a moto win is awesome, but the goal is to win the overall, and he fell short of that, and I don't think he was aware of it. So I just said, get that thing off, let's get the real winner's bike up here. It's all-good. I think the whole 350/450 thing is going to be the new two-stroke/four-stroke thing. I think a lot of people are going to love the 350 and a lot of people, not to say hate on it, but for me, I mean, it's a 450 class. That's why it's the premier class. Ride a real bike, you know? I mean, it's a great bike and it's a great idea, but it's a different idea. A hundred cc's is nothing. Look at Moto GP: They took away 200cc and immediately they were breaking lap records throughout the whole year.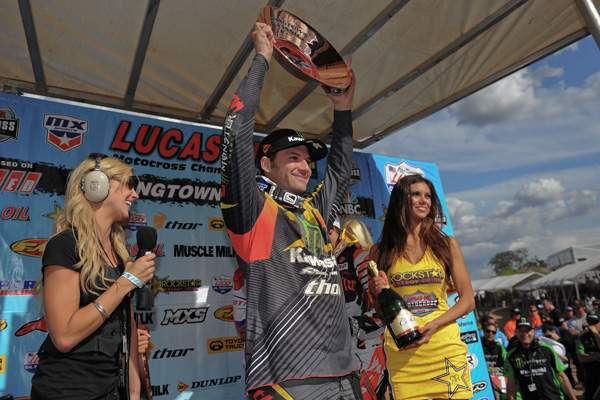 Steve Cox Photo
But you guys could even make your 450s even faster than what they are a lot of the time, right?
Absolutely. Our bikes are very well tuned down. They're obviously quite a lot faster than production bikes, but they're not as fast as what they could be if we were going for all-out horsepower, so 100cc is nothing. I think that he's very competitive, as you saw today. You know, he holeshotted the second one, and I think when the start straightaways are a little bit longer we'll see a little more interesting stuff, like him in the back, and he's a little bit weak coming from the back, so I think it'll be good.