Thursday Rev Up: Hangtown
Hello, everyone, and welcome to the Rev Up. How much difference does a year make? When you think back to this moment one year ago, remember all of the uncertainty surrounding the outdoor nationals? Last summer's 12 rounds of the Lucas Oil/AMA Pro Motocross Championships proved to be one of the best outdoor series we've seen in years. Each event witnessed stellar crowd turnouts and the tracks themselves were works of art that produced astonishing racing action. As we brace ourselves for the second season under MX Sports, a quote comes to mind regarding outdoor motocross in America. "Nothing's changed, and nothing is going to change!" Ricky Carmichael coined that remark after dusting the field at Hangtown in 2004 in his comeback race after knee surgery. Outdoor motocross thrives off a simple formula; only the strong survive, baby! Outdoor moto is the heart and soul of our sport and only the toughest, most fit riders have a chance to make it past venues like Hangtown, RedBud, Southwick and Unadilla. When you think about it, there really isn't any breathing room on the outdoor schedule. Especially when you consider the high-altitude facility at Lakewood, Colorado.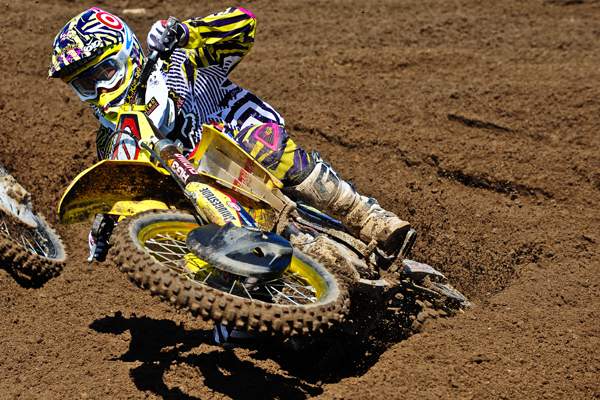 Will Ryan Dungey be able to ride his 450 like this? Probably...
Steve Cox Photo
The outdoor nationals exist as a second chance for a lot of riders. Riders like JGR's Josh Grant, who missed the supercross series with injuries, are counting on the nationals as a platform to put themselves (and their sponsor's logos) back on the magazine covers. How much do you think a rider like Mike Alessi has put into his 2010 outdoor effort? As much prestige and hype follow the 450 class, I think the 250 division carries just as much juice. We've seen a huge influx of young talent in the past few seasons. When you take a look at the lineup for this class, you make it well into the 20s before you stop counting riders with podium potential. I don't think there has ever been a more stacked tiddler class than the 2010 posse.
It all begins this Saturday, with the historic Hangtown Motocross Classic. The openers are always exciting races because of all of the fresh ambition and uncertainty. Everyone (for the most part) is healthy and strong and looking to get the summer started on a positive note. The old saying goes, "you can't win the championship at the season opener, but you could lose it." Last year's championships were decided by consistency and attrition. Chad Reed wasn't the fastest rider in the 450 class, and it would have been interesting to see if Dungey would have snuffed out Christophe Pourcel had the floating Frenchman not shelled a motor at Southwick. The #1 plates will be decided the same way in 2010. The winner has to make it through all 12 rounds with body and machine intact.
I've made the trek all the way across the country to see this one go down and its hard not to knock the keys off my laptop as I type. It's time for the outdoor nationals, Jack! It's time to see and hear some fourth-gear, wide-open, elbow-burying, eye-watering speed! Time to look at 40 fenders spanning the starting line instead of 20. My friends, they make Supercross exciting with lasers, pyrotechnics, and million-watt speakers. When you're standing outside at an outdoor national with a cold beverage in your hand, man, all you need to do is smell the fuel as the pack rides by on their site lap. The first crack of thunder is right around the corner, folks. The outdoor nationals are here.
250
I can't wait to see the lap-times after practice. It's a safe assumption that the top ten won't be separated by more than 2-3 seconds. Will it be Barcia or Pourcel with the fastest time? Will it be Jake Weimer, or hard-charging rookie Dean Wilson? The best thing about it is, it doesn't matter! One lap in a 30-minute-plus-two-lap moto is just that: one lap. To win an outdoor moto in this group, you have to sprint from the drop of the gate all the way through the checkered flag. Every corner of every lap offers potential to gain or lose time. The aforementioned Pourcel and Weimer should stand atop the heap, but should one of those guys get a poor start, well, there are literally 20 guys that can beat them.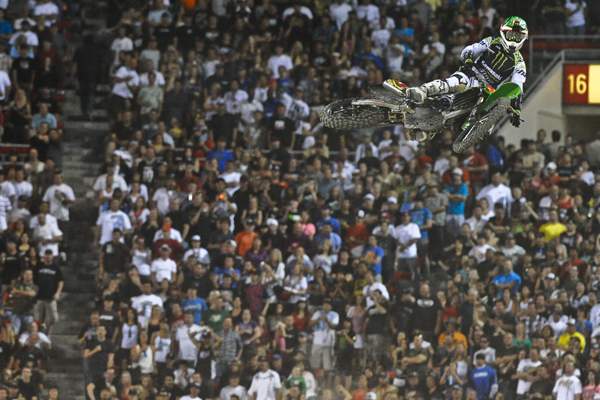 Will Jake Weimer be able to ride cool and collected like he did in Vegas? Probably...
Steve Cox Photo
What kind of sophomore series will the amazing Justin Barcia have? He opened up the outdoor season in 2009 with a 15-second lead, then settled into an up-and-down summer that peaked with a lone win at Southwick. I think he'll win at least three times this summer. And how about that? Another new outdoor season and another new name thrown into the professional fire. Grant, Canard, Barcia, and now Eli Tomac will make his pro debut. How fast is young Tomac? We'll find out when he pulls one of the holeshots this weekend. The new guys always do.
For the win this weekend, I'm going with Weimer. He isn't an outdoor specialist, yet, but I saw him ride with a coolness at Vegas that I think will carry into the outdoors. His teammate, #337, will follow him home, while it will be Trey Canard earning the RC Hard Charger award coming through the pack both motos.
Dark horse: Blake Baggett. Ryan Dungey had the fastest 250cc bike in 2009, and I'm not sure but I bet the cylinder on Blake's machine may have a "#10" etching on it somewhere.
450
For once, it's easier to pick the champion in the 250 class than the 450 bunch. Wow, this is one big, giant mess! Chad Reed will take a green #1 to the outdoor nationals for the first time since Jeff Emig did it back in 1998. Remember, RC never ran his. How Reed became the 2009 450 champion is quite the story. The moto winners of the first three rounds (Villopoto, Grant and Alessi) were mostly injured by the time Reed won round four at High Point. "Two-two" pretty much points-raced his way the rest of the way in. Chad is very smart and consistent. I wouldn't be surprised to see Reedy begin and end the 2010 series in similar fashion.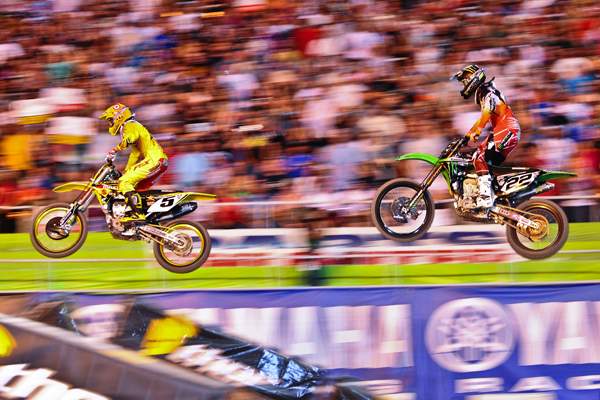 Will Dungey lead Chad Reed home at speeds like this? Probably...
Steve Cox Photo
So, who is going to win the season opener? Ryan Dungey is. I think that Josh Grant and Mike Alessi will pull the holeshots, but neither one of those guys are ready to go 30+2. Grant has been training like an animal, and I'm sure Alessi will show up looking like a "Navy Seal" again, but they haven't been racing. There is something to be said for seeing gate drops, and Dungey finished off the SX season two weeks ago with an old-fashioned woodshed-whoopin'. He'll win his first 450 outdoor national in his first attempt. But boy, oh boy, are we going to see some bar banging!
I think the podium will be RD5, #800, then Reed. Rounding out the top five is Grant, Davi Millsaps, and Steel City winner Tommy Hahn.
Dark horse: I actually have two with Ben Townley and Kyle Cunningham. BT101 was one of my favorite riders a couple seasons ago and I'd like to see him get off to a good, safe start. Cunningham is a great outdoor rider and if he can get out of the gate and keep it on two wheels he could top five or better.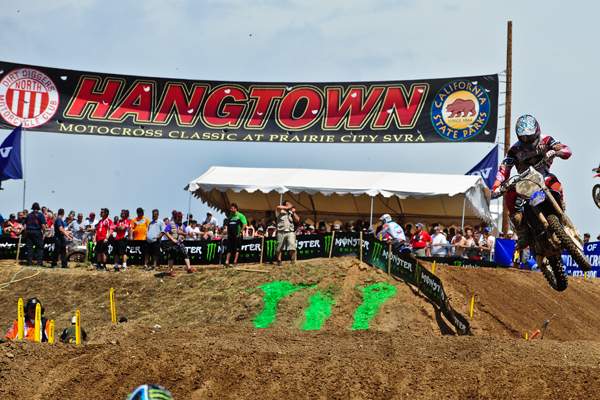 Will Josh Grant be fast at Hangtown? Probably...
Steve Cox Photo
Throw in the factory Honda boys, Josh Hill, Grant Langston, Brett Metcalfe, and about a dozen other mega-fast guys, and I think we are going to see some incredible racing all summer long.
Man, I am fired up! I'll be at the track all day Saturday, so follow me on twitter at @Hattica77. I'll be making the rounds at all of the haulers and running around the track during the motos like a crazy man. I can't wait to hear that first drop of the gate. That cacophony that only 40 finely tuned dirt bikes can make. Who is going to be straight legging it, WFO around the first corner? Who is going to be strong enough to charge all the way to the checkers! It's going to be good, folks!
Thanks for reading, see you next week.