Shoei's Privateer Profile: Jimmy Decotis
Privateer Jimmy Decotis popped onto the scene seemingly out of nowhere during the Lites East SX Series this year, even recording a top-five finish. He has high hopes for this year's Nationals, too, and finished a strong third at last weekend's World Four-Stroke Championship at Glen Helen behind team riders Tyla Rattray and Max Anstie. We caught up with him this week for a Privateer Profile.
Racer X:
You turned some heads during supercross, so we wanted to catch up with you about the nationals coming up. What have you been doing since supercross ended?
Jimmy Decotis
: After supercross, I went home for a week and hung out with my family and got stuff handled back home, and then I came back out to California and went back out to Ryno's [Ryan Hughes' place] and I've just been training ever since, trying to get my bike dialed in for outdoors. I think I'm in a good spot considering how much testing I can get done as a privateer. I'm sure if I was on a team, I could get some more stuff done, but with where I'm at with money and everything, I'm on the best equipment I can get right now and I'm looking forward to Sacramento.
Have you raced the nationals before?
Yeah, last year I did the last four nationals after Loretta's, and I think my best finish was a 14th at Budds Creek in the mud. I've had a couple top-20s in the nationals, but I think if I can keep working, I can get up into the top 10 and we can see how it goes from there.
How are you outdoors compared to indoors?
I think I'm about the same. Last year, I was always lacking on the endurance part of it, so that was kind of tough for me, because I was always up there with speed, but halfway through the moto, I'd start fading. But I think I've got my stamina down this year, because I was fading all the time last year, and this year I'm doing good. I did that race at Glen Helen last weekend, and I've been doing good. I feel like my stamina's there, and I feel like my speed's there, I've just got to keep working and try to progress at every round.
How was that race last weekend?
That race was good. I got two thirds – [Tyla] Rattray and [Max] Anstie beat me. They were pretty far ahead; I think they got away like 20 seconds each moto, but it's a long track there, and it's a long moto, so I think if I can just pick up the pace a little bit, I can be right up front.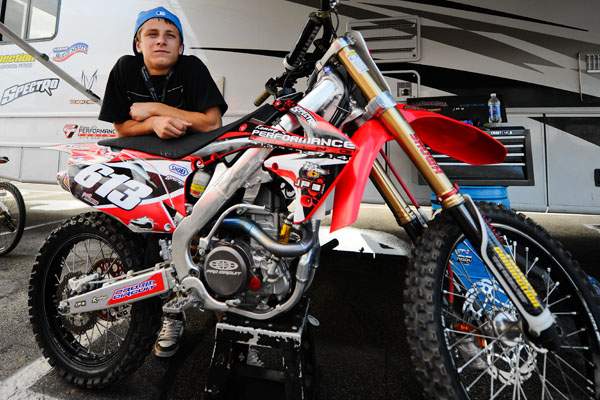 Steve Cox Photo
Your starts are going to matter a lot, too, aren't they?
Yeah, absolutely. I actually got the holeshot in the second moto there last weekend, so my starts have been going pretty good. I've always been pretty good at starts, so that could be an advantage for me, along with being in shape. I'm looking forward to it.
Since you're from the Northeast, are you a Southwick guy? Do you go fast there?
Yeah, that's my track. When
Southwick
comes around... I can't wait for that race.
So, everyone's in trouble come Southwick?
I'm hoping I can say that, but last year I said that and I think I went like 31-21 or something, so it didn't work out too good last year.
Last year was pretty crazy with all of the rain and stuff, though...
Yeah, I rode Press Day on Friday there last year, and I felt really good. We did times compared to the year before in the dry practice, and I was right up there with everyone, and I rode a couple of Wednesdays before the race with a couple of fast guys, and I was right on pace. But then the rain came, and I don't know what happened after that.
So, for the nationals, are you still going to be rolling to the races in the motor home with your dad?
Yeah, pretty much, but my dad flies to all of them. He's factory, and I'm driving the camper to all of them. It's pretty much me and my mechanic driving to all of them, and I don't think I'm going to be flying to any of them. I'm just going to take my camper and live on the road, and ride wherever I can ride... If I've got to go from Colorado to RedBud, and there's a track in between, I'll ride somewhere in between and stay in my motor home, and hopefully get a ride. But if not, I'm going to all of them, no matter what I have to do.
That's kind of how it used to be back in the day, with the mechanics driving across the country with their riders in the box van going from race to race...
Yeah, I think that's more fun than anything. You can be based out of one place and fly back and forth, and it's easier to be on a program when you're flying back and forth and you can do your training and everything, but I think being on the road is fun, and it should be a fun experience. I'm looking forward to it.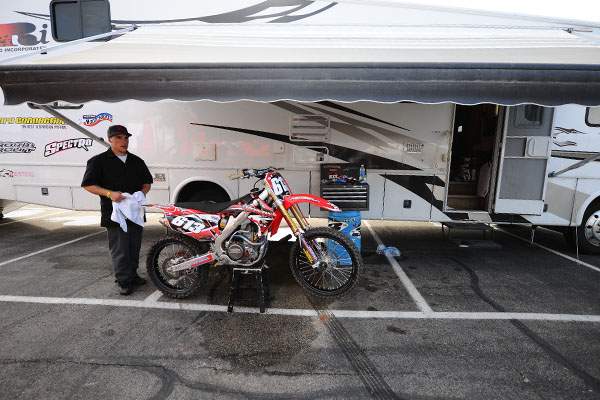 Steve Cox Photo
Can you list your sponsors?
First, my dad has done everything for me, so if it wasn't for my dad, I wouldn't even be close to racing. Then, there's Kenny G's Performance Tuning, No Fear, JP3 Graphics, Pro Circuit, Factory Connection, Scott Goggles, Shoei Helmets, Spectro Oils, Dunlop, Hinson, Renthal and Renegade Fuels. I'd also like to thank my mechanic, Keith, for doing this with me.