By Adam Wheeler

California might be the next location for the FIM Motocross World Championship, but the deep blue Spanish skies over round five of fifteen could rival an American setting as the sun finally bore down on Bellpuig. An eventful set of motos in MX1 and MX2 produced a new winner in the premier class, as LS Motors Honda's Tanel Leok rattled through the deep ruts to go 7-1 while Red Bull KTM's Marvin Musquin inherited the fruits of some technical misfortune on the part of Teka Suzuki Europe World MX2 Ken Roczen to win his fourth MX2 GP and second in a row.

Any international motorcycle sports fan will have heard of Catalunya, the Mediterranean-hugging sliver of land in northeastern Spain. Producer of Pedrosa, Checa, Elias, Bou, Criville, Coma, Gibernau; brands such as Montesa, Ossa and Bultaco; host of the old Barcelona Montjuic road races and home of the Spanish flavor of the FIM Motocross World Championship since the start of the century (the title changed to Grand Prix of Catalunya to reflect the government funds that go into the event).

Leok perhaps deserved his spoils, partly thanks to his magnificent run from seventeenth to seventh in the first moto after becoming entangled in the first corner melee that claimed a number of victims. Making light work of a drying but soft terrain, Leok was part of an interchanging bustle of activity for the lead in Moto 2, from which the '09 Italian GP victor emerged first after Red Bull KTM's Max Nagl had thrown his 450 to the ground twice.

The Estonian chose a slightly harder compound rear Pirelli than his peers, and perhaps the traction suited the unforgiving style of the 24-year-old. Such was the train of incidents and position–swapping in Moto 2 that Leok was still not aware of his overall triumph as he dismounted in the winner's circle.

That Honda was able to toast its first podium result this season at all was partly thanks to erring of the previously untouchable KTM pair. Nagl had run away from the rest to take Moto 1 with Yamaha Monster Energy's David Philippaerts in second and last week's Portuguese GP winner, Clement Desalle, third. World Champion Cairoli was only sixth after dropping his 350 and then needing to kick his handlebars back into a rideable shape.

Said Cairoli, "I am really disappointed about this GP, especially the first heat. I relaxed too much and lost twenty seconds trying to fix the handlebar. It was a stupid mistake; maybe Spain is not so lucky for me." (Cairoli crashed here in both 2009 and 2006.)

Cairoli powered through from the lower top ten to reach third in Moto 2, but the GP was lost by Nagl as he slipped off twice and crossed the finish line in ninth. "I won the first race very easily, so I knew my speed was good, but I made too many mistakes and pushed too hard in the second moto," said the amiable German. Runner-up was Philippaerts, nursing a sore back through Moto 2 after an awkward landing in the first affair.

Elsewhere, Yamaha Monster Energy Ricci MX Team's Ken De Dycker played an active role in the entertaining second moto after refining his setup and was sixth by the end of the day behind Desalle, who wilted slightly on the works Rockstar/Teka Suzuki in the same hectic race. Kawasaki Racing Team's Xavier Boog was again the star performer for team green, and his confident rise to second place in Moto 2 equals a personal-best GP finish and must represent a career-highlight so far, especially after just five MX1 meetings since moving up from MX2. Teammate Seb Pourcel had an upset in his plans to recover his race speed with a tumble over the first jump during Moto 1. Blurred vision in one eye forced the Frenchman to sit out the rest of the afternoon.

MX2 unveiled another chapter in the Musquin-Roczen duel and picked up where the pair had left off in Portugal the previous week. The world champion Musquin was actually missing from the leaders in Moto 1 after running into Zach Osborne on the second lap. The adroit Roczen, one year and fifteen Grand Prix on from the event at Bellpuig (just his second) where he fought with Anthony Boissiere for MX2 garlands, was superlative in his relegation of Steven Frossard and Jeffrey Herlings to break the KTM vice on MX2 for the first time this year in Moto 1.

Musquin and Roczen departed alone in Moto 2 after escaping a first-corner pileup seemingly started by Frossard losing his rear wheel on the freshly watered terrain and collecting CLS Kawasaki teammate Jeremy Van Horebeek, Roczen's teammate Arnaud Tonus, and Jeffrey Herlings, among others. As in Portugal, the leaders kept each other close company, but with seven minutes remaining, Roczen's Suzuki developed an electrical fault and he rolled to a halt.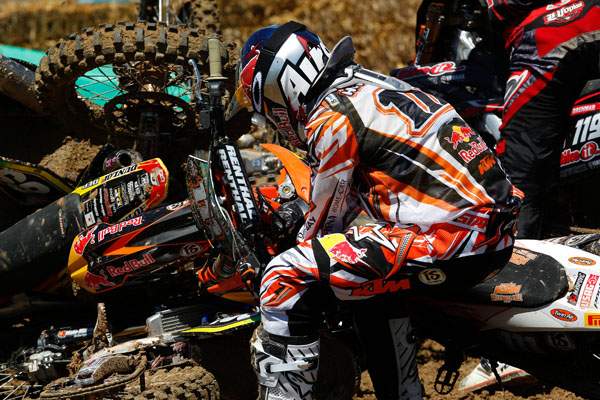 Herlings was left in a first turn pileup.
Photo: Ray Archer

"It was good to be in second place in the second moto. I was just waiting," said the 16-year-old Roczen. "I knew I could go faster and I was not at 100 percent. I had a really good feeling, and I knew I could pass Marvin, but then we had some problems with the bike. I will remember the first race!"
"I am disappointed for Ken, but this championship will be interesting. I think Ken was faster this week," Musquin sportingly said.

Fifteen-year-old Herlings would crash again and retire in the second moto, but other KTM riders were prepped to star. Shaun Simpson owned a race-long dispute for the last step of the podium and in sixth. Behind the returning (from a broken leg) Yamaha Monster Energy's Gautier Paulin was HM Plant Red Bull KTM's Jake Nicholls, with personal best moto and overall finishes. Belgium's Joel Roelants claimed his first podium of '10 in MX2 with a second in Moto 2 and second overall.

After the first third of the championship, Cairoli and Musquin both hold advantages of at least one moto over their nearest rivals in the MX1 and MX2 categories, respectively. KTM still dwarfs the competition in all three classes thanks to its six-man-and-one-lady (Steffi Laier) factory team. Four wins from five in MX1 and three from five in MX2 tells the story.

The Americans had problems this weekend. Michael Leib was desperate to compete but was clearly in no condition, with his broken wrist, to tackle the Bellpuig bumps. Billy Laininovich's comeback lasted all of six laps before a fall over the rollers following the first corner saw him trudging away holding his wrist - according to the team, though, he suffered a fracture to his third vertebra. Jimmy Albertson's season took a hit when he was struck by an extremely apologetic and worried Nagl in the slime of Saturday's shower-hit heat race and suffered a dislocation of his left shoulder. The 21-year-old explained that the limb was eventually reinserted and the ailment was relatively pain-free, giving the Missourian hope for an appearance at Glen Helen.

Zach Osborne came through the MX2 class in full health, but the same could not be said for his motorcycle. The Bike-it Cosworth Yamaha spat a main bearing while the 20-year-old was holding third place in the second moto, and team manager Steve Dixon was swift to absolve British motorsport engineering pioneers Cosworth of any blame. Osborne adopted a fine English term for his missed opportunity, as his top three pace should easily have delivered a podium if he hadn't kissed the dirt twice in the early phases of Moto 1 and then run out of luck in Moto 2.

"Gutted. That's the only word I have to describe the day," he said. "In the first race, I made two mistakes, which effectively cost me the podium. At least that's what I thought - if I could have finished third in the second moto, I would have made it. I lost the front end going down the hill and Musquin came down underneath me and I ended up piled on top of him. I know I have the speed and the fitness, and the results will come. Sometimes things aren't in your control."

With the unrelenting Icelandic volcano already affecting travel plans once more for some of the paddock, Osborne was lucky to be flying via Madrid to Atlanta on Monday and will represent the USA's best chance of a home-country hero come Glen Helen in two weeks.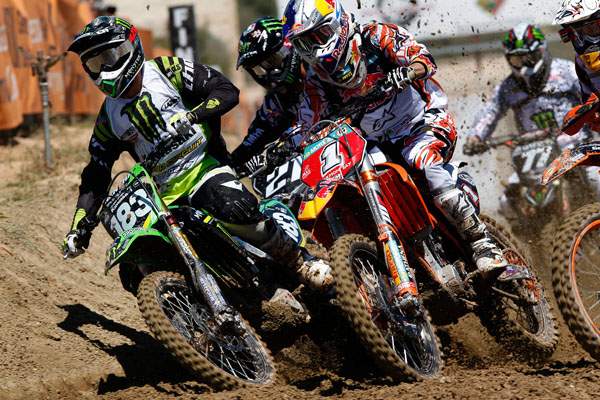 Marvin Musquin was again on top in the MX2 class.
Photo: Ray Archer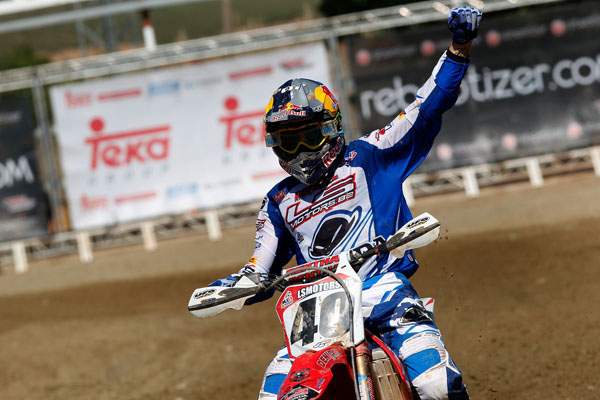 Tanel Leok went 7-1 on the day for first overall.
Photo: Ray Archer

MX1 Moto1

1. Max Nagl (KTM); 2. David Philippaerts (Yam); 3. Clement Desalle (Suz); 4. Anthony Boissiere (TM); 5. Evgeny Bobryshev (Hon); 6. Antonio Cairoli (KTM); 7. Tanel Leok (Hon); 8. Ken de Dycker (Yam); 9. Nicolas Aubin (Kaw); 10. Davide Guarneri (Hon); 11. Kevin Strijbos (Suz); 12. Alvaro Lozano (Yam); 13. Xavier Boog (Kaw); 14. Josh Coppins (Apr); 15. Steve Ramon (Suz); 16. Rui Goncalves (KTM); 17. Cedric Soubeyras (KTM); 18. Matteo Bonini (Yam); 19. Günter Schmidinger (Suz); 20. Filip Neugebauer (Kaw);
MX1 Moto2

1. Tanel Leok (Hon); 2. Xavier Boog (Kaw); 3. Tony Cairoli (KTM); 4. Ken de Dycker (Yam); 5. David Philippaerts (Yam); 6. Clement Desalle (Suz); 7. Steve Ramon (Suz); 8. Kevin Strijbos (Suz); 9. Max Nagl (KTM); 10. Evgeny Bobryshev (Hon); 11. Gareth Swanepoel (Hon); 12. Rui Goncalves (KTM); 13. Josh Coppins (Apr); 14. Anthony Boissiere (TM); 15. Cedric Soubeyras (KTM); 16. Alvaro Lozano (Yam); 17. Julien Bill (Apr); 18. Filip Neugebauer (Kaw); 19. Kevin Wouts (Kawa); 20. Matthias Walkner (KTM);

MX1 Overall Result

1. Tanel Leok (Hon); 2. David Philippaerts (Yam); 3. Max Nagl (KTM); 4. Tony Cairoli (KTM); 5. Clement Desalle (Suz); 6. Ken de Dycker (Yam); 7. Xavier Boog (Kaw); 8. Evgeny Bobryshev (Hon); 9. Anthony Boissiere (TM); 10. Kevin Strijbos (Suz); 11. Steve Ramon (Suz); 12. Josh Coppins (Apr); 13. Rui Goncalves (KTM); 14. Alvaro Lozano (Yam); 15. Nicolas Aubin (Kaw); 16. Davide Guarneri (Hon); 17. Gareth Swanepoel (Hon); 18. Cedric Soubeyras (KTM); 19. Julien Bill (Apr); 20. Filip Neugebauer (Kaw),

MX1 World Championship standings after 5 of 15 rounds

1. Tony Cairoli (214); 2. Max Nagl (198); 3. David Philippaerts (171); 4. Clement Desalle (158); 5. Ken de Dycker (145); 6. Steve Ramon (144); 7. Xavier Boog (136); 8. Tanel Leok (135); 9. Evgeny Bobryshev (106); 10. Davide Guarneri (84); 11. Josh Coppins (78); 12. Sebastien Pourcel (75); 13. Kevin Strijbos (70); 14. Gareth Swanepoel (67); 15. Anthony Boissiere (62); 16. Jimmy Albertson (59); 17. Jonathan Barragan (56); 18. Manuel Monni (46); 19. Marc de Reuver (40); 20. Rui Goncalves (38);


MX2 Moto1

1. Ken Roczen (Suz); 2. Steven Frossard (FRA, Kaw); 3. Jeffrey Herlings (KTM); 4. Gautier Paulin (Yam); 5. Joel Roelants (KTM); 6. Shaun Simpson (KTM); 7. Marvin Musquin (KTM); 8. Jeremy van Horebeek (Kaw); 9. Jake Nicholls (KTM); 10. Harri Kullas (Yam); 11. Valentin Teillet (KTM); 12. Zach Osborne (Yam); 13. Arnaud Tonus (Suz); 14. Dennis Verbruggen (KTM); 15. Matiss Karro (Suz); 16. Alessandro Lupino (Yam); 17. Nick Triest (KTM); 18. Nikolaj Larsen (Hon); 19. Petr Smitka (KTM); 20. Axel Alletru (KTM);

MX2 Moto2

1. Marvin Musquin (KTM); 2. Joel Roelants (KTM); 3. Alessandro Lupino (Yam); 4. Shaun Simpson (KTM); 5. Jake Nicholls (KTM); 6. Harri Kullas (Yam); 7. Jeremy van Horebeek (Kaw); 8. Valentin Teillet (KTM); 9. Dennis Verbruggen (KTM); 10. Gautier Paulin (Yam); 11. Steven Frossard (Kaw); 12. Hugo Dagod (FRA); 13. Nikolaj Larsen (Hon); 14. Matiss Karro (Suz); 15. Arnaud Tonus (Suz); 16. Ceriel Klein Kromhof (Yam); 17. Aleksandr Tonkov (Suz); 18. Axel Alletru (KTM); 19. Augusts Justs (Hon); 20. Khounsith Vongsana (TM);

MX2 Overall Result

1. Marvin Musquin (KTM); 2. Joel Roelants (KTM); 3. Shaun Simpson (KTM); 4. Steven Frossard (Kaw); 5. Gautier Paulin (Yam); 6. Jake Nicholls (KTM); 7. Jeremy van Horebeek (Kaw); 8. Harri Kullas (Yam); 9. Alessandro Lupino (Yam); 10. Ken Roczen (Suz); 11. Valentin Teillet (KTM); 12. Jeffrey Herlings (KTM); 13. Dennis Verbruggen (KTM); 14. Arnaud Tonus (Suz); 15. Matiss Karro (Suz); 16. Nikolaj Larsen (Hon); 17. Hugo Dagod (KTM); 18. Zach Osborne (Yam); 19. Ceriel Klein Kromhof (Yam); 20. Aleksandr Tonkov (Suz);

MX2 World Championship standings after 5 of 15 rounds

1. Marvin Musquin (218); 2. Ken Roczen (192); 3. Jeffrey Herlings (184); 4. Steven Frossard (165); 5. Shaun Simpson (138); 6. Arnaud Tonus (130); 7. Jeremy van Horebeek (128); 8. Zach Osborne (123); 9. Joel Roelants (118); 10. Harri Kullas (109); 11. Jake Nicholls (104); 12. Christophe Charlier (81); 13. Dennis Verbruggen (79); 14. Alessandro Lupino (70); 15. Matiss Karro (53); 16. Nikolaj Larsen (45); 17. Valentin Teillet (38); 18. Gautier Paulin (29); 19. Mel Pocock (29); 20. Petr Smitka (29);

WMX Overall Result

1. Stephanie Laier (KTM); 2. Livia Lancelot (KTM); 3. Larissa Papenmeier (Suz); 4. Natalie Kane (KTM); 5. Elien De Winter (KTM); 6. Marielle De Mol (Yam); 7. Chiara Fontanesi (Yam); 8. Maria Franke (KTM); 9. Justine Charroux (Yam); 10. Elin Mann (KTM);

FIM Women's Motocross World Championship standings after 3 of 7 rounds

1. Stephanie Laier (145); 2. Livia Lancelot (120); 3. Maria Franke (103); 4. Natalie Kane (102); 5. Larissa Papenmeier (99); 6. Chiara Fontanesi (98); 7. Marielle De Mol (75); 8. Elin Mann (72); 9. Elien De Winter (70); 10. Nicky van Wordragen (54);