By: Joe Colombero

Monster Energy Kawasaki's Ricky Dietrich became the first 2-time victor of the 2010 WORCS Series by winning round five in Honey Lake California on May 16th 2010. Dietrich, who also won round three at Lake Havasu, took the holeshot and lead the entire two hours. "It was an almost perfect race for me," said Dietrich. "We chose the correct set-up, the Kawasaki was perfect, and I got a good start and just rode a hard pace. This was a real technical off road race and I've never won here before. I always liked it here, but I really like this course now."

The technical Honey Lake course featured rocks, mud, dust, trees, waterfalls and chutes with lap times at just under 10 minutes for Dietrich.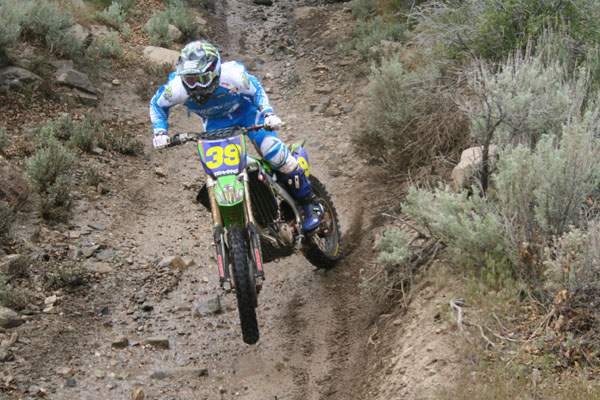 Ricky Dietrich is now one point back from Caselli for the championship
Photo: Joe Colombero

Following Dietrich across the line was FMF/KTM/Muscle Milk's Mike Brown. Brown gated fifth worked his way up to second by the second lap and began to close on Dietrich, coming to within five seconds of the leader late in the race. However, Brown was unable to close in from that point and had to settle for second. "A good race for sure," said Brown. "I would've liked to have caught Dietrich, but he was riding well and I hit a rock and bent my front rotor and lost my front brake, so I couldn't charge the downhill's as fast as I needed to. Still, another second place and a 2-3 finish for KTM is a pretty good day."

Taking third was Brown's teammate Kurt Caselli. Caselli gated mid-pack and, as is his habit, charged through the pack and into third late in the race. "My plan is to stay on the podium," said Caselli. "But I need to start better and be up front to win more of these in the second 1/2 of the season. This was a great course today, fun, tough and fast. It looks like it's going to be between myself, Dietrich and Brown for the Championship so the next five races are going to decide it all."

Fourth place fell to the hard-charging Justin Soule with Robby Bell fifth, Kevin Rookstool sixth and JCR Honda's Colton Udall with a personal best (for the WORCS Series) seventh place. Brendan Ritzman finished eighth with Bobby Garrison ninth and Motocross legend John Dowd taking the 10th spot in his first ever WORCS event.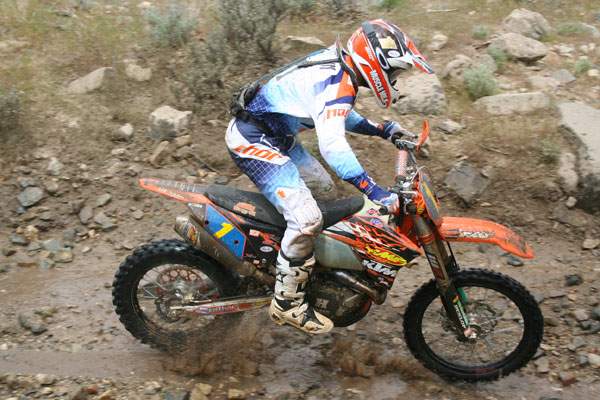 Mike Brown is in 3rd place for the championship.
Photo: Joe Colombero

Caselli sits atop the points chase with 107/1 win via a very consistent 3-1-3-2-3 record. Dietrich is just one point back with a 5-3-1-3-1 record for 106/2 wins. Brown stands third in points with 92/1 win via a 2-21-2-1-2 record, the only blotch coming from what was basically a DNF in round two when Mike's tranny broke late in the race. Justin Soule sits fourth with 83 points and Colton Udall, working hard towards a one-digit number in 2011 sits fifth in points with 60.