Larsen and Arbon win in Australia
Pro Lites and JDR Motorex KTM team rider PJ Larsen has taken out the fourth round of the 2010 Rockstar Energy Drink MX Nationals while Kawasaki Racing Team's Luke Arbon has won the Under 19's class.

As qualifying got underway it was Serco Yamaha rider Ford Dale who qualified fastest, less than a second ahead of teammate Kirk Gibbs and Larsen.

Dale, Larsen, and Gibbs were all out to a strong start in the first moto when the race was red-flagged - when racing continued it was the same three riders out in front and when the two sessions were combined, American rider Larsen came out on top, followed by Dale and Gibbs.

In the second moto, Larsen took the holeshot however he was soon overtaken by veteran of the sport and purple-haired Kim Ashkenazi (Suzuki) who was followed by Kawasaki Racing Team's Cody Mackie.

The three did battle until Mackie crashed and in dropping back through the field he let a number of riders slip by including JDR Motorex KTM's Ryan Marmont and Kawasaki riding 'privateer' and former Champ Luke George.
Larsen was out to a massive lead and despite a valiant attempt to reign him in by Marmont, he was too far ahead, forcing him to settle for second ahead of George.

In the third and final moto it all came together for Dale, with the Queensland local catching and passing Larsen on the first lap and holding onto the lead until the chequered flag, with Larsen taking second place and South Australian Gibbs forced to settle for third.

In the Under 19's class, despite finishing fourth for the round MX Rad Coastal KTM rider Josh Cachia has retained his massive Series lead, while South Australia's Kawasaki Racing Team rider Luke Arbon celebrated his round win, with an impressive 2-1-3 finish.

Quotes:

Pro Lites - PJ Larsen
"It's been a really good weekend," Larsen said.
"We got four good starts with the red flag in the first moto and we just made it work.
"I'll be sticking around in Australia until after the next round at Raymond Terrace and then I'll fly out back to the US and get three solid weeks of training in.
"After the last round, the entire team wanted to come out here and do well for Andrew and his family."

Under 19's – Luke Arbon
"I feel really good right now!" Arbon said.
"I felt good at Canberra and ended up second there but one more step up on the podium is good and I'm happy.
"I went to hospital at the first round and lost a bunch of points there, but everyone is riding awesomely and it's going to be tough but there are a lot of races left.
"Hopefully I can win a few more – when you win you get more points and that's what I want to do."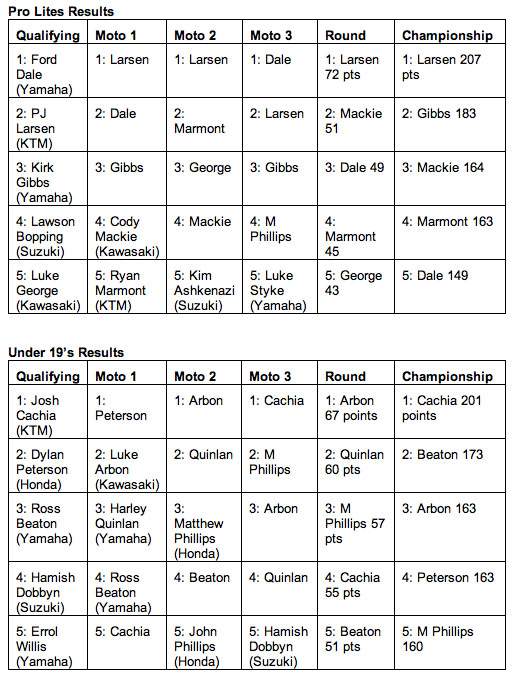 The fifth round of the 2010 Rockstar Energy Drink MX Nationals will be held on Sunday 30 May at MX Central at Barleigh Ranch Raceway:
Located 10 minutes North of Raymond Terrace
15 Killaloe Lane
Eagleton
Located off the Pacific HWY via Italia Road
New South Wales
Admission:
Adult $30
Family (Two adults, two kids) $70
Kids (5-15 years) $15
For more information about the 2010 Rockstar Energy Drink MX Nationals check out www.mxnationals.com.au and www.ma.org.au.

"ROCKSTAR is the world's most powerful energy drink. Enhanced with the potent herbal blend of Guarana, Ginkgo, Ginseng and Milk Thistle, ROCKSTAR is formulated to provide an incredible energy boost for those who lead active and exhausting lifestyles - from athletes to rock stars.

ROCKSTAR ENERGY DRINK is available in thirteen amazing flavours: Original, Sugar Free, Zero Carb, Juiced Mango Orange Passion Fruit, Juiced Guava, Juiced Pomegranate, Tropical Punched, Punched Citrus, Roasted Mocha, Roasted Latte, Roasted Light Vanilla, Cola, and Recovery. ROCKSTAR ENERGY SHOTS are available in Wild Berry and Tropical Punch flavours.

ROCKSTAR ENERGY DRINK is available at convenience and grocery retail outlets across the United States, Canada, Australia, Austria, Belgium, France, Ireland, New Zealand, Japan, Germany, Switzerland, Finland, Spain, The Netherlands, the United Arab Emirates, and throughout the United Kingdom."