Strijbos And Frossard on Pole as Rain Strikes Bellpuig
By Adam Wheeler
The all-American press conference that wrapped-up a crazy day of weather-alternations at Bellpuig for the Grand Prix of Catalunya in Spain was sadly missing the presence of factory Martin Honda rider Jimmy Albertson. The luckless Missourian was struck by the leaders on the first of a triple step-up in the closing stages of MX1 qualification heat and was taken to the medical centre with a dislocated left shoulder and also an injured wrist.
The immensely likeable MX1 rookie had been having a tough time showing his potential in the premier class of the FIM Motocross World Championship and when Martin Team Manager Lorenzo Resta visited the media centre to deliver the bad news there was a collective feeling of disappointment for the 21 year old who now surely remain a doubt not only for Hangtown but also his home Grand Prix.
The three Americans that sat behind a table and spoke at length with the press had varying fortunes across the hard-pack that became slippery sludge after a brief thunder-storm and period of rain-fall throughout the MX1 heat that would even have had Poseidon casting an eye at the skies in concern.
Bellpuig of course has 'previous' as a weather victim. The almost laughable climate (the second moto was cancelled as the start-straight was underwater) of 2008 still fresh for those who felt the Catalan rain again force footwear to carry an unwelcome squelch.
The track had been pleasant all morning, some alterations to the terrain providing slightly more line variation compared to the high-speed trek of old. The rain brought a different test though and after MX1 and MX2 slipped their way through the 20 minute sprint thankfully the dark skies beat a path to another unfortunate location.
After CLS Kawasaki's Steven Frossard had started brightly and earned his first MX2 pole position of the season and then Beursfoon Suzuki's Kevin Strijbos took advantage of two small crashes by Tony Cairoli to earn 1st place in MX1 ("it is so long since I had pole position that I forgot I had to come here", the Belgian said to the press), Zach Osborne (Bike it Cosworth Yamaha), Billy Laininovich and Michael Leib (Bud Racing Rockstar Kawasaki) recounted their Saturday experiences.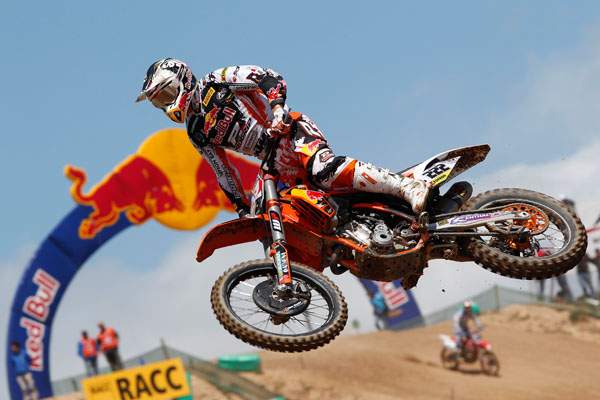 Cairoli placed 2nd for MX1 qualification.
Photo: Ray Archer
There is a feeling of genuine excitement about Osborne. Quick through the day and then third in trying-conditions the 20 year old is pushing closer and closer to the clique of Musquin-Roczen-Herlings. The former amateur ace previewed his race shirt for Glen Helen while revealing he will work out of the Yamaha Star Racing awning in two weeks time. 'My rhythm is getting better each weekend and now I think it is possible to reach the podium. I will feel proud to race at Glen Helen and I know the circuit enough even if I did break my wrist the last time I was there in 2008," he said also commenting that he needs to sort his visa for the Brazilian Grand Prix in his return home.
There was a contrasting situation for his two countrymen. Leib was making his Grand Prix debut with a painful and broken wrist. The youngster suffered some clutch trouble in the gate and then DNF-ed the heat. "I came over about a week and a half ago and had some misfortune on my first day but I am really excited to be here," he said. "I just want to make it through the weekend and get back to speed for Glen Helen; I live about 40 minutes away so it will be a lot of fun."
Billy Laininovich entered a GP track for the first time with the exotic twin cylinder Aprilia and admitted that he might need several months to build back up to full speed after a lengthy absence from racing. "It is a bit frustrating because I only started riding a few weeks ago and have only been on the bike twice," he said. "The motor on the Aprilia is good, it's really strong; the power is a bit different compared to a Japanese bike. I want to get some points if I am honest. I think my last National was two years ago. The guys here are super-fast."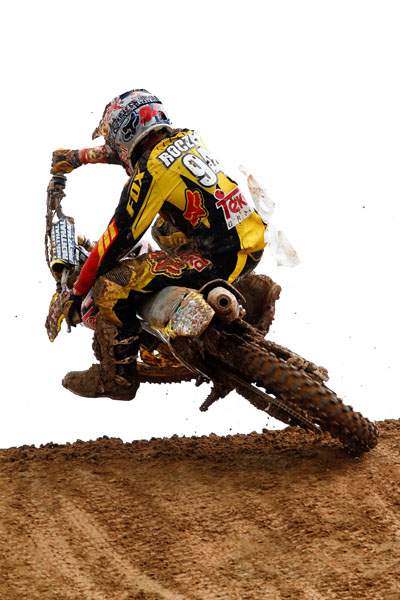 Ken Roczen ended up 8th in the MX2 qualification heat.
Photo: Ray Archer
MX1 Qualification Heat:
1. Kevin Strijbos (BEL, Suzuki), 25:57.676; 2. Antonio Cairoli (ITA, KTM), +0:23.833; 3. Maximilian Nagl (GER, KTM), +0:42.644; 4. Evgeny Bobryshev (RUS, Honda), +0:46.534; 5. Steve Ramon (BEL, Suzuki), +0:52.839; 6. David Philippaerts (ITA, Yamaha), +0:55.773; 7. Tanel Leok (EST, Honda), +1:05.317; 8. Rui Goncalves (POR, KTM), +1:17.426; 9. Clement Desalle (BEL, Suzuki), +1:21.548; 10. Sebastien Pourcel (FRA, Kawasaki), +1:27.341;
MX2 Qualification Heat:
1. Steven Frossard (FRA, Kawasaki), 25:20.034; 2. Jeffrey Herlings (NED, KTM), +0:05.175; 3. Zach Osborne (USA, Yamaha), +0:05.503; 4. Nick Triest (BEL, KTM), +0:18.069; 5. Harri Kullas (FIN, Yamaha), +0:18.442; 6. Jeremy van Horebeek (BEL, Kawasaki), +0:30.038; 7. Marvin Musquin (FRA, KTM), +0:31.954; 8. Ken Roczen (GER, Suzuki), +0:32.271; 9. Joel Roelants (BEL, KTM), +0:35.606; 10. Gautier Paulin (FRA, Yamaha), +0:39.363;