Monster Energy/AMA Supercross Lites West
May 1, 2010 – Salt Lake City, UT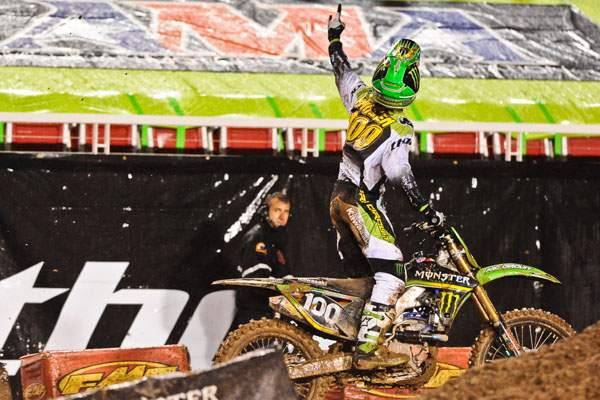 Josh Hansen celebrates his first win of 2010.
Photo: Steve Cox

Monster Energy/AMA Supercross Lites West
Points Standings (8 of 8 Rounds Complete)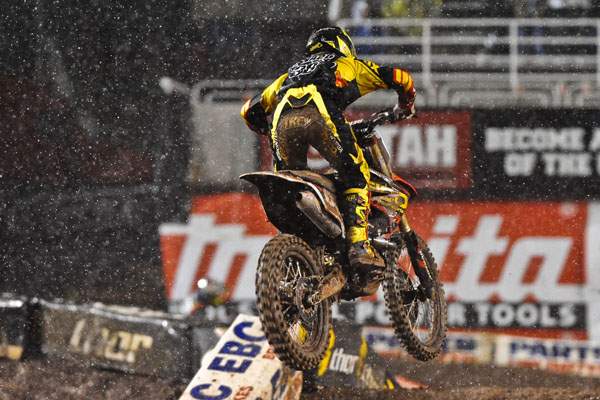 Trey Canard was again on the podium to finish out the 2010 West Lites Series .
Photo: Steve Cox

Monster Energy/AMA Supercross
May 1, 2010 – Salt Lake City, UT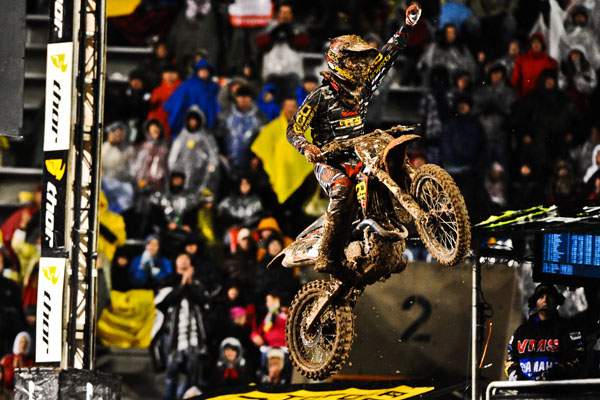 Kevin Windham makes it 2 in a row.
Photo: Steve Cox

Monster Energy/AMA Supercross
Points Standings (16 of 17 Rounds Complete)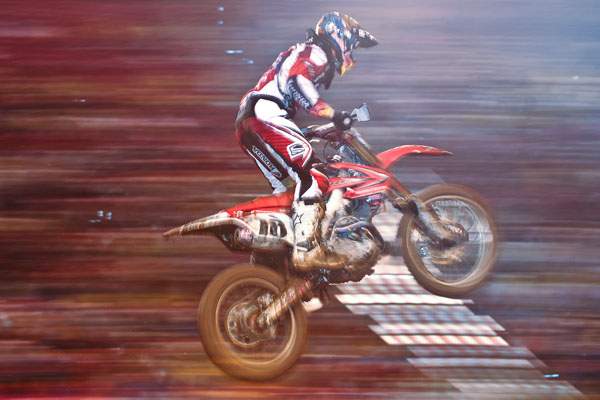 Davi Millsaps was just one of the three Honda's on the podium. Andrew Short was the other.
Photo: Steve Cox

For more information on the AMA Supercross Championship, go to www.amasupercross.com.
Rockstar Australian MX Nationals
May 02, 2010

Due to the tragic accident that took place in practice claiming Andrew McFarlane's life, racing at Broadford did not take place this weekend. The riders decided to give tribute by doing 3 laps of honor around the track for Andrew.

Dutch Open Motocross, Varsseveld, NL
2nd May 2010

Women:
1e moto:
1 Steffie Laier D KTM
2 Maria Franke D KTM
3 Marielle de Mol NL Yamaha
4 Nicky van Wordragen NL Yamaha
5 Marianne Veenstra NL Suzuki

2nd moto:
1 Steffie Laier D KTM
2 Maria Franke D KTM
3 Marielle de Mol NL Yamaha
4 Marianne Veenstra NL Suzuki
5 Shirley Verkade NL KTM

Podium:
1 Steffie Laier D KTM 50
2 Maria Franke D KTM 44
3 Marielle de Mol NL Yamaha 40

Championship:
1 Marianne Veenstra NL Suzuki 154
2 Steffie Laier D KTM 150
3 Marielle de Mol NL Yamaha 148
4 Brenda Wagemans B KTM 127
5 Shirley Verkade NL KTM 117

MX2:
1e moto:
1 Jeffrey Herlings NL KTM
2 Nick Triest B KTM
3 Dennis Verbruggen B KTM
4 Lars Oldekamp D KTM
5 Mike van den Bogaert NL KTM
6 Augusts Just Let Honda
7 Ronnie van Rooij NL Kawasaki
8 Michael van Wezel KTM
9 Maurice Klijn NL Kawasaki
10 Sander van Herpen NL Honda
14 Ceriel Klein-Kromhof NL Yamaha
DNS Roel Roelants B KTM

2nd moto:
1 Jeffrey Herlings NL KTM
2 Dennis Verbruggen B KTM
3 Mike van den Bogaert NL KTM
4 Rinus van de Ven NL KTM
5 Ceriel Klein-Kromhof NL Yamaha
6 Eric Leijtens NL KTM
7 Nick Triest B KTM
8 Nick Kouwenberg NL Suzuki
9 Ronnie van Rooij NL Kawasaki
10 Augusts Just Let Honda
DNF Lars Oldekamp D KTM
DNS Roel Roelants B KTM

Podium:
1 Jeffrey Herlings NL KTM 50
2 Dennis Verbruggen B KTM 42
3 Mike van den Bogaert NL KTM 36

Championship:
1 Jeffrey Herlings NL KTM 192
2 Nick Triest NB KTM 132
3 Joel Roelants B KTM 107
4 Dennis Verbruggen B KTM 104
5 Mike van den Bogaert NL KTM 101

MX1:
1st moto
1 Kevin Strijbos B Suzuki
2 Marc de Reuver NL Suzuki
3 Tom Soderstrom S Yamaha
4 Mike Kras NL KTM
5 Yentel Martens B KTM
6 Tommi Makinen SF Honda
7 Marvin van Daele B Honda
8 Anne Advokaat NL Honda
9 Rob van Vijfeijken NL Yamaha
10 Nicolai Hansen DK Suzuki
15 Kevin Wouts B Kawasaki
DNF Dennis Schroter D KTM
DNS Patrick Roos NL KTM

2nd moto:
1 Kevin Strijbos B Suzuki
2 Marc de Reuver NL Suzuki
3 Tom Soderstrom S Yamaha
4 Yentel Martens B KTM
5 Bart Conen NL Yamaha
6 Mike Kras NL KTM
7 Marvin van Daele B Honda
8 Rob van Vijfeijken NL Yamaha
9 Kevin Wouts B Kawasaki
10 Nicolas Hansen DK Suzuki
DNS Patrick Roos NL KTM

Podium:
1 Kevin Strijbos B Suzuki 50
2 Marc de Reuver NL Suzuki 44
3 Tom Soderstrom S Yamaha 40

Championship:
1 Marc de Reuver NL Suzuki 147
2 Tom Soderstrom S Yamaha 141
3 Kevin Strijbos B Suzuki 124
4 Yentel Martens B KTM 97
5 Rob van Vijfeijken NL Yamaha 93
2010 Belgian Motocross Championship, Beervelde
May 01, 2010

Moto 1

1 RAMON Steve
2 DE DYCKER Ken
3 GUARNERI Davide
4 DE REUVER Marc
5 LEOK Tanel
6 POURCEL Sébastien
7 ROELANTS Joel
8 VAN HOREBEEK Jeremy
9 STRIJBOS Kevin
10 MAKINEN Tommi

Moto 2

1 RAMON Steve
2 LEOK Tanel
3 GUARNERI Davide
4 POURCEL Sébastien
5 DE DYCKER Ken
6 DE REUVER Marc
7 VAN HOREBEEK Jeremy
8 STRIJBOS Kevin
9 VERBRUGGEN Dennis
10 VAN DAELE Marvin

Championship Standings

1 RAMON Steve 50
2 GUARNERI Davide 40
3 LEOK Tanel 38
4 DE DYCKER Ken 38
5 POURCEL Sébastien 33
6 DE REUVER Marc 33
7 VAN HOREBEEK Jeremy 27
8 STRIJBOS Kevin 25
9 VAN DAELE Marvin 21
10 MAKINEN Tommi
Round #2 OMA Nationals Hanging Limb, Tennesse

Pro Class
1 Jimmy Jarrett KAWASAKI
2 Scott watkins KAWASAKI
3 Russell Bobbitt KTM
4 Jordan Ashburn KASASAKI
5 Nick Fahringer HUSABERG
6 Adam Bonneur KAWASAKI
7 Paul Whibley YAMAHA
8 Kennth Gilbert KAWASAKI
9 Chase Bishop YAMAHA
10 Shane Klimek SUZUKI

Pro ATV

1 John Pitts HONDA
2 Aarol Bright KTM
3 Craig Reed HONDA
4 Bryan Hulsey HONDA
5 Glen Vair HONDA