Monday Conversation: Kevin Windham
GEICO Powersports Honda's Kevin Windham had a total of two podiums in 2009 – both third place – but he was never really close to the front-runner's pace. Now, in 2010, the 32-year-old has seven podium finishes, including a streak in the last four races of two second-places and two wins. Things are looking up. We caught him on the phone the day after his second win in a row, as we head into another track where he excels – Las Vegas.
Racer X:
You were talking last week about not being the oldest guy to win a supercross, but you've got to be the oldest guy to win two in a row, right?
Kevin Windham
: [Laughs] I would guess, yeah...
So what's going on with you? Your last four races are two seconds and two firsts...
I think that this entire year, we've been really strong. Unfortunately, I haven't given myself the best opportunity at a lot of those races – poor starts and come-from-behind rides. We've been all over the board all season. We've been strong coming off a really bad 2009 season, and we've got some things worked out and figured out and been riding well, but recently I've just been getting decent starts and putting myself in that position from the get-go.
You and Davi Millsaps went at it on the first lap for a few turns in Salt Lake City, but then you slammed him pretty hard. Were you sending a message that you weren't going to be denied at this race?
We had bumped a little harder than anticipated... Coming out of the whoops, I tried to come up the inside of him in that turn, but it was a lot slicker than I had planned, and also the whoops were smaller and faster than they were in the heat, so I was going faster than I intended to be, and I slid past the line, and he squared under me, and at the end of that little rhythm section, which was basically only four jumps, he singled out but then went outside. That was surprising to me, and I doubled out, which gave me a lot of momentum coming into the corner, and again I kind of locked it up and had full intentions of boxing him out in that corner and getting the lead, but I was a little bit out of control. In the mud, I actually picked up speed when I hit the brakes. That's what it felt like. Have you ever hit the brakes in the mud and it seems like you gained speed?
Yeah, for sure...
Well, that's what happened. I didn't hit him that hard – he didn't go off the track or anything like that – but it was a dogfight in those opening two or three corners because I knew that vision was going to be a huge part of that race, and I really wanted to try to do everything I could to ensure that we had the upper hand in the vision battle. It worked out, and we talked about it, and I think some people wanted to make a bigger deal about it than what it was. He didn't seem to have a problem with it, unless he was just being nice. Everything was really cool, and I'm glad to get up in the front, and I'm glad that all three of us on the podium were on Hondas.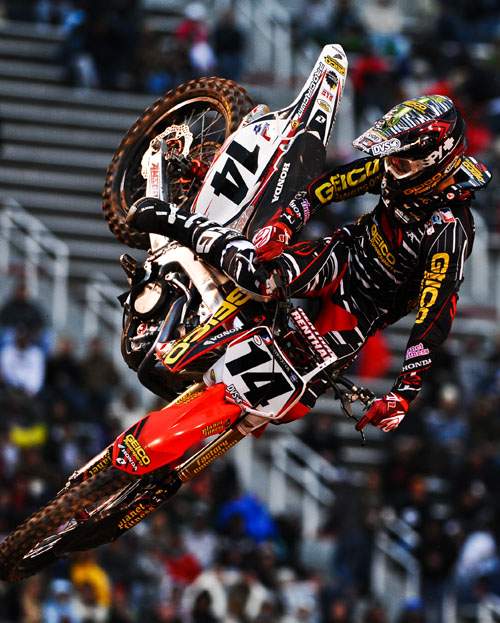 Steve Cox Photo
When you see conditions like that, are you at a point now where you just start licking your chops in anticipation of waxing everyone?
For me, it's nice to go to a race and not have to worry about what it's going to do. Earlier in the day, the track was in good condition and I was in top of the board, so I felt good all day – especially coming off the strong win in Seattle – and I really wasted no energy on caring whether the weather was going to do anything, other than the fact that it was extremely cold. I couldn't believe the fans were sticking around! I guess people from that area are a little more used to it than us southern boys, but it was cold, man! To have them stick around through that was really impressive. I heard a lot of riders comment on it, so it was a good feeling, but I was prepared for whatever Mother Nature threw at us. I have an insanely strong record at mud races, so I was pretty pumped.
Talk about your hands, because just shooting photos at the coldest point of the night, I couldn't shoot for more than about five minutes before I had to put my hands in my pockets and warm them up because they would literally start to hurt. What was it like to be moving at speed through wet air in that weather?
I actually put on a brand-new set of glove right as they had us crank the bikes up just to ensure that they were dry, but that didn't last long with the rain and sleet and snow that was coming down when the gate was dropping. The hands were probably the hardest part of the race – just being able to hang on. There was that deep-down almost hypothermic hurt where you really felt it just deep down, stinging, and not being able to feel much of anything – and I heard a lot of riders talking about that. Several parts of the body really never got warm. We were at altitude, so it was kind of tough on the lungs and really cold, but it was one of those races where you never really got super-warm. I don't even know if we broke sweats. But it was funny to watch the coverage today and see us going into corners and it looks like the bike is smoking, but it's not – you realize that's you exhaling! It's breath. So, it was cold, and really brutal conditions.
Yeah, I have a lot of photos of the exhale fog. You could actually see if riders were holding their breath! Late in the race, you lapped Ryan Dungey, and I'm pretty sure he didn't know you lapped him because he picked it up and almost passed you in the last turn.
Yeah, watching the coverage today, I think at that point, it was pretty late in the race when I went by him – even potentially the last lap.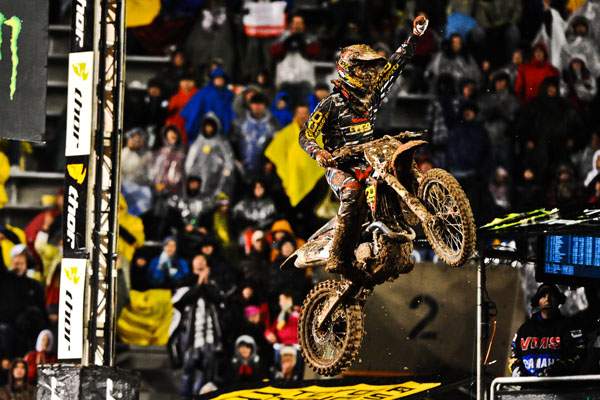 Steve Cox Photo
It might have been earlier than that, but he hung with you...
Yeah, he was right behind me, and I'm waving to the crowd and stuff, and I kind of saw him getting close to me... I don't know. I've been there. Getting the blue flag is not fun. But I know he had some run-ins throughout the day and obviously didn't have the race he wanted to have, but for me, a lot of folks kept asking me, "Why did you go so hard for so long?" And the answer is, in reality, the times that I slowed down, or when I got hung up with lappers or something like that and wasn't able to go at my pace, I felt worse! When I was at speed, I never really made a mistake that was scary, but I did when I had to slow down. Momentum was my friend, and really I just wanted to keep rocking and rolling for fear of slowing down. After the race was over, I took my victory lap and waved to my fans and whatnot, and that was the hardest time I had getting around the track.
I saw you get stuck...
Yeah, I got stuck, and it was just crazy. Momentum was my friend last night.
When you were doing your victory lap, you stopped on the top of a triple and went to throw your goggles, but you dropped them, then you slid down the jump to get them and threw them into the crowd – but then you couldn't get back up the jump back to your bike! That was pretty funny, too.
I fumbled up my victory lap like three or four times. That was by far the worst part of my race! But it was good. I wanted to throw the goggles off because those people just stayed through some crazy conditions. They were troopers.
We're heading into Vegas now, and you've always historically gone fast in Vegas on that dry, slick, blue-groove surface that track normally has, so with two wins in a row going, what are you thinking about this weekend?
Well, I'm thinking that to run this thing out would just be insanely sweet. I don't know if I've ever gone more than three in a row at any age, but I think I may have won three in a row before... I don't want to put the carriage before the horse by any stretch of the imagination, but I'm optimistic. Going into Vegas, I love the town, and I think a lot of times, for me, it's more about the city – more about the town – than it is about the track. We're riding a wave right now, though. Things have been good, and we've made some changes to get myself better starts, and they've obviously been working, so we're not going to be in a mud situation in Vegas and I'm kind of excited about the opportunity as well, because I enjoy winning everywhere, but I don't want to just be the mud guy. But I do do well in Vegas, and I'm looking forward to it. I'm actually going in on Wednesday, so I'll be there for a while. Like I said, I love the town, and hopefully we can finish out on a strong note. Regardless, I just want to have a good ride there. The season's already been a huge success coming off of 2009, but it's another great opportunity, and I'm looking forward to it, so hopefully I can come away with another great ride, and I think that if I ride my best, we have a great shot.
Thanks for calling, K-Dub.
No problem. I'm off to bed now.