Monday Conversation: Jake Weimer
Monster Energy/Pro Circuit Kawasaki's Jake Weimer made good on the promise he has shown the last couple of years by winning the Lites West title, clinching it at the Salt Lake City Supercross. He will run the number 1W alongside his teammate Christophe Pourcel's 1E next weekend at the Dave Coombs Sr. East/West Shootout in Las Vegas. We caught him after the race.
Racer X:
Obviously, last week went well for you in Seattle because you made up so many points and you only needed to finish 15th or better here to clinch the title. But did you still have it in the back of your head thinking, "What if?" especially with the weather?
Jake Weimer
: Nope, not at all. It's racing, and that's the whole point of it, which is that you never know what's going to happen. I didn't feel that way
at all
. Last weekend went really well, and I felt like tonight I rode smart. I didn't need to win tonight – the track was sketchy, and I've got an outdoor season coming up. I did what I had to do. My job tonight was to win the championship, so I did what I had to do. I mean, the goal when I got here was to win, as it is every race, but as soon as I got off the gate, I spun like crazy and got a bad start, and it's pretty crazy how slick it was because people were going everywhere. I got stuck behind [Blake] Wharton and made a mistake, and then I had to roll the finish line, which let Trey [Canard] by me. Things just weren't really jiving, so there was no real reason to try really hard to move forward.
Basically, you took the hint...
Basically, yeah, I just said, "This is all I need to do today, so I'd rather do this and move on to next weekend with the title than to try and be a hero." I have a tough time with that. I think a lot of us do. Our egos get in the way sometimes, and we're like, "Oh, I want to win the race. I want to win the race." That's kind of what happened to me at Anaheim 3, because all I needed to do was do what I was doing, but my ego told me that I wanted to win the race and I ended up making a mistake and falling and throwing a bunch of points away. So, I think that was a lesson learned, and sometimes you've just got to put your pride and your ego behind you and realize what your job is – and do it.
Being that you knew you only had to score six points here to clinch the title, you should've already had a good idea you were going to win the title this weekend, so has it set in?
Yes and no. I mean, I'm sure in a couple days I'll see the plate sitting on the mantle and it will hit me more, but that's really a tough question, because you have so long to think about it... You never know what's going to happen in racing, but I've been very confident with what I've done. Even in the races I didn't win, I was happy with what I did.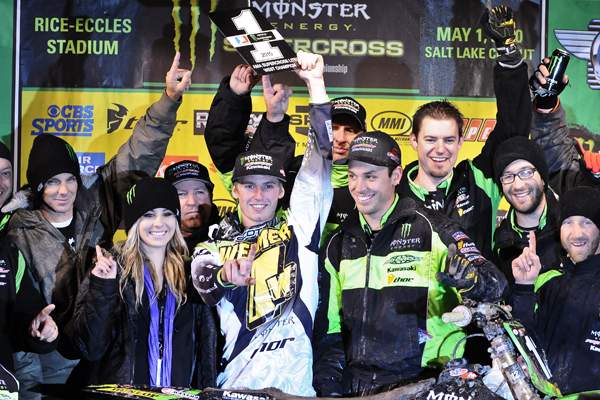 Steve Cox Photo
Except for that one [Anaheim 3]...
But even then! I wasn't mad. I made a mistake by letting my ego get in the way, and I learned from it. I've been very happy, and I've been, for the most part, in control of this series, so I've had a long time to think about it. I'm super-excited, but I'm sure it will sink in even more.
Think back to when you had your first pro season, riding for the Factory Connection team: You were a sixth/seventh/eighth-place guy at the time, and now you're a winner and a champion. Would the Jake Weimer from five years ago have seen this Jake Weimer coming?
I mean, that's the thing, which is that every year I've gotten a little better and a little better, and I've kept working and kept working and kept pushing and kept getting better... Probably not that year, but in '08, I saw that it could potentially happen.
You won the one race at Phoenix that year...
I won the one race, I got on the podium a couple times outdoors, so things were getting better for me, and I could kind of see it then. But before that, it was one of those deals where I might have thought, "Man, I'd love to win a title," but in the back of my head, I don't really know if I thought I ever would. But in '08, that's when I thought, "Okay, I can do this. Keep pushing, keep trying, and keep working hard." Then the next year, '09, I had a title fight [with
Ryan Dungey
] and lost it, but still, at that point it was like, "All right, this is what I'm here to do. I'm here to win titles."
You're moving up to the 450cc class next year, right?
Yeah, I'm out.
So, do you have a contract?
No.
Do you have a letter of intent?
Nope, nothing.
So, you're available. You're on the open market.
I'm available. Give me a call. (Turns to his crew behind him) I'm about to give my cell-phone number out right now! [Laughs] Call Steve Cox, he'll give you my number.
With Christophe Pourcel, Trey Canard and yourself moving up to 450s next year, do you think it's going to be a lot different up in that class in 2011?
I mean, things are going to change a little bit. I think Trey showed that the few rounds that he rode. He made that very clear. Christophe, I think we all know how talented he is. [Ryan] Dungey came in his first year and has done amazing. So, with myself, Trey, Christophe, and who else is moving up?
Brett Metcalfe, I think...
There are enough guys right there – those five guys – every one of us out of those five guys are for sure top-10, and that's being mild. Those are five guys who should get top-10 in the 450cc class, so that's half of the top 10. You never know exactly how it's going to work out, but I'm sure it's going to change it a little bit. It'll be interesting because I think a lot of people stepped up this year, too, like Justin Brayton I think rode really well this year, so you never know. But it will be interesting showing up at Anaheim 1 next year...
On whatever it is you're riding...
Yeah, on whatever bike it is.
Husky? Would you race for Husky?
Next question...
Aprilia?
Next question...
I don't know any other manufacturers since you aren't getting phone calls from the brands that are already here in the USA racing...
Are you done yet?
Yeah, I'm done...
Because your questions are starting to suck.
Yeah, I know. Congrats on your first title, champ.
Thanks!