The Fox Fifty: Georgia Results
Our third featured state of The Fox Fifty was the
Peach State of Georgia
. Not surprisingly, Bainbridge's Ezra "Yogi" Lusk was the clear winner, with the former factory Yamaha, Suzuki, Honda and Kawasaki rider landing 25 percent of your votes. It was a very tight battle for second-place though, with 2000 Western Regional 125cc Supercross champion Shae Bentley edging out race-winner Matt Walker and GP veteran Billy Liles, a member of the legendary "B Team" that won the 1992 Motocross des Nations. And finally, 1986 Eastern Regional 125cc SX champ Keith Turpin, himself a former factory Honda and Suzuki rider, rounded out the top five. Check out the full list of results below: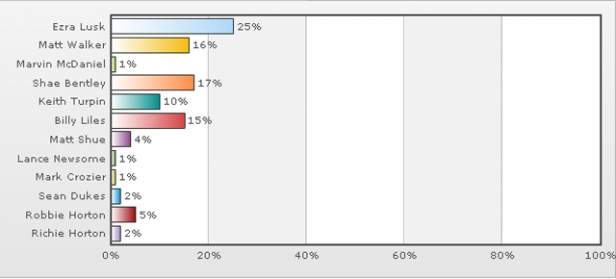 Now, Now, we here at
Racer X
and the guys at Fox collaborated on who we think are the five fastest from Georgia, and they are the same as yours, just in a different order.
1. Ezra Lusk
2. Billy Liles
3. Keith Turpin
4. Shae Bentley
5. Matt Walker
We really enjoy reading all of your feedback, and here's a letter from Jason Mathis:
They left off a bunch of fast guys that were local. Ryan Reynolds, Patrick Hizel, Dwayne Bone and Christopher Bailey come to mind. A lot of these locals could put it on some of the guys on the list any day.


Joey LeDoux had this to add:
A thought on this and who is missing – Mike Crane and Bad Brad Wallace are a couple. Mike did finish 13th in the 125 outdoor nationals in 1984 while being towed to the races in a station wagon by a businessman Teddy Dicks who owned a hotdog stand on the outskirts of UGA's campus. They later moved up to the big-time with a hollow Ford van. At Gatorback that year Mike was promised a night on the town by "Da Bear" (Teddy) if we could score a top 5. I was wrenching at a few of the nationals that year and Mike took 6th at Gatorback on a practically box stock KX125. His rookie year he scored a top 10 in about the 5th national he ever raced.

Bad Brad Wallace should have been the Mike Fisher (test rider) before Mike Fisher came along. He had top 15 and possibly top 10 speed outdoors but never had the equipment to do it with - never had the money to travel more than a few hundred miles to race. He was so punishing on a bike that he could only race on weekends so not to use his stuff up. If any of the OEM's could build a bike to last under him they would last under anybody. He was a John Finkelday, a brute! If anyone wanted to win the state championship it had to go through Bad Brad in the late' 70s! Brad did qualify for the main in his first SX.

William Thomas Liles was thrown to the wolves with Kawi and never got to play like the others on a 125. We trained our butts of in 1983 and 1984 and the guy was in shape. If the rear disk and hub for Kawi that he was running hadn't have failed a couple of motos, he would have been in the thick of things for the title in '84. Also how many guys have climbed out from under a bike in the first turn, been over 30 seconds down from last and come back to win the moto… in the 250 class?!

That wraps up Week 3 of The Fox Fifty. If you want to nominate a particular rider for any of the remaining forty-eight states, email us at
letters@racerxonline.com
.
Stay tuned to Racer X Online tomorrow for the fourth state for The Fox Fifty: Iowa!