Holeshot Magazine Goes Digital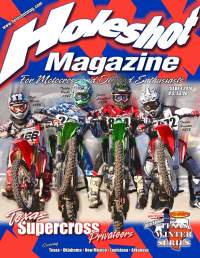 DFW, TX.
- John Willis and the crew over at
Holeshot Magazine
have been doing an amazing job covering Texas motocross for ten years now! Times are changing, and as a way to keep up with demand,
Holeshot Magazine
is now in the process of adding a digital issue to the arsenal of their Lone Star coverage.
"Although digital subscriptions are not being taken just yet, we have posted two past complementary issues for your viewing. Please go check them out!"...Stated John Willis of
Holeshot Magazine
Click this link here.
1) You can then push the big RED button for Issue 1 - 2010
2) You can also click the light blue link just below the big RED button for Issue 5 - 2009
Please review both issues thoroughly, as there are some great coverage, articles, and interviews, inside both issues. Hope you all enjoy!
Digital subscriptions will be available for purchase soon!