Another Grand Prix, another collection of motos, and another set of trophies to weigh the now-heavily-bowed shelving of the Mattighofen offices of the KTM factory. From the MX1 and MX2 classes run at FIM World Championship events in Bulgaria, Italy, and now Holland, the Austrians have swept everything and only conceded one moto from a total of twelve; 250, 350 and 450 SX-F technology laying waste. The KTM marketing department must now be facing as much work and pressure as the factory race team.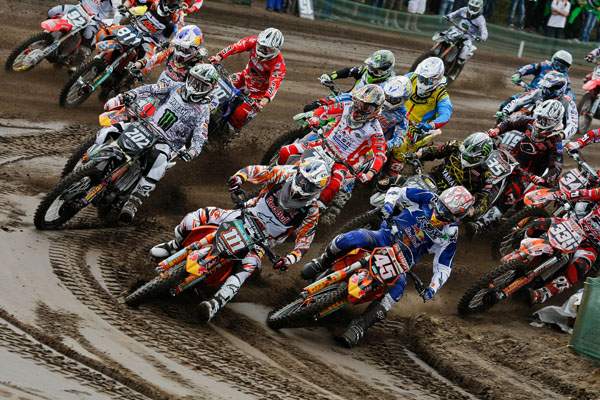 Jeffrey Herlings (111) leads the pack around turn one.
Ray Archer Photo
There was a bold footnote to this particular day of dominance at Valkenswaard, however. Aside from a championship or title, many riders will say that owning their home grand prix or meeting is the next best achievement. With this sentiment, and on this showing at the Grand Prix of Netherlands and the third round of fifteen, Red Bull KTM's Jeffrey Herlings certainly has a long and decorated career to come. The 15-year-old positively obliterated both MX2 motos to earn his first victory at 15 years of age and in only his third Grand Prix appearance; all in front of a busy venue, under hot sunshine, and with the kind of expectation that actually managed to stir emotions in the normally conservative Dutch fans.
Not a boy, not quite yet a champion, Herlings' impact has nevertheless been momentous. Even though perennial runner-up so far this term Teka Suzuki Europe World MX2's Ken Roczen was able to console himself with seizure of the red plate as series leader, the talented German had no answer to the emergence of a new sand master with other tricks up his sleeve. That Herlings and Roczen were untroubled by world champion Marvin Musquin robbed the motos of some drama, but the Frenchman had only himself to blame after perhaps a reckless attempt to claim pole in the last corner during Saturday's Qualification Heat led to a heavy crash that left him groggy and dazed on the floor. A combination of a low gate position, green mesh snared in his rear wheel in moto one (therefore eroding the effectiveness of the brake), physical effects of the spill and another small 'off' in moto two conspired to runs of eighth and fifth, breaking his 100-percent win record and giving Roczen the honor (along with Cairoli in MX1) of being the only rider to maintain a podium streak.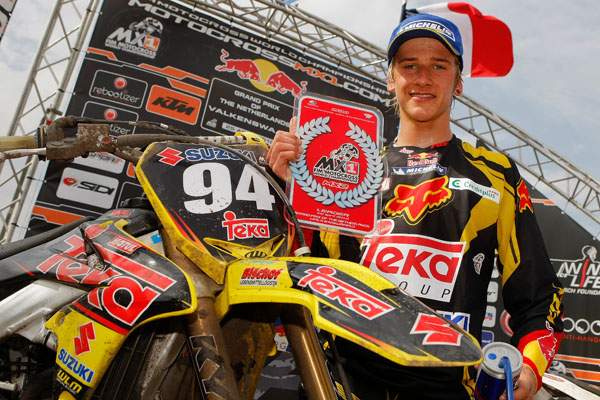 Ken Roczen takes the red plate into the fourth round.
Ray Archer Photo
CLS Kawasaki's Steven Frossard made the box for the second time this season and faced competition from the third member of the KTM crew, Shaun Simpson; the Scot taking a positive third place in moto one at the scene of his first ever triumph here in 2009, and only days before the horrific crash in which he snapped his leg. A dodgy start was Simpson's undoing in the second race and the British Champion still lacks mileage. Other riders to catch the eye included European Champion Christophe Charlier, with some patchy speed in just his third Grand Prix, Jeremy Van Horebeek, and Arnaud Tonus once again.
The MX1 collective actually provided more entertainment on the day, but the headlines for the attendees at the circuit, statisticians (Herlings missed out on being the youngest ever GP winner to Roczen by just 168 days) and hardened GP regulars in the paddock was the achievement of the teenager. "This is incredible and I am still searching for words to explain how I feel," he said after becoming the first Dutchman (only the third this century) to win an MX2 GP since Marc de Reuver ruled Bulgaria in 2006. "It has been a crazy few days. I now know how it feels to win a GP and can learn from the experience."
"I know how the feeling is because I won my home GP last year also. It must be amazing for him," offered the always-open Roczen, aware that KTM has a throttling grip on the series but undeniably one of the main title contenders.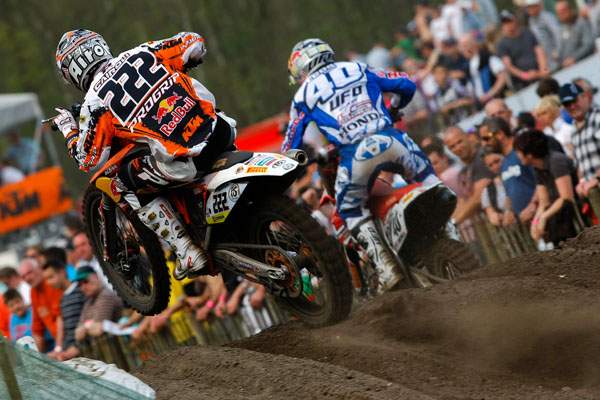 Antonio Cairoli (222) took home his first two-moto sweep of the year.
Ray Archer Photo
Cairoli went 1-1 for his first MX1 shutout on the 350 SX-F. The world champion 'sleepwalked' the first moto while a tussle raged a long distance behind him in which David Philippaerts placed the Yamaha Monster Energy YZ450FM into second ahead of Rockstar Teka Suzuki's Steve Ramon. Ken De Dycker and Max Nagl both suffered small falls while Tanel Leok gave Honda some much-needed presence at the front of the field. Clement Desalle, the only rider to make the finish line ahead of a KTM machine so far this season, did not last eight laps after a crash in the rutty rhythm section led to a dislocated shoulder. The joint was out of place for ten minutes and a scan on Monday for the works Rockstar Teka Suzuki rider will reveal the extent of any damage.
Cairoli was perhaps bored after his first 40-minute 'tour' of the venue and gave himself a harder job in moto two. Three different riders led proceedings, but neither Philippaerts, Ramon or the ripples of the tricky Dutch sand could repress '222' who found time to crash twice but still hunt the Belgian and win with five laps to spare of the nineteen.
"I really liked the second race, not because I crashed but I enjoyed the competition. The first moto was tough mentally because I had a big lead and it was hard to concentrate. The second heat must have been good for the public also," said the number one, who now leads Nagl by 18 points and Ramon in third by a massive 37.
Ramon and Philippaerts made the podium both for the first time this season. Leok, Nagl and De Dycker followed while CAS Honda's Evgeny Bobryshev showed Russia deserves a serious place for consideration on the MX1 leader-board with seventh overall and a stint running in second place during the first moto. The MX1 rookie (after two years of reasonable results/education in MX2) is a friendly, charming and eloquent addition to the group for 2010.
Frustration was an apt and sufficient adjective for Zach Osborne's Sunday. The Bike it Cosworth Yamaha rider is really beginning to find the verve and edge that guided him to victory in Turkey last year and should have been set for a podium result with top-four classifications in Pre-Qualifying, Qualification Heat and Warm-up. The 20-year-old looked sharp and capable on the sand and after two starts in the top five then made two slips on the opening laps that dumped him far back enough in the pack to force a heavy trawl simply to recover reasonable points. Scores of tenth and thirteenth were not was he was expecting. "A huge missed opportunity," he said. "I was really good all weekend but ruined my chances on both first laps. It is tough to swallow after good times all weekend and a genuine chance of the podium, but I will take the positives and that was some good starts and the improvement in my sand riding."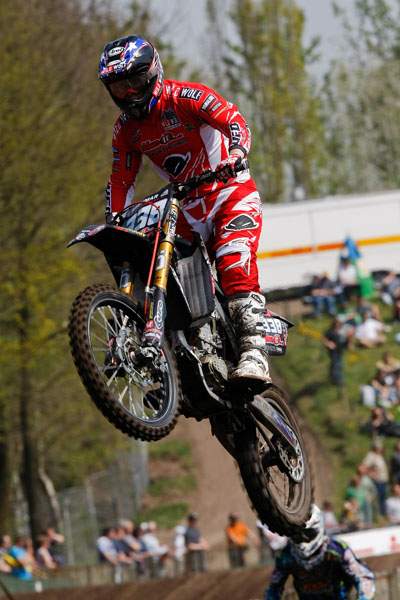 Zach Osborne didn't fair as well as he'd hoped at round three.
Ray Archer Photo
Jimmy Albertson
was another pleased to see an upgrade in his sand capabilities, and eighth overall was a decent introduction to GP pace on the Dutch terrain. The 21-year-old was happy just to be able to hobble from the meeting after twisting his left ankle in the opening thrusts of moto two, where he was close to the holeshot and then rode the better part of 40 minutes with his foot throbbing away. "I got a fourth-place start, went for second, and then came up with Philippaerts," he recounted of his second race. "I knew I could have gotten him, but it would have meant touching him and we both could have gone down, so I cut it sharp and dug my foot into the ground. For a second, I thought, 'I've just broken my ankle.' I could not feel it at first but in the next corner it started to throb and I was going backwards. I decided just to ignore it and put my head down and ride. Overall, it was a good weekend and I'm glad we have next week off to heal-up."
"The track was gnarly, really rough," he added. "Actually, with all the horror stories I had heard I thought it would be worse but man, it was a work-out. The first moto was worse because the track was faster, whereas in the second you started jumping everything and it turned into big rhythm sections. It was fun. Back in the US, sand was one of my weak areas, but working with John Van Den Berk and everybody at Honda it has helped to become one of my strong points. I know this was not a 'true' sand race, but this is sandier than anything we have back in the States so to get two eighth places was really good."
Osborne is currently eighth in the MX2 standings with Albertson hovering in eleventh for MX1.
So now comes another small hiatus with a weekend break before a double Iberian Peninsula header in southern Europe with the Grand Prix of Portugal followed directly by the Grand Prix of Catalunya.
MX1 Moto1
1. Tony Cairoli (KTM); 2. David Philippaerts (Yam); 3. Steve Ramon (Suz); 4. Max Nagl (KTM); 5. Tanel Leok (Hon); 6. Ken De Dycker (Yam); 7. Davide Guarneri (Hon); 8.
Jimmy Albertson
(Hon); 9. Evgeny Bobryshev (Hon); 10. Marc De Reuver (Suz); 11. Xavier Boog (Kaw); 12. Gareth Swanepoel (Hon); 13. Manuel Monni (Yam); 14. Kevin Strijbos (Suz); 15. Tom Söderltrön (Yam); 16. Sebastien Pourcel (Kaw); 17. Rui Gonçalves (KTM); 18. Cedric Soubeyras (KTM); 19. Anthony Boissiere (TM); 20. Yentel Martens (KTM);
MX1 Moto2
1. Tony Cairoli (KTM); 2. Steve Ramon (Suz); 3. Tanel Leok (Hon); 4. David Philippaerts (Yam); 5. Evgeny Bobryshev (Hon); 6. Max Nagl (KTM); 7. Ken De Dycker (Yam); 8.
Jimmy Albertson
(Hon); 9. Josh Coppins (Apr); 10. Gareth Swanepoel (Hon); 11. Davide Guarneri (Hon); 12. Kevin Strijbos (Suz); 13. Sebastien Pourcel (Kaw); 14. Manuel Monni (Yam); 15. Xavier Boog (Kaw); 16. Matthias Walkner (KTM); 17. Tom Church (CCM); 18. Yentel Martens (KTM); 19. Rui Gonçalves (KTM); 20. Günter Schmidinger (Suz);
MX1 Overall Result
1. Tony Cairoli (KTM); 2. Steve Ramon (Suz); 3. David Philippaerts (Yam); 4. Tanel Leok (Hon); 5. Max Nagl (KTM); 6. Ken De Dycker (Yam); 7. Evgeny Bobryshev (Hon); 8.
Jimmy Albertson
(Hon); 9. Davide Guarneri (Hon); 10. Gareth Swanepoel (Hon); 11. Kevin Strijbos (Suz); 12. Xavier Boog (Kaw); 13. Manuel Monni (Yam); 14. Sebastien Pourcel (Kaw); 15. Josh Coppins (Apr); 16. Marc De Reuver (Suz); 17. Rui Gonçalves (KTM); 18. Tom Söderström (Yam); 19. Matthias Walkner (KTM); 20. Tom Church (CCM);
MX1 World Championship standings after 3 of 15 rounds
1. Tony Cairoli (138); 2. Max Nagl (120); 3. Steve Ramon (101); 4. David Philippaerts (100); 5. Ken De Dycker (94); 6. Clement Desalle (79); 7. Xavier Boog (70); 8. Tanel Leok (66); 9. Jonathan Barragán (56); 10. Davide Guarneri (56); 11.
Jimmy Albertson
(55); 12. Evgeny Bobryshev (53); 13. Gareth Swanepoel (51); 14. Sebastien Pourcel (50); 15. Josh Coppins (49); 16. Manuel Monni (46); 17. Kevin Strijbos (31); 18. Marc De Reuver (27); 19. Anthony Boissiere (23); 20. Tom Söderström (14);
MX2 Moto1
1. Jeffrey Herlings (KTM); 2. Ken Roczen (Suz); 3. Shaun Simpson (KTM); 4. Steven Frossard (Kaw); 5. Arnaud Tonus (Suz); 6. Christophe Charlier (Yam); 7. Joel Roelants (KTM); 8. Marvin Musquin (KTM); 9. Harri Kullas (Yam); 10. Zach Osborne (Yam); 11. Jeremy Van Horebeek (Kaw); 12. Loic Larrieu (Yam); 13. Dennis Verbruggen (KTM); 14. Nikolaj Larsen (Hon); 15. Petr Smitka (KTM); 16. Mel Pocock (Yam); 17. Aleksandr Tonkov (Suz); 18. Nicolas Aubin (Kaw); 19. José Butrón (Suz); 20. Jake Nicholls (KTM);
MX2 Moto2
1. Jeffrey Herlings (KTM); 2. Ken Roczen (Suz); 3. Steven Frossard (Kaw); 4. Jeremy Van Horebeek (Kaw); 5. Marvin Musquin (KTM); 6. Joel Roelants (KTM); 7. Shaun Simpson (KTM); 8. Christophe Charlier (Yam); 9. Arnaud Tonus (Suz); 10. Jake Nicholls (KTM); 11. Harri Kullas (Yam); 12. Dennis Verbruggen (KTM); 13. Zach Osborne (Yam); 14. Alessandro Lupino (Yam); 15. Matiss Karro (Suz); 16. Loic Larrieu (Yam); 17. Khounsith Vongsana (TM); 18. Petr Smitka (KTM); 19. Michael Van Wezel (KTM); 20. Nikolaj Larsen (Hon);
MX2 Overall Result
1. Jeffrey Herlings (KTM); 2. Ken Roczen (Suz); 3. Steven Frossard (Kaw); 4. Shaun Simpson (KTM); 5. Marvin Musquin (KTM); 6. Joel Roelants (KTM); 7. Jeremy Van Horebeek (Kaw); 8. Christophe Charlier (Yam); 9. Arnaud Tonus (Suz); 10. Harri Kullas (Yam); 11. Zach Osborne (Yam); 12. Dennis Verbruggen (KTM); 13. Loic Larrieu (Yam); 14. Jake Nicholls (KTM); 15. Petr Smitka (KTM); 16. Nikolaj Larsen (Hon); 17. Alessandro Lupino (Yam); 18. Matiss Karro (Suz); 19. Mel Pocock (Yam); 20. Khounsith Vongsana (TM);
MX2 World Championship standings after 3 of 15 rounds
1. Ken Roczen (130); 2. Marvin Musquin (129); 3. Jeffrey Herlings (122); 4. Steven Frossard (107); 5. Arnaud Tonus (90); 6. Shaun Simpson (87); 7. Jeremy Van Horebeek (80); 8. Zach Osborne (78); 9. Harri Kullas (61); 10. Christophe Charlier (60); 11. Jake Nicholls (59); 12. Joel Roelants (54); 13. Dennis Verbruggen (47); 14. Alessandro Lupino (31); 15. Matiss Karro (22); 16. Nikolaj Larsen (21); 17. Petr Smitka (20); 18. Nick Triest (18); 19. Mel Pocock (18); 20. José Butrón (14);