Hello, everyone, and welcome to the Rev Up. I think it's a common trait among the egos of sports writers that they enjoy making good on their predictions. That said, check out a couple proclamations I made in the Rev Up that led up to Anaheim 1:
"The Alpha Male must survive and carry the fire through all sixteen rounds."

"The road to the supercross championship is one of survival. It doesn't matter how fast Stewart is, or how consistent Reed has been in years past, or how hungry Villopoto and Dungey are. They have to sustain as well as conquer."
In this case, I'm melancholy in being right. Turns out, the 2010 Monster Energy Supercross series has crowned its heavy weight champion with three rounds to go. I've spent the last couple days thinking about how and why our recent championships have been decided by attrition, rather than the fastest rider winning. It didn't used to be like that, but it is certainly the current trend. I thought about possible reasons for this, and I formed a hypothesis: It isn't the tracks, or 450 four-strokes, as much as it is the mindset of the stars of today. I also think that
Ricky Carmichael
and
James Stewart
are to blame.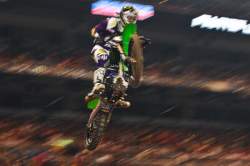 Ryan Villopoto is out for SX, and his status for MX is uncertain.
Steve Cox Photo
Everything changed in 2001 when Ricky beat Jeremy McGrath for his first supercross title. The way riders approached a main event changed, and the pace picked up exponentially. If you wanted to beat Carmichael, you had to attack for 20 laps on the razor's edge. The days of getting the holeshot and sprinting for five laps, then setting a pace, were gone. Things got even more furious when Stewart's alien-like talent arrived.
Chad Reed
and RC were forced to step up their games to hang with James, and remember the crashes that ensued? Ricky hit the deck, hard, in the waning moments of his career, but he was able to win the 2005 and 2006 championships before walking away. Luckily.
The following two years saw Chad and James continue to push the pace, while the next generation of
Ryan Dungey
,
Ryan Villopoto
,
Josh Grant
,
Josh Hill
, and
Davi Millsaps
prepared to jump into the fire. Look at what has transpired since: Carnage and injuries like we've never seen. Injuries have always been a part of our trade, but it's my opinion that a declining level of self-preservation is the cause. I've noticed it from the amateur level all the way to the Supercross stars. Riders are completely fearless, and the ones winning races are doing so with furious abandon.
Hey, the throttle is on the ride side of the handlebars, and it's the racer's choice to either twist it or back it down. Last weekend, the supercross championship was decided because RV Park refused to back down. He couldn't, because
Ryan Dungey
sure as hell wasn't going to back down, and RV2 knew he had to win if he wanted a chance at the title. He pushed the envelope, watched it bend, and, sadly, it broke. Thus,
Ryan Dungey
is your 2010 Monster Energy Supercross Champion. He carried the fire and he survived. Make no mistake, he was lucky to do so. San Francisco could have been a tib/fib just easy as RV's was in St. Louis.
What do we do to change this scenario? There is nothing WE can do. It's up to the riders to make their own fate, and we're helpless. Make the tracks safer, take away the power of the machines, and they'll just go faster and push it harder. Sarah Conner said, "No fate but what we make." Call it cheesy of you want, but I call it true.
So, we're taking it to Seattle, and the last supercross championship of 2010 has yet to be decided. As per the norm, it's a 50-percent chance of rain in Seattle, and what may come is up in the air. Let's get Revved Up for another weekend of the toughest sport on the planet.
LITES
Remember these guys? With two rounds remaining,
Jake Weimer
holds a strong 14-point lead over the surging
Trey Canard
. Look a little closer and you'll notice that
Wil Hahn
is a scant seven points behind Canard and Wilbur has been on the box almost every race. Jake has more than likely been working on his outdoor set-ups a bit, while throwing in some supercross practice here and there. Meanwhile, Canard has been watching gate drops in the premiere division and rattling off one astonishing performance after the other. I think this will help Trey win the final two races of the year and force Weimer to points race the last two main events. Can he hang on, or will the pressure be too much? I always like to think that the racer with the points lead is in the cat bird's seat. Trey has to win, and Jake only has to podium. Sounds easy, right? As we've seen, it is far from easy!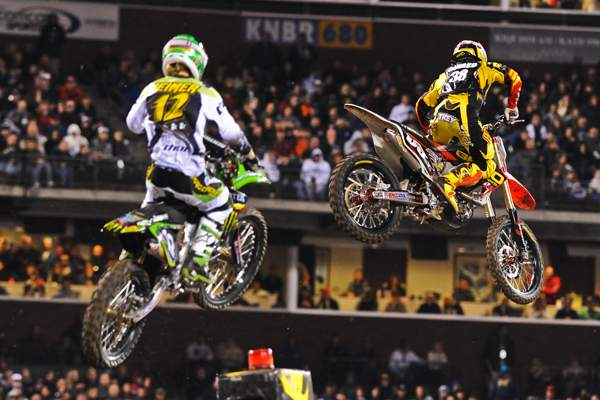 Trey Canard (38) and Jake Weimer (12) are going back at it this weekend in Seattle.
Steve Cox Photo
A couple monkey wrenches in the mix are
Josh Hansen
and the aforementioned Hahn. I'm not sure if Hansen can get the job done, but he has the skill and speed to do so. Josh has shown time and again he will ride dirty and his allegiance with Monster Energy/Pro Circuit Kawasaki could be a factor. He owes his current career to Mitch Payton and he'll likely ride accordingly.
Wil Hahn
, on the other hand, was posting fastest practice times and is perhaps the hungriest rider on the gate.
Broc Tickle
and
Blake Wharton
will be factors in the main event as well. I'm really looking forward to seeing how this group shakes out Saturday night!
SUPERCROSS
The championship may be decided, but there are a plethora of scenarios that will help the final three rounds burn. The ageless one,
Kevin Windham
, is riding strong and he wants to win another main event more than anyone. He has come close the past few races, and with Dungey riding out the remainder of the series in relative conservation mode, I think this will be the week he makes it happen – especially if the track is soft or muddy.
Davi Millsaps
and KW have a rivalry going and they both want to get Honda back on the top of the steps. Throw in
Justin Brayton
, who only needs a start, and I think we have a barnburner coming our way. I just hope these boys can keep it together and close out this supercross season of discontent and make their way to the outdoor nationals with their legs under them.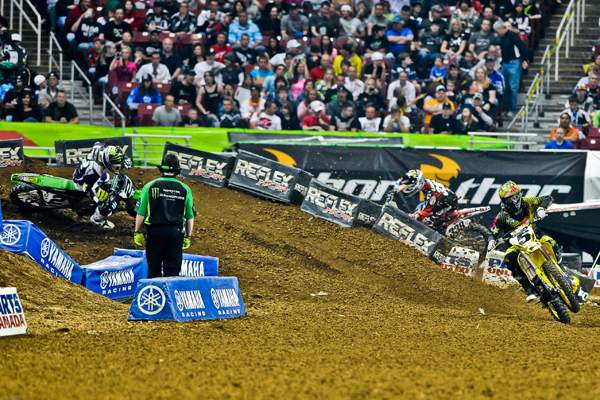 With Ryan Villopoto (2) out, the race for the championship is over. Ryan Dungey (5) is your champ.
Steve Cox Photo
In closing, I want to reiterate my hypothesis about self-preservation: 'Tis the summer season of racing and preparation for Loretta Lynn's. Tens of thousands of amateur riders are hitting the area qualifiers in the weeks to come and dozens of summer series are in full swing. I'm making an attempt at my area qualifier this weekend as well. Last weekend, I raced for the first time in seven years and found myself in a "pin it or back it down" situation. I won my first moto when the track was smooth, then in the second moto I didn't get the holeshot and the track was extremely rough and dry. I was faster than the guy I needed to beat for the overall, but had a couple close calls and decided to call it off and settle for second. I beat myself up on the ride home, but I'm also heading to another race healthy.
I guess what I'm saying is, don't be afraid to ease up a bit. Think about what we do. Riding and racing motorcycles is very dangerous. It's an adrenaline-fueled thrill ride that makes it easy to forget about the consequences. Do your best, but think about keeping it on two wheels. Take the first couple laps of practice to learn the track, and let your flow come to you. If it isn't enough to win, bring it home with the fenders on it and work on your skills during the week at your practice track.
Ride within your means, and have fun. I'm sending my heart and good luck to everyone racing this weekend!
Thanks for reading, see you next week.