Phil Nicoletti to Fill in for Tommy Searle
Murrieta, CA
– Top performing West Lites Supercross privateer
Phil Nicoletti
will temporarily fill in for FMF/KTM Factory rider
Tommy Searle
at the remaining three Supercross rounds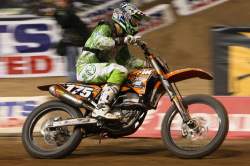 After injuring his shoulder at the beginning of the year, Searle has sat out most of the Supercross season. Once healed during the break in the Lites Series, he began training for the outdoor nationals. "Now that Tommy is on the outdoor bike and after nearly two months training outdoors we decided it would be best to let him make a clean return at the outdoors and give Phil a chance to ride a Factory bike," reported FMF/KTM Team Manager Casey Lytle. "Phil's results on his own KTM bike have been quite impressive this season and we would really like to see if we can help him break into the top five."
If this story sounds familiar, you would be right. The FMF/KTM Factory Team also gave the same opportunity to
PJ Larsen
at the beginning of the SX season when Searle was originally hurt. Larsen performed well and ended up with a 5th place performance on the bike after only two weeks before heading down under to contest the Australian Motocross National Championship.
Like Larsen, Nicoletti was left without a ride at the beginning of the year and is grateful for the opportunity to ride the remainder of the season on the FMF/KTM Factory bike. "It is amazing to get recognized by a factory team and be given a chance to ride and perform on the best equipment out there. I am looking forward to the last three rounds and will do my best to represent the FMF/KTM team," commented Nicoletti. "I would love to give a shot out to my sponsors that have helped me get to where I am now, St. Lawrence Radiology, Alessi Racing, Moose, Scott, Twin Air, Renthal, Belray, Varner Motorsports, Dr. Maresca, FMF, MGX Unlimited, Dunlop and Hot Hedz Design."
KTM fans can cheer on the #175 bike of Nicoletti at his first race as a FMF/KTM Factory rider this weekend at the Seattle Supercross event.