Nuclear Motocross Series - 2010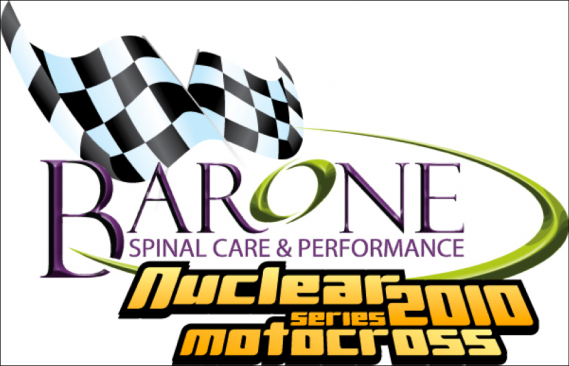 $10,000.00 2nd class series point fund

ride any A class, 250-A, +25, +30, +40, +45 OR the 14-24 class

then ride OPEN-A for your 2nd class

add points from first class + Open-A = Total Points

$10,000.00
AMA Point Fund Payout Schedule
1st Place $3,000.00
2nd Place $2,000.00
3rd Place $1,400.00
4th Place $900.00
5th Place $700.00
6th Place $600.00
7th Place $500.00
8th Place $400.00
9th Place $300.00
10th Place $200.00

*To qualify for the year end points fund, you must race a minimum of 6 rounds

**B CLASS CHAMPIONSHIP**

A free week of training at the Millsaps Training facility awarded to the top B rider!
The highest point total in 250-B, Open B or 30-B will be the B Class champion
NUCLEAR SERIES ROUND 1
THIS SATURDAY 04/25/2010 Sponsored by
CLUB 57
Visit
www.motobyron.com
for full series schedule!
Factory contingency offered by Yamaha, Kawasaki, Suzuki, and Husqvarna!
Five foot trophies!
One of the highlights of winning a trophy class at the Nuclear Series is carrying away a huge first place trophy.
$10,000.00
AMA Point Fund Payout Schedule
1st Place $3,000.00
2nd Place $2,000.00
3rd Place $1,400.00
4th Place $900.00
5th Place $700.00
6th Place $600.00
7th Place $500.00
8th Place $400.00
9th Place $300.00
10th Place $200.00
*To qualify for the year end points fund, you must race a minimum of 6 rounds
We would like to give a special thanks to our TITLE SPONSOR:
Barone Spinal Care and Performance

Barone Spinal Care and Performance is a facility designed to help you perform and function your best. Elite athletes, weekend warriors, office workers, grandparents and everyone in-between utilize this facility to improve their performance – whether it be on a motocross track, in an endurance sport, on the field or when playing with children and grandchildren. Dr. Barone (President and Upper Cervical Chiropractor) and Drew Whitehead (Lead Personal Trainer) are both avid motocross athletes and have a driving passion to help others in the motocross community. Stay tuned to
www.baronespinalcare.com
over the next few weeks as the new interactive website is launched to help you with all of your Performance and Wellness needs!