Monday Conversation: Ryan Dungey
We interviewed Rockstar/Makita Suzuki's Ryan Dungey immediately after the main event in St. Louis last weekend, but at the time, we weren't sure of Ryan Villopoto's condition from his crash during the race, or of Dungey's points lead over everyone else. So, once we figured out that Villopoto was out for the rest of the SX season, and that Dungey has a 77-point lead on third place in the championship with only 75 points available in the last three races, we realized that Dungey is the 2010 AMA Supercross Champ. We got in touch with him today to re-do the interview and talk more in-depth about winning his first 450cc SX title in his first attempt.
Racer X: I know I interviewed you Saturday night, but at the time, down on the floor after the race, neither of us knew what was going on completely with Ryan Villopoto or anything like that. But now we know that, with Villopoto out for the rest of the series, you are the 2010 AMA Supercross Champion. When did you realize that you had actually done it?
Ryan Dungey
: Well, I guess it's kind of hard and it hasn't sunk in yet. It's not over yet because there are three rounds left. It's hard because I'm kind of sitting here and I'm like, "All right, I've got to keep my head down and keep knocking off these races." At the same time, though, I'm pumped on the championship going forward. I put in a lot of work and effort, and in the end, that's the goal – to win the championship. But to win it like we did was kind of tough. It's been a pretty hard-fought season, and with all of the ups and downs, it's been a great learning experience.
Coming into the season, obviously the championship was the goal, but did you ever really think about the odds of you coming out on top against James Stewart, Chad Reed, Ryan Villopoto, etc.? Or did you just look at it like you have to go out there and do the best you can?
Well, going into it, with it being my first year and all, I really didn't know where I stood. I had a couple races on the 450, but when I raced back then [in 2008], I didn't race against James, I only raced against Chad, and then there were a couple of new guys coming up, so I didn't really know what to think. I just wanted to go in there and keep the mentality that I want to win races and stuff like that. I didn't know if it was going to happen early in the season, or later, or what, but I just wanted to be ready to dig deep and do the best that I could. From the beginning, though, I really did believe in the championship – that I could do it. There wasn't really any doubt. I knew it was going to be tough, and I knew I was going to have to be on the top of my game every single weekend, but I just tried to carry over what I've learned in the past to the present, and if it happened, it happened, and if not, then shoot, we'll go after it again. But from the very beginning, even before the whole season started, I wanted to be up there; I wanted to be winning races. I didn't want to be that third-place guy every week, I wanted to be battling James or beating James and Chad. I didn't want to be behind, so I just kept trying to push forward. I just did my work and I showed up hoping that I was ready to see what I could do.
Some people have tried to make a big deal about the fact that the two presumed championship contenders – Stewart and Reed – were out of this championship early, so even though you were winning the title since they got hurt at round two in Phoenix, that somehow you were handed this title. But the reality is that you and Stewart battled to the last lap at Anaheim 1, so it's hard to say that you were automatically going to be beaten by those guys, isn't it?
Yeah, I mean, when he was there, it wasn't like I was getting my butt kicked or anything like that. I was still putting in my time and I was still able to win races. Of course, both of them got hurt at Phoenix, but after the first round, I knew I could do it. But it was a bummer because obviously things would've been different, but it is what it is. All I can hope for is that they'll be back next season. They weren't in there, but at the same time, everybody else raised their game when they left. When Chad and James left, everybody else stepped up their game, and it was like, "Whoa, where did these people come from?!" you know what I mean? It got even tougher, I think...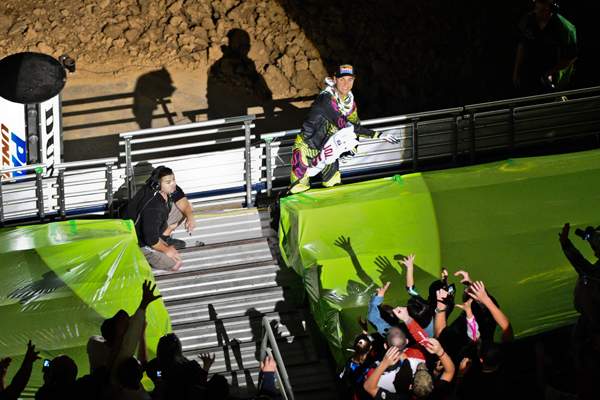 Ryan Dungey makes a fan happy, signing an Albert Pujols jersey and tossing it into the crowd in opening ceremonies.
Steve Cox Photo
I think there's something to that, because judging only by what happened at round one, you might have been the only guy there who was genuinely out there to try and beat James and Chad, where it seemed like a lot of the other guys were already sort of mentally defeated, you know?
Yeah, I think that might be right, but I have a lot of respect for all of the guys in our class. James and Chad, it was a bummer to see them go, but there will be another series, and it will be a whole other ballgame. But the way it went this year, it took a lot of effort, and you had to be there every single week. And you still do, because there are three races left, so I'm going to try and keep my head down and keep moving forward.
How tough was it to deal with Ryan Villopoto as he started winning and all this stuff? He's a hell of a competitor, obviously, and last week at Houston, he wasn't fast all day until the main came around, and then he checked out. How do you deal with a guy who seems that unpredictable?
You've got to respect him, for sure. He's definitely a tough competitor, and he's fast, and he's strong, and at the end of the day, he doesn't make it any easier.
Ryan Villopoto
, he knows how to win championships; he's won outdoors, supercross... so it's not anything new to him. And at the same time, he wants it just as bad as the rest of us, so when we both line up, and it's man-to-man, and we've got to go out there and do it, it's tough, but it's good for both of us, and for the fans, too.
Can you let us in on how you were dealing with the pressure he was putting on you every week by winning all of those races, especially with what happened in Houston?
Ryan and I were pretty close on the tracks, because we were both within tenths of each other in practice times, so with the tracks how they are today, it all came down to getting a good holeshot and putting in solid laps. At the end of the day, though, I couldn't worry about Ryan, I just had to do my own deal and worry about myself, and when it came time to go and practice, I knew what I had to work on, and I'm not going to sit here and overthink anything, because I knew what I had to work on, and when it came to race day, I knew I just had to get the start and put down good laps. I think this weekend was the first time he and I were one and two [right from the beginning] except for, I think, Phoenix, which was the second round. I was really looking for that, because up until that point, it was either him getting a good start, or me getting a good start, and then the other guy would have a bad start, and the guy who got the start would run away with it. It was good to have a race, for most of the race anyway. It was a crazy race, but that's what people want to see.
If your roles were reversed, and you were behind him by 12 points coming into St. Louis, and you were in his spot on the track, and he was in yours, don't you think you would've tried to do the same thing that he did when you guys went down together? Or do you think it was dirty?
Well, I think it was a little overboard, but I'm not going to say much about it. I'll just leave it up to the people who saw it on TV to decide for themselves. I don't really know what that was all about, though, and I didn't think he was that kind of guy, but he might have felt desperate or something, and when he saw the door was open... I don't even know, because I didn't watch the tape...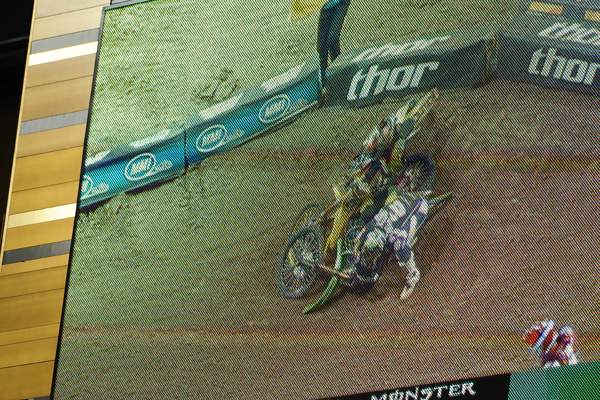 The big-screen view in the stadium as Dungey and Ryan Villopoto attempt to de-tangle.
Steve Cox Photo
So you didn't see it coming at all? It was a surprise?
It was, yeah, because I was into some lappers, and I didn't think he was going to be right there, but I think he kind of went out of his way to get there, and when we hit, he was wide-open right into me, and I was like, "All right, what the hell was that about?" I fell down, and I didn't know what was happening, and then we were both on the ground. I think we were at about halfway when that happened, and I think it was kind of a weird deal, but hey, it was racing, and I have to be more cautious about leaving the door open like that next time.
When I was racing growing up, if I got taken out, my dad would just say, "Hey, you left the door open," and that was that. Our sport is filled with things like that, back to Chad Reed doing it to Ricky Carmichael that one year, I think, in Salt Lake, to Damon Bradshaw, to Ricky Johnson, and all the way back to Bob Hannah. It just seems that it's part of the sport to me, but if you live by the sword, you die by the sword...
Yeah, I grew up the same way, too. My dad used to say the same thing, but I don't think it was necessary in that situation, so I'll leave it at that.
Okay. Was there any part of you that was being conservative there for a few races while Villopoto was winning? Were you trying to protect your points lead?
No, not at all. I wasn't trying to play it safe at any round. Houston was just a tough night and I kind of struggled with a lot of mistakes, but every race that I went out there, I tried to give it all that I had. Sometimes, I won it, and sometimes I made some mistakes and didn't. But I wanted to leave the track every week knowing that I did all that I could, and then look back and see what I could do better, then move forward. I never played cautious. I was racing every race as hard as I could because I didn't want to leave anything out there. I didn't care how big of a points lead that I had, I wasn't going to let the points determine how I was going to ride. I rode how I knew how to ride.
How much of that attitude has come from the tutelage of Roger Decoster and now Mike Gosselaar, who have been there and done that so many times?
Coming into the factory team back when I was 16 years old, there was Roger and Ricky [Carmichael], and now Goose [Gosselaar], and everybody was really cool, calm and collected, and they have themselves together, and that's important, because that determines so much. They have a lot of knowledge and experience, so you've got to listen to their advice and use it to your advantage. They know what it's all about. But also, all of the experience I've had over the years, to be able to apply that was great, too, and that definitely helped. My family, my whole team, my sponsors, and everybody who makes it possible to be out there on the racetrack, they all deserve credit for what I've done. They've sacrificed a lot to get you to that place. At the end of the day, though, having that knowledge and wisdom is very valuable.
You're now on a very short list of riders who won the supercross championship in their rookie season. The list is now two riders long, with Jeremy McGrath, and now you. What do you have to say about that?
I don't even know what to say about that. Maybe ask me again in a few weeks...
The title's over, Ryan! You won!
I know, but it's not me to sit here and be bragging about it and telling you how great it is. I feel great, but I don't like to talk about myself. I don't even know how to go about it! I just try to be my best at every moment possible, and if that's what it brought, then that's what it brought.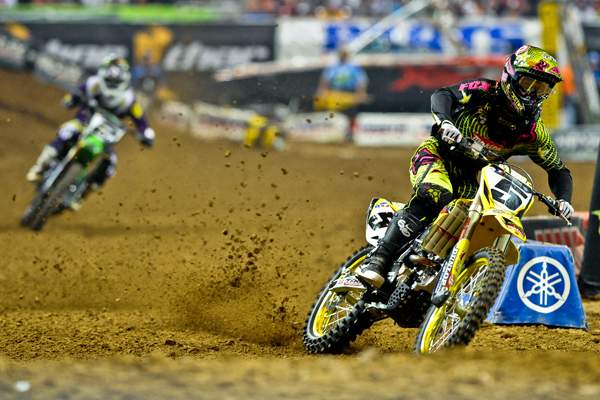 Dungey leads Ryan Villopoto early in the 450cc main.
Steve Cox Photo
You're obviously a nice guy and a great racer – and you're obviously a very hard worker – but one thing that a lot of us wonder – not just media, but fans too – is who is Ryan Dungey when he's not at the races? What do you do for fun? What do you enjoy?
I guess the guy away from racing isn't a lot different. You take away the seriousness of being at the track and stuff, but I like to enjoy myself – play golf, hang out with friends, just normal stuff like everyone else. I like to go on boat rides, watch movies, and things like that. I know there comes a time when you've got to be serious, and I know that's the only part a lot of people see of me, and maybe sometimes I'm a little too serious, but I truly believe that racing is something that I've been given the talent to do, and I'm going to give it everything I've got when the time comes, but I know there's a life away from racing, too. At the end of the day, you need a balance, and whether it's your family, or your friends, or playing golf, you have to have fun. I know what's most important in life, so I know I have to keep it in check and make sure that I have fun.
Yeah, so you're like most riders, where you know you need to make an effort to reward yourself when you do well so that you don't get burnt out. Sometimes, some guys are so focused on the next race that they don't allow themselves the gratification of the success from their last one...
Yeah, you hit the nail on the head. It has to be a balance. If it's always go and no stop, something's got to give – your body or your mind – so I agree. That was hard for me in the beginning. I would work hard and that's all I wanted to do, but I knew I needed to have fun, too, but I didn't ever feel like I deserved to have fun because I only had one thing on my mind. But eventually, that one thing turns into everything, and then it escalates from there.
Right, it's almost like you feel guilty for enjoying yourself...
Exactly. And it will tear you up if you let it. So you need that balance; you need to have fun and play, and not feel guilty when you're doing it.
Now that the title is won, does it loosen you up to get some outdoor testing done and get prepared for Hangtown?
Yeah, for sure. This year, we only have one weekend in between [Las Vegas and
Hangtown
], so it's going to go pretty fast. It's going to be important to get things done as soon as possible, and that's the plan. That [the championship being decided] will definitely open up some doors for testing.
With your showing at the MXdN last year, has it crossed your mind at all to go out and race the U.S. Grand Prix at Glen Helen after Hangtown?
No, we're just going to pass that one up and get ready for our outdoor season only. It would be cool to go race the GP guys, but we've got to be ready for a whole series here. We're going to skip that one.
Well, congratulations, Ryan. I know your championship ended sooner than we all expected, but you did a great job this year.
Thanks to everybody who made it possible!