Monday Conversation: Christophe Pourcel
Monster Energy/Pro Circuit Kawasaki's Christophe Pourcel clinched the Lites East SX title one round early after rival Austin Stroupe was injured in practice. It happened so unexpectedly early that there were no t-shirts prepared or anything of the sort. We talked to Pourcel after the main event for this Monday Conversation.
Racer X: Coming into the day, I know you thought you had a battle on your hands for the championship with Austin Stroupe, and I know you've said in the past that you never like to see someone get hurt, but how did his injury change how you looked at the race tonight? Did it take a lot of pressure off?
Christophe Pourcel
: Not really, because I was still trying to clinch the championship, and anything can happen, so the pressure was still there. The job didn't change. It's still the same job I came here to do. I just wanted to go out there and win the race because if I won the race, I would've had a points cushion for next week [if Stroupe wasn't hurt], and that would be good. So that was my goal anyway. But Austin crashed, and I really don't like it because I had the biggest crash ever when I was paralyzed, so I never like to see that. But when it turned out that it was his shoulder, then I felt better, because that's not too bad. But with him out, it was really the same for me, because you have pressure for the championship knowing that you can get it. You can go and try to win, and if you win, you have the championship.
You didn't look quite as smooth and deliberate tonight as you normally do. It looked like you were really pushing hard and pinning it on this dirt. Is that what was going on?
I wasn't trying any harder, but the dirt was pretty good, so we were on the gas, and everybody behind me was on the gas, too. In the Heat, [Ryan] Sipes was just behind me, and I couldn't get away from him, so for the main event, I just told myself, "You have to get the start and then see what happens."
Last year, you clinched the championship one round early, and when the series went into Jacksonville for the finale for the Lites East, a lot of people thought that you were just going to cruise around because you didn't have to win. But you won that race. Then the same was said about Vegas, but you won that, too. So having the championship really doesn't change how you think about things, does it?
Yeah, I think I just want to go next weekend and finish second (laughs). Of course I still want to win!
I know it sounds stupid, but with how deliberate you are on a bike, and how you say you don't like to push it, it makes sense that maybe you would cruise after a championship is over, doesn't it?
Yeah, it is kind of a dumb question. (Laughs) I'm going to go there and try to win next weekend, so it's no different, and sometimes, when you're cruising around and you're not trying to win, that's when you crash because you're not focused enough, so I think you should ride at your best speed no matter what, because that's when you're the most focused. And if you can win, you might as well win!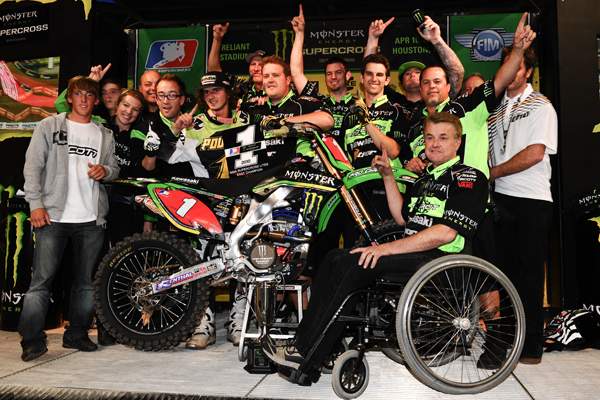 Christophe Pourcel and the rest of his Pro Circuit team celebrate on the podium. Mitch is going to need bigger doors.
Photo: Cox
Before the season, you were thinking about moving up to 450s, right?
Yeah, I was thinking about it. I thought I was ready to do it, so why not?
But you didn't get a ride you liked or whatever, so you stayed with Mitch, right?
Yeah.
So, coming into this Lites East season, did you really think you were already heads above the rest of the guys on the 250s back east?
I don't want to say that, but I think if I was someone else, it wasn't easy to beat me this year, and I wouldn't want to race against me, because I rode the east coast last year, and I know how it is, how the tracks are, and what you can do for the championship, so it's kind of easier to manage it. That's what I did. I crashed a few weeks ago at the start and came back to seventh, and I didn't ride that good, but I didn't want to crash, and right now we have the championship, so I think it showed I knew how to manage the series. That's what I want to do.
At the same time, though, during the Nationals last year, you had a couple motos where you might have been able to get a couple of spots, but you didn't want to push too hard, and that would've been fine for the title, except you had the failure at Southwick, and that cost you. But if you would've pushed in those other motos, maybe you could've still won the title, you know?
I know, but you don't think about that. You can't count on having something break like that. It's crazy that it happened. But in the end, they didn't give the title to me, so that's part of why I'm still on a 250, and I want to try to win it again. I love the Nationals, and I'm going to enjoy it. There are some good riders, so when you have someone behind you, pushing you, and you're not riding by yourself all the time, it's even more fun.
You're going to have to deal with your teammate Jake Weimer, Trey Canard, maybe Stroupe...
Barcia's good, too, and Dean [Wilson] should be pretty good. And Chris...
Chris who?
3-7-7
Oh, that Pourcel guy?
Yeah, he's going to be back on the 3-7-7...
You are very stuck on that number, so did running the number 1 in supercross make you nervous?
If they give me the 1, I'll take it, but if I could've ridden with the 3-7-7, I would've done that, because that's my number, and that's the number I will be using for the Nationals anyway. But I think it's good for the fans to have the champion use the number 1, because they want to know who to watch. They're like, "I'm going to bet on that guy because he's the number 1!" They don't even know me, but they'll bet on me, so that's good.
Thanks a lot for your time, Christophe.
No problem! See you next weekend!