The KTM 350SX-F took almost three years to be pitched to senior management, be designed from scratch, tested, and then paraded triumphantly on top of an MX1 podium at just its second Grand Prix event. World Champion Tony Cairoli delivered the first overall success for the machine that the Austrians hope will be a 'landscape shifter' in the premier class, and he did it in front of appreciative home fans at an impossibly bumpy Mantova circuit for the Grand Prix of Lombardia. Just one week after sealing a maiden checkered flag at Bulgaria, Cairoli used the second round of fifteen to chisel a small place in the annals of KTM sporting history and extend his unbeaten streak at the Italian venue to three events (all classes).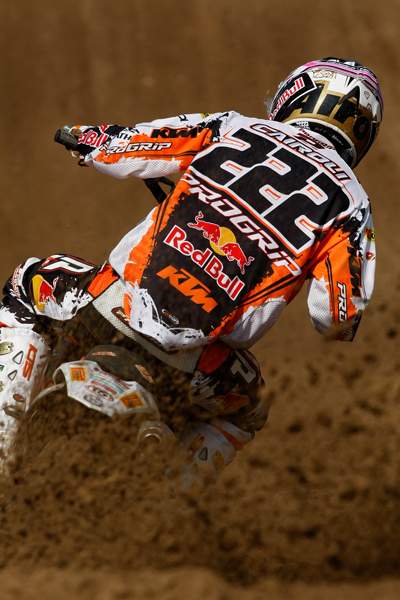 Antonio Cairoli
Photo: Ray Archer
While the opening stretch of the 2010 world championship has been splashed in undeniable orange to such an extent that the result would resemble a Pollock impression, Red Bull KTM's Cairoli should have, in fact, been matched at Mantova.
Pole Position-holder Yamaha Monster Energy MX Team's David Philippaerts was equally able. The 25-year-old was detaching himself from the pack in the opening laps of the first moto before a Mantova mound on the entry to a fast 180-degree turn pitched the Italian to the floor. A courageous comeback to fifth from 12th was undone by a wrecked exhaust and sub-frame that saw the unlucky 2008 world champ penalized for noise subversion and dumped to 19th. Philippaerts flew to second place behind a resolute Cairoli later in the afternoon and somewhat stoically accepted his lot. In third overall for the second weekend in succession was Rockstar Teka Suzuki WMX1's Clement Desalle, who earned his spurs on the works RM-Z450 by taking over control of the first sprint once Philippaerts had added his own indentation to the sand.
"I think this is one of the best GPs of my career or maybe at least one of the most memorable," said Cairoli afterward, who also strapped on the red plate to his new mount. "To win in front of the fans on the 350 in only our second GP with KTM is something special. We are starting to know the bike better and it was perfect today. I felt the positive points of the 350 in my second moto win when the track was at its bumpiest with a lot of lines. I really enjoyed riding it and I am really happy."
Yamaha Monster Energy Ricci MX Team's Ken De Dycker was largely fault-free for his best performance yet to 4th on the innovative YZ450FM.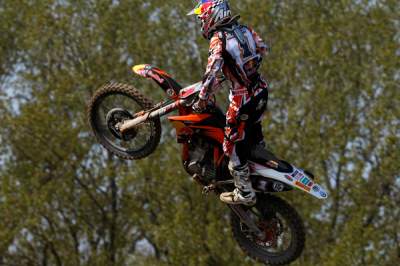 Marvin Musquin
Photo: Ray Archer
AMA-bound Marvin Musquin extended his 100-percent record in 2010 thanks to another two moto wins in MX2 and now boasts a perfect 100 points. The graceful Frenchman has notched six moto-doubles in just eleven Grands Prix with Red Bull KTM. The first race was relatively simple for the 20-year-old, even if Teka Suzuki Europe World MX2's Ken Roczen kept pushing and gave the world champion a 'hurry-up' in the last two laps. The climax to the second moto was the highlight of the day, as Musquin was forced to pay diligence to his lap-times to hang with pole-sitter Jeffrey Herlings; the Dutchman himself pushing his capabilities to the limit, so much so that he was retching over the finish line. Musquin attempted the triple into the timing section on the penultimate lap, but the geographical advantage was still not enough to overhaul his teammate. Casting an orange shadow around a tense last lap, Musquin this time made the risky jump-attempt count and took the lead with little more than 200 yards to the flag. Roczen, who admitted afterward that his starts need to be sharper if he wants to challenge the KTMs, was a lonely third. The German 15-year-old has been deposed slightly by the shock-emergence of Herlings; the 15-year-old Dutchman enjoying the best start ever by a rookie in MX2.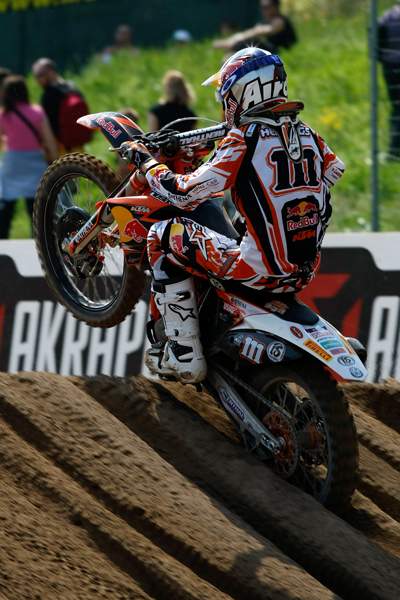 Jeffrey Herlings
Photo: Ray Archer
CLS Kawasaki's Steven Frossard was held up at the start of moto two and then crashed on the first lap to be lost among the rear of the pack, but worked hard to reach tenth. The third and almost-forgotten member of the Red Bull KTM MX2 force, Shaun Simpson, continued his trek back to full fitness after a ghastly pre-season finger injury. Simpson will surely have a bigger part to play at Valkenswaard in two weeks, where he claimed his first GP checkered flag last year; only days before the bike problem that led to his horrific crash into a tree and a badly broken leg.
Bike It/Cosworth Yamaha's Zach Osborne is getting close to the mark. The American was fourth overall and the best of the next tier outside the Musquin-Herlings-Roczen pacesetters. He faced competition from a lively Arnaud Tonus (Roczen's teammate), Frossard, other CLS rider Jeremy Van Horebeek, and British Championship rider Jake Nicholls (setting another personal best result in moto two and currently the pick of the privateers).
Zach Osbourne
Photo: Ray Archer
"We are not far from the top five in the championship and have to keep building up," Osbourne said. "Mantova was a more physical track than Sevlievo. In Bulgaria, you have to set the layout in your mind; mentally, it is technical because you have to be flowing the whole time. Mantova is good; I hated it in practice but once it got rougher I enjoyed it more and more."
Other US representative
Jimmy Albertson
was able to breathe a sigh of relief after proving his capabilities of being able to make an impact on MX1 with the factory Martin Honda. The Missourian started brightly after opting for a sand profile on his rear tire and was a pleasing sight among the top ten at his team's home GP, taking sixth by the finish. His missed the getaway somewhat in moto two but swallowed a tangible dose of confidence for a much better outing than his GP debut last week.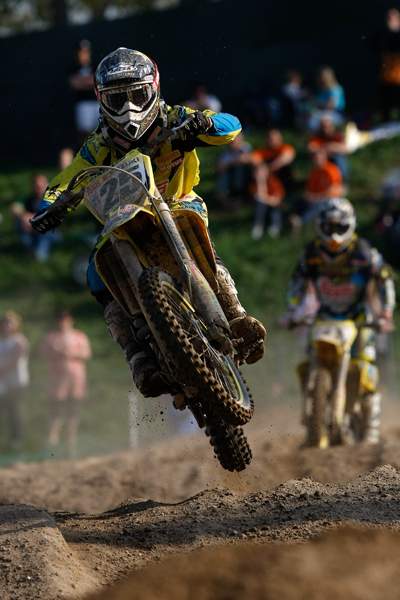 Clement DeSalle
Photo: Ray Archer
"It was a really rough track today," Albertson said. "I did not think it could get much worse than it did yesterday but when that second moto came around, man, it was beat; really gnarly. I ran a scoop tire on the back in the first moto and it worked well for the start; I rocked it out of the gate and almost had the holeshot. I think I got a bit nervous out there and when I dropped back to seventh my laptimes were terrible, but with four laps to go I could raise my speed and was four seconds better each lap.
"I kept the tire profile for the second start and that perhaps was a mistake because it was much drier and I just spun my wheel. Overall, it was a good weekend and a big step up from last week; that's what I was looking for. I want to keep on improving from here."
In other MX1 observations, Anthony Boissiere no doubt pleased his TM team and loyal fans of the brand by taking the small Italian factory's fuel-injected 450 to a top-ten finish in moto two and was earlier spotted troubling the frontrunners in the formative stages of the race. An overall ranking of 17th was given after a tumble in the first moto. Kawasaki Racing Team's Seb Pourcel had a nightmare of a meeting with various incidents.
"Crashes cost me a good result in the second race," Pourcel said. "I fell at the start and was taking too many risks to come back; in the end I hit a stake and crashed again so I only scored three points."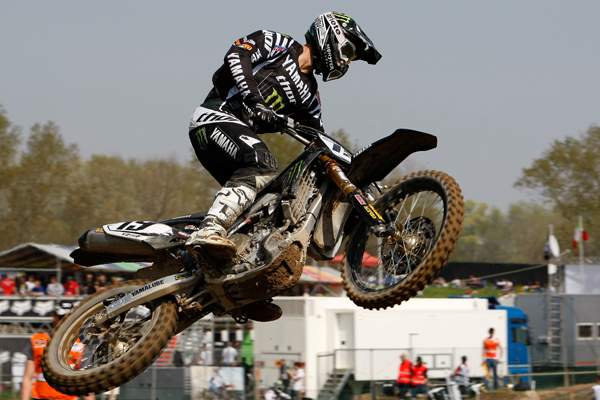 David Philippaerts
Photo: Ray Archer
With Jonathan Barragan again ruing lackluster starts in his quest for a first top-three finish on the KX-F, it was left to MX1 Xavier Boog to be the first green representative with a fine fifth place. Aprilia's Josh Coppins rang his bell on Saturday with a fall that also involved CLS Kawasaki's Greg Aranda (the Frenchman needing a hospital visit for an injured neck and suspected second concussion after his head plant in the French championship almost one month before) and fell again in the first moto. He charged to eleventh in the second race.
Yamaha Monster Energy Motocross Team's Gautier Paulin was close to making an almost absurd return to racing less than two weeks after sustaining a clean break of his left fibula. The factory MX2 racer still has to make his debut for the team but was walking gingerly after intense acupuncture had allegedly increased the speed of recovery. The flamboyant Frenchman is hopeful to activate his status for round three in two weeks, but downplayed any title aspirations he might have now for 2010.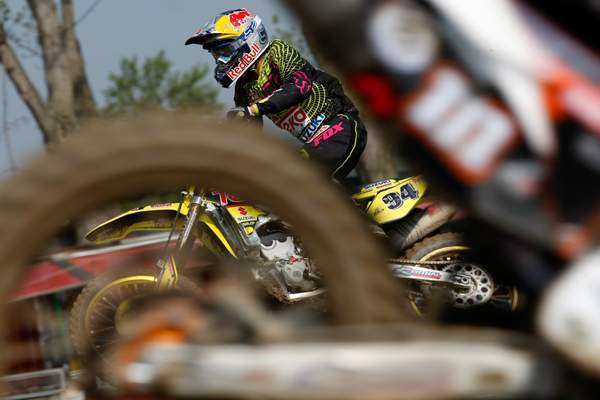 Ken Roczen
Photo: Ray Archer
In more news, KTM bosses confirmed over the weekend that they are looking to re-establish a factory team in the USA for 2011. Keep an eye online in the next couple of days for an exclusive interview with Red Bull KTM's Team Manager Stefan Everts about the Austrian marque's plans for the AMA, and also Marvin Musquin's views on his SX/MX deal for '11.
The Grand Prix collective will next be in action in two weeks with the sand of Valkenswaard as the host for the Dutch round; the third outing of fifteen on the 2010 schedule.
MX1 Moto 1
:
1. Clement Desalle (Suz); 2. Tony Cairoli (KTM); 3. Max Nagl (KTM); 4. Ken De Dycker (Yam); 5. Sebastien Pourcel (Kaw); 6.
Jimmy Albertson
(Hon); 7. Xavier Boog (Kaw); 8. Jonathan Barragán (Kaw); 9. Tanel Leok (Hon); 10. Steve Ramon (Suz); 11. Manuel Monni (Yam); 12. Marc De Reuver (Suz); 13. Davide Guarneri (Hon); 14. Evgeny Bobryshev (Hon); 15. David Philippaerts (Yam); 16. Gareth Swanepoel (Hon); 17. Tom Söderltrön (Yam); 18. Josh Coppins (Apr); 19. Tom Church (CCM); 20. Cedric Soubeyras (Yam);
MX1 Moto 2
:
1. Tony Cairoli (KTM); 2. David Philippaerts (Yam); 3. Max Nagl (KTM); 4. Clement Desalle (Suz); 5. Ken De Dycker (Yam); 6. Xavier Boog (Kaw); 7. Steve Ramon (Suz); 8. Jonathan Barragán (Kaw); 9. Evgeny Bobryshev (Hon); 10. Anthony Boissiere (TM); 11. Josh Coppins (Apr); 12. Kevin Strijbos (Suz); 13.
Jimmy Albertson
(Hon); 14. Gareth Swanepoel (Hon); 15. Manuel Monni (Yam); 16. Tanel Leok (Hon); 17. Davide Guarneri (Hon); 18. Sebastien Pourcel (Kaw); 19. Cedric Soubeyras (Yam); 20. Kevin Wouts (Kaw);
MX1 Overall Result
:
1. Tony Cairoli (KTM); 2. Clement Desalle (Suz); 3. Max Nagl (KTM); 4. Ken De Dycker (Yam); 5. Xavier Boog (Kaw); 6. Jonathan Barragán (Kaw); 7. Steve Ramon (Suz); 8. David Philippaerts (Yam); 9.
Jimmy Albertson
(Hon); 10. Evgeny Bobryshev (Hon); 11. Sebastien Pourcel (Kaw); 12. Tanel Leok (Hon); 13. Manuel Monni (Yam); 14. Josh Coppins (Apr); 15. Gareth Swanepoel (Hon); 16. Davide Guarneri (Hon); 17. Anthony Boissiere (TM); 18. Kevin Strijbos (Suz); 19. Marc De Reuver (Suz); 20. Tom Söderström (Yam);
MX1 World Championship standings after 2 of 15 rounds:
1. Tony Cairoli (88); 2. Max Nagl (87); 3. Clement Desalle (79); 4. Ken De Dycker (65); 5. David Philippaerts (60); 6. Steve Ramon (59); 7. Jonathan Barragán (56); 8. Xavier Boog (54); 9. Sebastien Pourcel (37); 10. Josh Coppins (37); 11. Davide Guarneri (32); 12. Gareth Swanepoel (31); 13. Manuel Monni (31); 14. Tanel Leok (30); 15.
Jimmy Albertson
(29); 16. Evgeny Bobryshev (25); 17. Anthony Boissiere (21); 18. Marc De Reuver (16); 19. Kevin Strijbos (15); 20. Tom Söderström (8);
MX2 Moto 1
:
1. Marvin Musquin (KTM); 2. Ken Roczen (Suz); 3. Steven Frossard (Kaw); 4. Jeremy Van Horebeek (Kaw); 5. Zach Osborne (Yam); 6. Jeffrey Herlings (KTM); 7. Shaun Simpson (KTM); 8. Joel Roelants (KTM); 9. Harri Kullas (Yam); 10. Marcus Schiffer (KTM); 11. Arnaud Tonus (Suz); 12. Alessandro Lupino (Yam); 13. Jake Nicholls (KTM); 14. Dennis Verbruggen (KTM); 15. Valentin Teillet (KTM); 16. Matiss Karro (Suz); 17. Mel Pocock (Yam); 18. Nikolaj Larsen (Hon); 19. José Butrón (Suz); 20. Alesandro Batting (Hon);
MX2 Moto 2
:
1. Marvin Musquin (KTM); 2. Jeffrey Herlings (KTM); 3. Ken Roczen (Suz); 4. Arnaud Tonus (Suz); 5. Zach Osborne (Yam); 6. Jake Nicholls (KTM); 7. Christophe Charlier (Yam); 8. Shaun Simpson (KTM); 9. Dennis Verbruggen (KTM); 10. Steven Frossard (Kaw); 11. José Butrón (Suz); 12. Matiss Karro (Suz); 13. Harri Kullas (Yam); 14. Petr Smitka (KTM); 15. Axel Alletru (KTM); 16. Alessandro Lupino (Yam); 17. Jeremy Van Horebeek (Kaw); 18. Edward Allingham (Yam); 19. Deny Philippaerts (Suz); 20. Rudi Moroni (Yam);
MX2 Overall Result
:
1. Marvin Musquin (KTM); 2. Ken Roczen (Suz); 3. Jeffrey Herlings (KTM); 4. Zach Osborne (Yam); 5. Steven Frossard (Kaw); 6. Arnaud Tonus (Suz); 7. Shaun Simpson (KTM); 8. Jake Nicholls (KTM); 9. Jeremy Van Horebeek (Kaw); 10. Harri Kullas (Yam); 11. Dennis Verbruggen (KTM); 12. Christophe Charlier (Yam); 13. Matiss Karro (Suz); 14. Alessandro Lupino (Yam); 15. Joel Roelants (KTM); 16. José Butrón (Suz); 17. Marcus Schiffer (KTM); 18. Petr Smitka (KTM); 19. Valentin Teillet (KTM); 20. Axel Alletru (KTM);
MX2 World Championship standings after 2 of 15 rounds
:
1. Marvin Musquin (100); 2. Ken Roczen (86); 3. Jeffrey Herlings (72); 4. Steven Frossard (69); 5. Arnaud Tonus (62); 6. Zach Osborne (59); 7. Shaun Simpson (53); 8. Jeremy Van Horebeek (52); 9. Jake Nicholls (47); 10. Harri Kullas (39); 11. Christophe Charlier (32); 12. Dennis Verbruggen (30); 13. Joel Roelants (25); 14. Alessandro Lupino (24); 15. Nick Triest (18); 16. Matiss Karro (16); 17. Nikolaj Larsen (13); 18. Mel Pocock (13); 19. José Butrón (12); 20. Marcus Schiffer (11);