Robbie Maddison Jumps Over Corinth Canal in Greece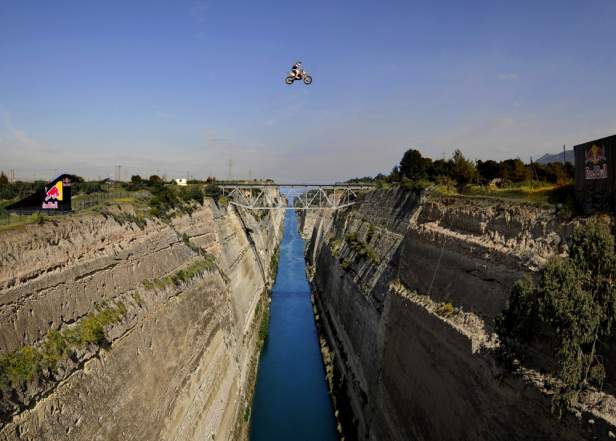 photo: Predrag Vuckovic/Red Bull Photofiles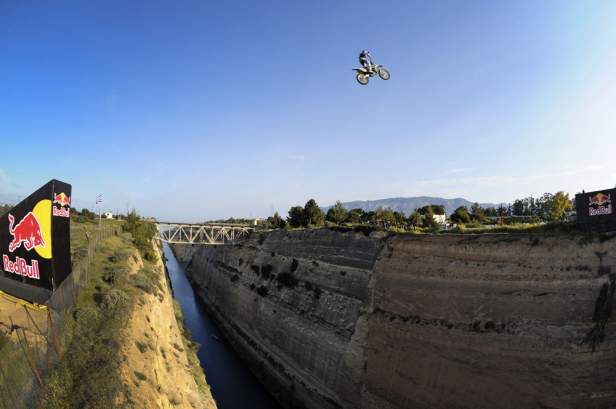 photo: Joerg Mitter/Red Bull Photofiles
CORINTH (Greece)
- Freestyle Motocross, with breathtaking tricks such as flips performed at heights of up to three stories high, is one the world's most dangerous sports. Robbie Maddison is one of the world's best in FMX.
But that is not enough for the 28-year-old Australian. Maddison is always looking for even greater thrills and has completed a number of spectacular jumps that would have made his idol, pioneering stuntman Evel Knievel, proud. In 2007 and 2008 Maddison set three world records for motorcycle distance jumping all the way to 350 feet. On December 31, 2008, he celebrated New Year's Eve at Red Bull: New Year. No Limits. in Las Vegas by jumping up 100 feet onto the Arc de Triomphe in front of Paris Las Vegas and then descended off the monument to ground level. Last year, images of Maddison backflipping the Tower Bridge over the Thames River in London while the drawbridge was open went around the world.
Many motocrossers have wanted to jump across the Corinth Canal, which was built in 1893. But the Australian was the first to succeed. He sped his Honda 500 up through a turn-filled approach past a pool, across a soccer pitch and past a chicken coop, no doubt startling the poultry, to a speed of 78 miles per hour. He accelerated up a ramp and flew across the canal gap and landed safely on a mound set up on the other side of the canal. At his height, Maddison was 311 feet above the canal's surface.
Maddison said getting the approach right despite the constantly changing surfaces – from grass to concrete to wood to asphalt again and then carpet – was difficult enough but there was greater hurdle to the jump: "Overcoming fear, that's always the hardest part," he said. "Jumping across the Corinth Canal has become in my mind a challenge I just could not resist. This jump involved the highest consequences I have faced so far, so the first obstacle I had to overcome was my fear. I believe you have to take risks in life to become wiser and facing a challenge like this will help get me ready for the next feat I will face. I am thrilled I managed to pull it off, as you know there is only one opportunity to get it right!"
Maddo will travel straight from Greece to Mexico City for the season opener of the six-event Red Bull X-Fighters World Tour, this Friday night. Maddison was second overall last year and aims to win the title this year.