Racer X Podcast: Inside a Factory Contract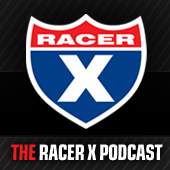 We're happy to announce the we've completed the second episode of the new Racer X Podcast. In this episode, Jason Weigandt and David Pingree dissect the anatomy of a factory contract. Both Jimmy Button and
Andrew Short
call in to lend their expertise.
If you subscribed to our old podcasts via iTunes, you should automatically receive the new ones. If you're having trouble, you can manually subscribe to the new podcast via your favorite RSS reader, or through iTunes.
If you have iTunes, and want to subscribe click the following link here:
http://itunes.apple.com/us/podcast/the-racer-x-podcast/id303804276
To manually subscribe in iTunes: Open iTunes, choose the Advanced option in the top toolbar, and choose Subscribe to podcast...
Then paste this feed URL into the box:
http://racerx.vo.llnwd.net/o15/podcast/podcast2.xml
If you don't use iTunes, no problem, just paste the feed URL in your favorite podcast reader.
Or, here's the direct link to this episode:
http://racerx.vo.llnwd.net/o15/podcast/4-1-10%20Factory%20Contract_1.m4a
That's all it takes. The new podcast is quite different -- instead of focusing on specific riders, ours will be topical shows -- think of them as audio versions of the magazine features we've been doing for years.
Some of the other shows we have in the works for the near future include: "Motocross in Cinema," and "The Art of Testing a Factory Race Bike." For each show, our hosts -- which will include Jason Weigandt, David Pingree and/or Davey Coombs -- will talk to the leading experts in the field to get the ultimate insider take on some of the most interesting topics in motocross and supercross. It's gonna be fun.
Have show ideas? Send them Jason Weigandt's way:
jasonw@racerxonline.com
. If we use your idea, we'll give you full props during the show, and we'll give you a free digital subscription to boot.