Welcome to Racerhead, coming to you from an airplane on the way back from a family trip to Florida. Air Tran has wireless now, which is pretty cool! Here's another travel tip: Never go to Disney World during Spring Break for most of the United States of America. I have never seen more people spending more money in one place in my life … but that 150-minute wait for Space Mountain was worth it for me and Vance.
After three straight months of racing, the AMA Supercross tour is finally taking the weekend off for Easter. It's been a great series so far, in spite of the injuries that knocked four contenders out in the first month. The crowds have been awesome, for the most part, and the action has been terrific. But I still say there isn't a bench racer in the world who had this down for his top five back in December:
1.
Ryan Dungey
2.
Ryan Villopoto
3.
Josh Hill
4.
Davi Millsaps
5.
Kevin Windham
In the Eastern Lites class, it's been as much about watching
Christophe Pourcel
win as it has been about seeing who the sensational
Justin Barcia
bangs around with.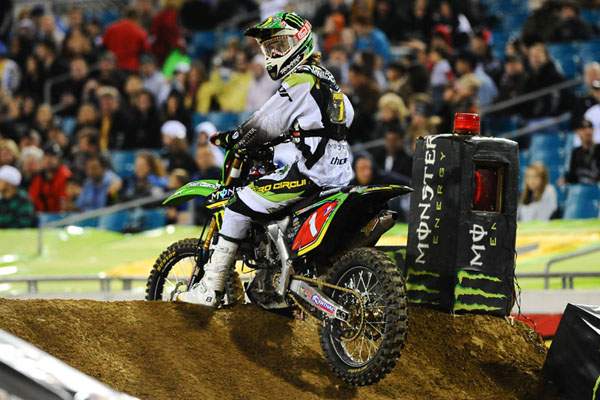 Pourcel took the victory at Jacksonville last weekend.
Photo: Steve Cox

Steve Cox will have more on the SX tour a little further below. But I will say this: Pourcel and
Jake Weimer
were my favorites for the outdoors when they finally started racing together, but with what
Trey Canard
's been doing on that 450, I think he's going to be up there with them!
The AMA circuit may be taking Easter break off, but Europe is just getting started. The 2010 Grand Prix series starts this weekend in Sevlievo, Bulgaria, which means American riders
Jimmy Albertson
, Zach Osborne, and
Michael Hall
will be in action, as will Women's-class visitor Ashley Fiolek. The favorites in my book are last year's champs: Tony Cairoli in MX1 and Marvin Musquin in MX2, with Suzuki riders Clement DeSalle and Ken Roczen as their top respective challengers.
You can watch the action live on
www.freecaster.tv
. I'm not sure what the time difference is between Bulgaria and parts of the U.S., but I'm going to guess seven or eight hours.
Since I was on my brief family vacation, I missed all the hoopla over
Glen Helen
's decision to take on a Grand Prix motocross race for the next five years after bowing out of the AMA Motocross tour. I think it's a great resolution for the track, given the differences that led them to cancel their spot on the AMA Motocross tour over the length of terms offered by MX Sports (which I work for when I'm not doing Racer X stuff). I spoke to Jody Weisel about it briefly and wished him well with the new project—and I really wish I could be a fly on the wall when Jody and Giuseppe finally meet, given some of the recent articles in MXA. I wish the best for the facility and Bud Feldkamp with the return of Grand Prix racing to
Glen Helen
after twenty years.
Sorry to cut my part short, but with the West Virginia Mountaineers in their first Final Four in NCAA Basketball since before I was even born, I'm jumping in the Toyota Tundra and making the six-hour trek to Lucas Oil Stadium to cheer for the Mounties. Wish my guys luck … unless you went to Duke, Michigan State, or Butler University!
Now we'll swing it over to Ping:
I was glad to see that
PJ Larsen
is having success down in Australia. PJ pretty much laid wood to the field down there and got his season started off on a good note. He was one of the guys without a seat when the music stopped here last fall. He even proved he's as good in supercross as he is outdoors by filling in for
Tommy Searle
with limited time on the bike and posting a top-five finish. Good on ya, mate. Keep up the good work. Oh, and see if you can find
Metty
's accent while you're down there, would you? Just kidding, Brett.
I saw Scott Bell this week. He was in a car accident that came frighteningly close to taking his life, and it was great to see him up and smiling again. He was with Jeremy McGrath while Jeremy was going over a new helmet design with Troy Lee this week. Then, in a bizarre sequence of events that almost caused the universe to explode, Jeff Emig walked in. At that moment, a side of me - the same side intrigued by MMA, daytime soaps, and horror films - wanted the two of them to start arguing about an old girlfriend or something and start throwing punches right there in the lobby of TLD. It didn't happen, though. They were perfectly cordial, and somehow I was disappointed.
It sounds like
Andrew Short
is ready to get his bike back from
Trey Canard
. Shorty is all set to return at the Houston round of the series after his ankle injury at San Diego. His bike has become very familiar with the podium lately … wonder if that adds any pressure to the situation.
That's all I've got from here. Happy Easter to everyone!
And here's a cool
Justin Barcia
video, courtesy of our friends at
Fox Racing
!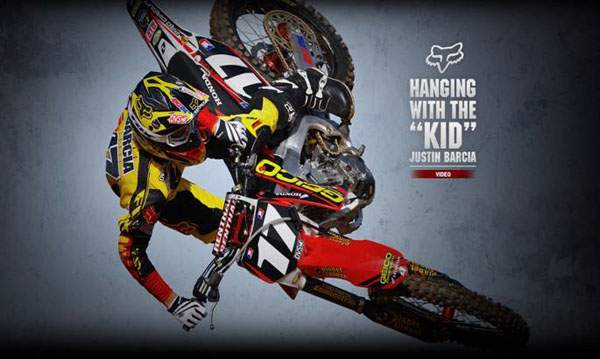 http://www.foxhead.com/us/mx/videos/id/21497
Congrats to Ashley Fiolek on the publication of her new book, Kicking Up Dirt. The two-time AMA Women's Motocross Champion and X Games gold medalist's book will be available for sale in bookstores and online outlets nationwide on April 27. It's available for preorder now at
www.harpercollins.com/book/pre-order.aspx?isbn13=9780061946479
.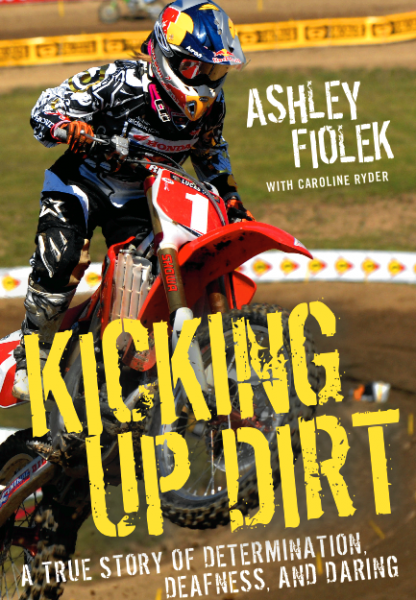 And congrats to regular Racer X contributor Carl Stone on scoring the cover photo for Ashley's book!

Steve Cox had this to say:
Yay, weekend off!
After Easter, when the series resumes in Houston, we may have the two-two back out on the track. But that's a may. I talked to
Chad Reed
this week, and this is what he had to say, which is about as official as you can get at this point:
"I mean, that's the goal," he said of being in Houston. "I'd hate to say for sure that I'll be in Houston, because I thought for sure I'd be racing at Daytona, and then I thought I was for sure racing Toronto and then Dallas, so the goal is to be 100 percent and come back and win races. When I feel like I can do that and I'm allowed to do that, that's when I'll be there."
One guy who won't be racing in Houston is
Trey Canard
. His fill-in gig for the Honda Red Bull Racing squad, riding
Andrew Short
's bike, is over. The end result? Six races with one DNF and then five consecutive podiums. But it's the way he got the podiums at the last two races that really speaks volumes, because prior to that, he was getting good starts and more or less staying out of trouble. In the last two races, he didn't get good starts. Instead, he had to work his way through the field. That resulted in him nearly passing temporary teammate
Davi Millsaps
at Dallas for second, and then in a last-turn pass on full-time GEICO Powersports Honda teammate
Kevin Windham
for third in Jacksonville. This leaves few questions about his potential on a 450, and his stock just went up a ton.
"With about three laps to go, I was in this turn over here before the on-off section and it hit me," Canard said after the race last weekend. "I was like, 'Dude, this is
Kevin Windham
I'm racing with!' It's just crazy to think about. I've watched the guy for so long, and to race against him is an honor. But I tried to put that aside and just go for it. I think I did the right thing as a racer, so I'm stoked on it.
"I thought I blew it because I had a really good section after the finish line where I was getting through that little whoop section, and I tried to go for it on the inside and he had a little more than I thought he did," Canard said of the race with Windham as the laps dwindled. "I thought I would go around him, but he had a lot going in there and I clipped his back wheel and lost a little bit. He may have had a little spinout on lap 18, and there was one good passing spot before the finish line, so I figured if I get him, I get him, and if not it's been a good run. I went for it, and it was all good."
Canard couldn't say enough nice things about Windham, though. "I respect Kevin so much, and he's been so good to me, and ever since I stepped into this, he's been the first guy for advice or to keep me encouraged or whatever," he said. "He's been just awesome to me, so to be racing with him, it's an honor."
Canard also had a pretty vicious battle with Millsaps earlier in the race. "We had a little bit of a quarrel, but that's racing," he explained. "I felt like I rode clean with everyone, so I know this isn't my territory and I just jumped in. I definitely don't want to do anything dirty, but I did want to go to the front. That was my goal. I'm not here to make enemies; I'm just here to try to improve myself."
After the race, Canard was one of three racers who had urine tests for drugs done – the other two being
Josh Hill
and
Ryan Dungey
. As he stood, drenched in sweat, on the stadium floor, he quipped, "I haven't drank anything, and I already get stage fright in public restrooms, so it's going to be a bad deal."
This week, Canard went to MTF to test on the 250F for his upcoming races.
Steven Clarke
looked really good at Jacksonville, except for a few key problems. In his heat race, he went over the first-turn hump WAY too fast and washed out on the berm, forcing him to the LCQ, where he made a last-turn pass to take the final transfer spot, but then he went to the main event and grabbed his best finish of the year – a ninth.
"There's a lot of pressure [to come to America and race]," said the likable Brit. "If someone over here loses his ride, he goes privateer, but if I lose my ride, then I've got nothing and I've got to go back to England and get a 9-to-5 job and try and make some money…. I've got a lot on the line, and the first couple races really didn't go my way. I was working really hard during the week, and it seemed like nothing I was doing would work. A lot of guys would say 'It's just not going my way this year, so I'll just keep doing what I'm doing until it sorts itself out,' but living at [the Millsaps Training Facility], there's no such thing as quitting. You're not allowed. Colleen [Millsaps] really pushed through it with me and helped me to keep my head up, and finally things have started to go my way again.
"I know I can be inside the top five, and I'm on an awesome bike this year," Clarke continued. "It's just as good as Pro Circuit or GEICO's bikes. Things weren't working, but we kept at it and things started to pay off. I'm just going to say that I'm going to get a top-five by the end of the season, because I'm starting to get to where I know that's where my speed should put me – or maybe even on the podium, in the right circumstances."
The KTM/FMF Motocross Fan experience is returning again to the Lucas Oil AMA Motocross series. The program is designed for owners of KTM motorcycles and offers some pretty cool stuff. Here is the official release:
KTM/FMF Motocross Fan Experience – Join Now!
KTM and FMF have again partnered together with MX Sports Pro Racing to bring KTM Motocross fans the ultimate viewing experience – The "KTM/FMF Motocross Fan Experience". The events will take place this summer and in conjunction with four rounds of the Lucas Oil AMA Motocross Championship Series.
The KTM/FMF Motocross Fan Experience, which sold out at both venues last year, is a KTM exclusive trackside seating area and all-day VIP access offered to KTM fans and owners. The events will take place at the
Hangtown
Motocross Classic (5/22/10),
Thunder Valley
MX Park (6/26/10),
Red Bud
Motocross Championship (7/3/10) and the Lucas Oil AMA Pro Motocross Championship season finale at
Steel City
on September 4, 2010. Tickets are now available for purchase.
With each ticket purchase fans will receive:
• Race day admission pass
• All-day pit access pass
• Free parking for all participants – includes special motor home parking for the first 30 KTM/FMF fans that show up on the day of the race (does not include camping fees)
• Free catered lunch
• Access to KTM exclusive trackside seating area with Live Timing Screens
• Special Autograph Signing with KTM Factory Riders
• Post-race Track Walk with explanation of the various elements of the racetrack lead by Jagermeister/KTM and FMF/KTM Team Manager Casey Lytle
• Free KTM/FMF event T-shirt
• Free Jagermeister/KTM swag for fans over 25 years old
"KTM and FMF were determined to bring fans a pass that lets them live the day in a life of a factory team rider or member. This pass gives you everything – all day admission and pit access, free parking and great seating. Not to mention a free BBQ lunch! This opportunity is too good to pass up," commented KTM President Jon-Erik Burleson.
A package of this type typically runs for over a $200 value. KTM has partnered with MX Sports to subsidize the tickets for KTM fans and owners and will be offering tickets for only $85.00. A very limited amount of tickets are available per event.
For tickets please contact
motocross@ktmusa.com
or visit your local KTM dealer.
Just got this picture in my email inbox, and it scared the crap out of me, but at first I didn't know why. Then I remembered being scared of Alien as a kid and it all made sense.
I also remembered being afraid of vampires.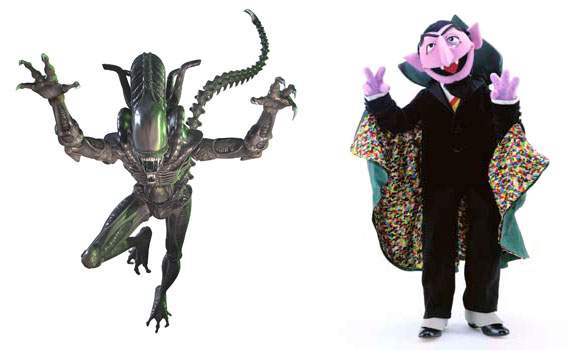 That's it. Everyone have a happy Easter weekend. Time to get back to work on Monday. Thanks for reading Racerhead. See you at the races.