Kacy Martinez Wins Havasu
Defending WORCS Women's Champion, Kacy Martinez took her first win of the 2010 season by dominating round three in Lake Havasu, Arizona. Martinez took the holeshot and never looked back as she hammered the rocks and sand whoops of the Havasu track to take the win and her third straight podium in as many tries this season.
"Going into round three at Lake Havasu with a cold had me a little on the nervous side," said Kacy. "As I was signing up, I was relieved to hear that the Women's Pro race was changed from its usual afternoon race to a 10:15am morning race. That left me feeling a little more confident, knowing that the track would be a whole lot smoother and a lot less demanding as I was feeling a little weakened because of the cold symptoms. I knew it was critical to get a good start and get out front early, which I did. I charged hard for the first two laps which gave me a comfortable lead over second. For the remainder of the race I was able to focus on riding smooth and not make any mistakes. This was fairly easy for me to do considering I was enjoying the sandy, rocky track so much. I was extremely happy to put my RPM, FMF/KTM at the top of the box for the first time this year and add to my points lead for the championship. I would like to thank my sponsors RPM racing team, KTM, FMF, Maxxis, MCM Suspension and my mechanic Bryan Ciraolo for making this possible."
With a record of 2-2-1, Martinez holds the lead in the WORCS Women's Pro Championship with 69 points, five ahead of her nearest rival.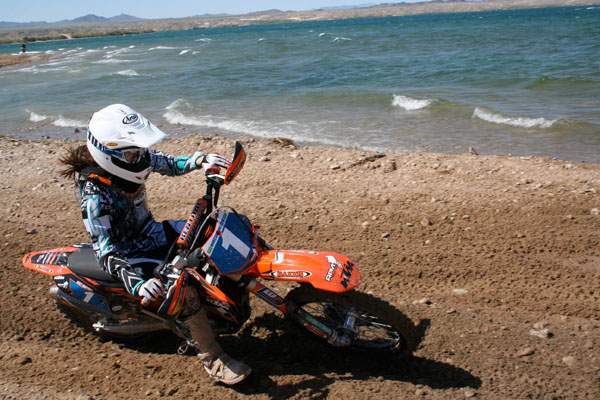 WORCS Women's Pro Championship Standings:
1.Kacy Martinez, 2-2-1; 69/1win
2.Holly Breck, 4-1-2; 65/1win
3.Nicole Madsen, 3-DNF-3; 40