Monday Conversation: Brett Metcalfe
GEICO Powersports Honda's Brett Metcalfe has had a very off season by his standards. In his second year riding for the Factory Connection Racing squad, he landed a podium finish in Atlanta, but has followed that with a seventh, a sixth, and an 11th last week in Dallas. However, things started returning to normal for the likable Aussie in Jacksonville, where he led both his heat race and the main event on his way to third overall. Also, he will be jumping up to the 450cc class at Hangtown. We talked to the 25-year-old after the race.
Racer X: So, tell us about your new beard...
Brett Metcalfe
: (Laughs, then his mechanic Brian Kranz, also a bearded type, walks by and says, "We're not shaving until Vegas!") It'll be big, huh?
Seriously, Brett, what's been going on with you lately? Your results have not been what anyone expected coming into this series...
I don't know! I've been putting in the work every week, but it just hasn't been working out at the races. That's how racing goes sometimes. You can't control things like getting a flat tire in the heat race in Toronto, then having to deal with that, and then you can't control other people blazing in hot into the first corner last weekend and taking you out, so...
Yeah, two races in a row...
Three! The Heat race, the LCQ, and the main!
Well, you did survive the second running of the LCQ, though...
I pulled it off when it ended up counting, but I don't know, it's hard to brush those things off sometimes and keep coming back the next weekend as if everything's fine, but that's what I had to do, and it was a tough few weeks for me, mentally. I've just got to keep working through it and understand that those things happen in this sport and just keep coming out swinging.
You're supposed to be riding a 450cc outdoors, right?
Yeah, I am.
Have you actually started riding them yet?
No, not yet. I'm going to race a 450 outdoors, though, for sure.
Are you excited about that?
Yeah, I'm super-pumped. I'm
really
looking forward to it. I can't wait to get on the 450 and get out there.
Is it because you're so fat and overweight?
Yeah, I'm such a big guy... No, I just think change is going to be really good for me. It's a new bike, new competition, and a new challenge. I'm looking forward to a new challenge. You can't stay in the Lites class
forever
. You've got to move up at
some
point.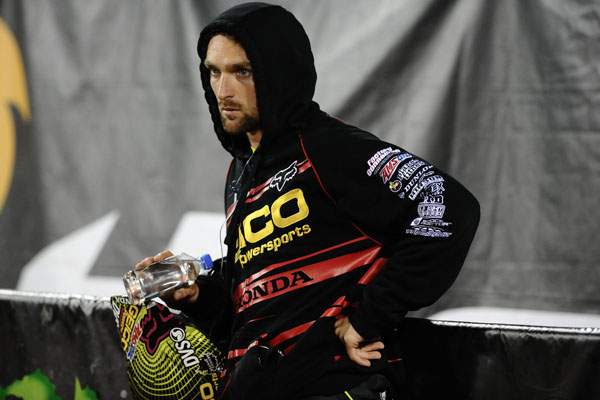 Photo: Cox
Yeah, what are you, 34?
No, I'm 33. I turn 34 soon...
See, I know everything about you, including your age...
Yeah, half your age, right?
Ouch... That wasn't nice. If you were have my age, you'd be 16, but you're like 25, right? So I'm not that much older than you, really... I look 15 years older than you, but I'm only actually like seven years older than you.
No, you're in shape now! A year ago, you looked like 20 years older than me, but not anymore...
Yeah, I'm catching up to you. In a year or so, I'll look younger than you because you keep looking older and I keep looking younger.
I hope not, but look at this [pulls off his hat], I'm getting some grays! Don't put that in the interview...
Why not? You look distinguished now. You used to look like you were 14. My buddy had a full head of gray hair when he was 20.
It's wisdom. That's what the gray hair's for.
Does that mean that people who don't get gray hair until they're a lot older are just slow learners?
I don't know... Let's finish the interview.
So did anything happen that brought it back together for you this week?
Honestly, I did better tonight, and a big chunk of that has to do with some changes we made to the bike. The team did a great job and changed some stuff up and I felt a lot better out there tonight.
What did you think about that jump right after the finish line tonight? It was a short jump, but looked nearly vertical...
It was stupid... You're trying to race into the turn, but everyone was going on the right because that was where it was a little lower, so you wouldn't get shot as high into the air. It was good because it made us slow down, though, but it was hard to pass or make up time. You couldn't really blaze down the inside because the jump was lower on the outside, and the berm after that wasn't big enough to go into it and square underneath someone, so it made it all one-lined.
With all of this cold weather lately, do you think the beard is helping?
Definitely, especially with the open stadium. That's why I did it this weekend. The open stadium made it cold.
What do you think about the fact that if I were to play this audio of this interview live, they wouldn't even recognize you as being Australian at all because your accent is completely gone?
It's because the guy who is speaking to you in this interview isn't even really
Brett Metcalfe
, it's his translator. Brett is right there standing next to me.
Oh, an Aussie-to-English translator! Here, this whole time, I thought the translator guy was actually Brett Metcalfe. I think he even married Brett's fiancé last year...
Exactly.
So the real Brett Metcalfe is over there saying, "Fair dinkum, mate!" and then you, as the translator, say, "That is true, dude." It all makes sense now. Thanks, Metty's translator, for making this interview possible.
No worries, mate.