Dietrich Dominates Havasu
Lake Havasu, AZ:
Monster Energy Kawasaki's
Ricky Dietrich
took his first holeshot in four years and then checked out on the rest of the field for the next two hours in Lake Havasu at round three of the WORCS Series. After setting the fastest lap on Saturday, Dietrich earned the first gate pick for the dead engine start, took the holeshot and then topped his fast qualifying lap with a series of faster laps to pull away from the all-star field and win by almost 1 ½ minutes by the checkered flag. "I don't remember ever having a race go this well from start to finish," said Dietrich. "My last holeshot was when I was still a teenager; I was more surprised than anyone when my bike lit up on the first kick. I had clean air and a great track and a perfect day."
Taking second was the defending WORCS Champion - KTM/FMF's
Mike Brown
. Brown rode magnificently from a poor start, through the field and up into second during the second hour. He put on a charge to try to catch Dietrich, but it was too late and Ricky D was too far ahead to close the gap in the remaining time. "This was a fun, tough race for sure," said Brown. "Everyone was riding hard and it was a great course. I chose the 250F because I wanted a lighter machine under me during the second hour in the sand whoops. I think it paid off."
Third place fell to last round's winner Kurt Caselli. Caselli also gated poorly and had to race through the pack of nearly 40 Pro's to reach the podium. He was closing in on Brown when the final flag flew and stopped his charge. "I feel great," said Caselli. "I wanted another 2-3 laps and I might've caught my teammate. But I'm happy to stay consistently on the podium and keep my eye on the Championship. That's the way to get the #1 plate in this series, stay consistent, finish every race and win when you can."
Valli Motorsports'
Kyle Summers
battled his way into fourth after a fierce four-way game of swing-arm tag between himself, Brown, Gary Sutherlin and Robby Bell during the latter part of the first hour and the beginnings of the second hour. Fifth went to Justin Soule who also fought his way into the top five after an off-track excursion left him to ride most of the race with an injured knee (MRI report to follow).
Caselli's focus is working so far, he has finished 3-1-3 in the first three rounds for 65 points / 1 win. Dietrich sits second in the title chase with a 5-3-1 record for 61 points / 1 win. His Monster Energy Kawasaki teammate Justin Soule holds the third spot with a 10-2-5 record for 49 points and
Mike Brown
sits fourth in the title chase with a 2-21-2 record (Brown broke a Tranny in round two while running in the top three) for 45 points.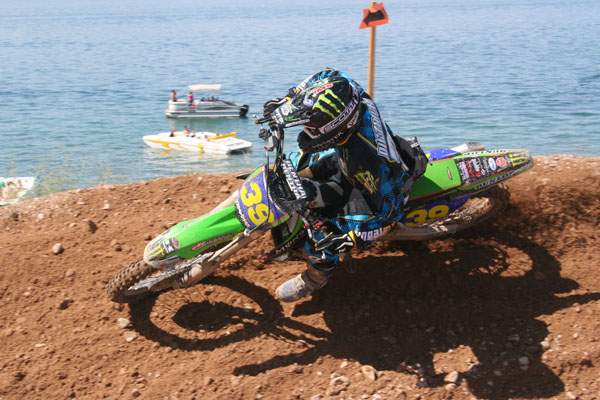 Results

1.
Ricky Dietrich
(Kaw)
2.
Mike Brown
(KTM)
3. Kurt Caselli (KTM
4.
Kyle Summers
(Yam)
5. Justin Soule Kaw)
6. Robby Bell (Kaw)
7. Gary Sutherlin (Kaw)
8. Colton Udall (Hon)
9. Nathan Woods (HSB)
10.
Chris Johnson
(Suz)