Racer X Podcast: First-Time Winners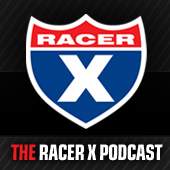 We're happy to announce the we've completed the first episode of the new Racer X Podcast. If you subscribed to our old podcasts via iTunes, it should update automatically within the next 48 hours or so. If you'd rather not wait, you can manually subscribe to the new podcast via your favorite RSS reader, or through iTunes.
To manually subscribe in iTunes: Open iTunes, choose the Advanced option in the top toolbar, and choose Subscribe to podcast...
Then paste this URL into the box:
http://racerx.vo.llnwd.net/o15/podcast/podcast2.xml
That's all it takes. The new podcast is quite different than the one's Steve Matthes did for us in the past. Instead of focusing on specific riders, ours will be topical shows -- think of them as audio versions of the magazine features we've been doing for years. The first topic is "First-time Supercross Winners," and host Jason Weigandt talks with
Grant Langston
, Jeff Emig and David Pingree about their first wins, as well as recent first-time winners
Justin Barcia
and
Blake Baggett
. This episode is kind of long, at just over an hour, but future podcasts will typically be between 20 and 40 minutes.
Some of the other shows we have in the works for the near future include: "Motocross in Cinema," "Inside a Factory Contract," and "The Art of Testing a Factory Race Bike." For each show, our hosts -- which will include Jason Weigandt, David Pingree and/or Davey Coombs -- will talk to the leading experts in the field to get the ultimate insider take on some of the most interesting topics in motocross and supercross. It's gonna be fun.
Have show ideas? Send them Jason Weigandt's way:
jasonw@racerxonline.com
. If we use your idea, we'll give you full props during the show, and we'll give you a free digital subscription to boot.