It's hard to put into perspective how big a win is – any win – in AMA Supercross. But put it this way: Before the main event in Dallas last Saturday night, there were exactly three riders in the Lites field who had ever won a main event before in their career (
Christophe Pourcel
,
Austin Stroupe
and
Justin Barcia
), and one of those riders just got onto that list one week earlier in Toronto (Barcia).
In the 450cc class, there were a total of eight on the line who had ever won any main events in either class.
Now, consider that the guys who qualify for an AMA Supercross are all very, very good on a motorcycle. They're the elite 80 guys in the country or world at riding and racing supercross out of how many people who ride motocross?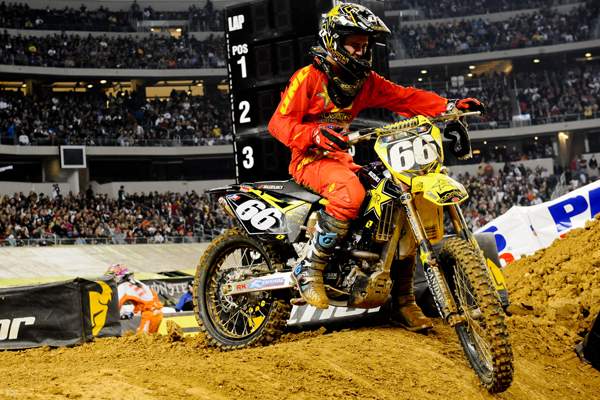 Blake Baggett is a winner now.
Photo: Cox
To put yourself in a group of 11 guys who raced in Dallas whom have won a main event, that's a very, very elite group. And
Blake Baggett
did it this past weekend in Dallas. No matter what may happen in his career from this point forward, he is officially an AMA Professional Supercross winner, and that's something that will never be able to be taken away. The fact that he did it in his rookie professional season, that's just icing on the cake.
Rockstar Energy Suzuki's
Blake Baggett
is officially in the top tier of our sport. And not for nothing, but so is his team, which pulled off it's first-ever win as well last weekend in Cowboys Stadium.