Monday Conversation: Blake Baggett
Rockstar Energy Suzuki's Blake Baggett scored a DNF in Toronto nine days ago, but Saturday night in Dallas, he won the main event. Not only that, but he did it via finishing second in the LCQ after the LCQ was restarted! We talked to him on the floor of Cowboys Stadium after the 450cc main event.
Racer X: So, that's better than last week, huh?
Blake Baggett
: Last week was a DNF. We'll just end it there.
What a way to rebound, though!
Yeah, that was a great way to rebound, and even tonight didn't start out good, because I qualified 11th, like I did at Atlanta and Daytona (laughs), and I was the last guy into the main and had to go through two LCQs since they restarted the first one. So, I'm okay with 11 being my qualifying number, but I'd like to stay out of the LCQs. It's definitely a dream come true, though. I was patient and waited, and then [Ryan] Sipes went down the left side of the whoops, and I went down the right side and got into the lead with one lap to go, and I was just like, "C'mon, don't crash! Just stay up!"
Sometimes, after a bad week like you had last week, racers will get up to second place, but then they'll be like, "I should just wait here and hang on because second is huge compared to last week." But you didn't do that.
No, I just wanted to ride in second until like three laps to go, and then I figured I was already there, so I might as well go for the win, so I waited patiently and went for it.
It's rare for a real rookie to win in supercross like this. Did you really expect that coming into the season?
I just knew that us rookies – me, [Justin] Barcia and [Dean] Wilson – would be together somewhere, wherever that was, because we were really close in speed as amateurs. After the first race, I knew we had the speed, and he [Barcia] got one last weekend, and I got one this weekend. It's amazing.
Your team has been on the road for a few years and they haven't won anything until now, so what have they said to you about what you just did?
The team's awesome. Everybody there works together. We definitely have something good going, and this rookie supercross thing with the whole team has been hard work for all of us, but by outdoors we're definitely going to be contending for a title. I really think that. It's good, and the Suzuki's are really good.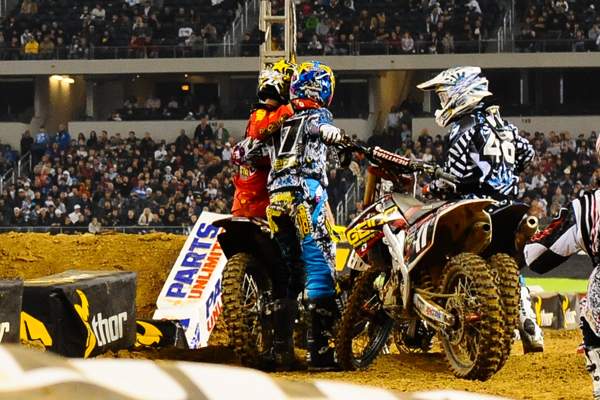 You said in your last interview with us that you prefer being inside instead of outside, and this is the first race in Dallas where there was a full roof on the building, so you're inside. Do you think that helped you win?
[Laughs] Yeah! It definitely helped today with the snow, but it seemed like I was riding back and forth (from the pits, through the cold weather) a lot, though.
Well, you had to ride the LCQ, so that's an extra round trip...
Yeah, I definitely think I got the most amount of laps on the track as I could tonight [28 total], and I got the most amount of starts off the gate as I could [four total], so I think it was a really good night! I got my money's worth! [Laughs]
Yeah, you made up for the laps you didn't finish last week...
Well... Yeah, I guess I didn't finish a lot of laps last week [laughs]. I guess I made them up and we can call it even now.
Has it really even sunk in yet?
No, not even close. When I went across the finish line, and those little things shoot the flames into the air and everything, and I got the checkered flag first, I was just like, "Really?! Did this just happen?! I guess this happened!" And then I rode over and Barcia and Sipes came up, and I was just like, "It did happen!" But it really hasn't sunk in yet.
Yeah, you looked like you were laughing, then crying, then laughing again; it was almost schizophrenic!
Yeah, I couldn't take it! It was just like, "Yeah, this is true, I guess!" It's just amazing to be able to come from the very last gate and two LCQs [laughs] to win the main! That's definitely not what I planned on doing.
You couldn't even manage to win the LCQ!
No! I know! [Laughs] That's funny!
Is Bill Keefe, the team manager, going to give you anything nice as a bonus for giving his team its first-ever victory?
I think, since it was his 50th birthday yesterday, we're definitely going to go out and have some cheesecake tonight – and I mean "we" as in he is going to have some, too, because I had some cheesecake the night before Daytona and I led there but I didn't win, so I'm thinking if I try the cheesecake after the win, maybe I'll carry it through!