Welcome to Racerhead. If you're a supercross fan (and you almost certainly are or you probably would not be reading this), this is a big weekend, as the Monster Energy AMA Supercross tour rolls into the brand new Cowboys Stadium in Dallas, said to be the best new stadium in the world. If you're a college basketball fan and your team has yet to lose, then you're probably as excited as any supercross fan heading to the races, because the NCAA Tournament has started! I bring that up because our team, the West Virginia Mountaineers, begins playing soon, [Ed. note: They won.] so my first part of Racerhead will be not be as long-winded as usual – I've got an appointment with Stella Artois right around noon!
First, I want to thank Feld Motor Sports for airing the last few races live on television. I missed being at the events, unfortunately, but I really enjoyed getting to see them unfold live on my TV. Now we're back to next-day airing, which is understandable, but I think everyone who has Speed has been spoiled by the live shows!
The Dallas SX will broadcast on Speed this Sunday starting with the Lites class at 5:00 p.m. ET, followed by the AMA Supercross class at 6:00 p.m. Be sure to check your local listings.
Here's a look at the track map:

Okay, this is just laugh-out-loud funny: Who knew that Red Arrow had a fan club, and that rc4187 was already president?

Soon they were throwing Red Arrow under the virtual bus over on the Vital MX board, like how he's "just a tool." It was time to defend the, um, well, tool. Here's my response:


Look, I know that people gripe all the time about how those in the motocross industry "protect" one another, but it's just not true. Red Arrow is not a role model. Red Arrow is not here to raise your children. He just wants to rip, and we're lucky that we get to see him do it for 42 seconds a week, week-in, week-out. He's not going to solve world hunger. He is not going to pass every rider on the track... Well, there are no riders on the track when he's out there. But he's not going to pass every drug test either – that's why he's red – so cut him a break. And you can bet when he screws up, like when he chews the ear off his dreaded rival Cursor, or gets caught in his motorhome with a couple of Emoticons or Miss Pac-Man between motos, you can bet that Racer X Online will light him up like a Christmas tree.


Unfortunately, not all the news was good this week. There was a devastating crash at the Lake Whitney AMA Parts Unlimited Spring Classic that involved several 85cc riders, including Suzuki amateur support rider
Jesse Masterpool
, one of the hottest young riders in America. Masterpool was airlifted to a nearby hospital and has been in a coma ever since. A website has been set up to keep everyone posted –
www.jessemasterpool.com
– and the amateur motocross community is doing what it can to help the family out.
Last night at Oak Hill,
Wes Kain
and
Ed Torrance
held an auction at the Rockstar tent. All kinds of items were donated and auctioned off, like a Pro Support ride from
Primo Marotto
of Dunlop, exhaust systems from FMF and Pro Circuit, and jerseys from pro riders like
Christophe Pourcel
and
Ryan Dungey
(who matched the amount raised). Red Bull and Rockstar ponied up, as did Traxxas and Associated. Possibly coolest of all was
James Stewart
's donation of one-week stays at his ranch in Florida – he donated three of them!
Andrea Leib
of On-Track Learning gave lessons packages. MSR and Answer gave gear, the gang at Feld Motor Sports gave Monster Energy AMA Supercross tickets and VIP passes, and MX Sports donated two weeklong camping hook-ups for the 2010 AMA Amateur Nationals at Loretta Lynn's. I'm sure there were more, and as soon as we can get a complete list of all of the donations, we will share it with everyone, because this was huge for the Masterpool family and the entire motocross community.
I can speak on behalf of everyone here at
Racer X
and MX Sports when I say that the Masterpool family has our sincere hopes and prayers in this extraordinarily tough situation.
I would also like to send those same hopes and prayers to the family of
Austen Biggers
, who is also in critical condition in the same hospital as Masterpool. Even with all they're going through, the Masterpools posted this on Jesse's site:
"Here at the hospital we have met the wonderful family of Austen Biggers who is also in critical condition. We truly appreciate if you could add Austen into our family with faith and your prayer." Consider it done.
Steve Matthes
is the fastest Canadian on the floor for the 450 main, that doesn't bode well.
Jim Holley
made a good point with
Jason Weigandt
: The reason
Ross "Rollerball" Pederson
was so good for so long was because he raced against the Americans every chance he got. So did
Jean-Sebastien Roy
, and so has Scottsman-turned-Canadian-turned-soprano-voiced
Dean Wilson
, which is why he finished a solid fourth and won his heat race in the Lites class. It's like all of the Canadian riders slept in after a great pre-race after-party at the Loose Moose (I have been to those parties, and they are a lot of fun). Next year, try to come out and race, eh?
And congratulations to
Justin Barcia
on that first win. It was only a matter of time, and now I can't wait to see what this kid can do with the confidence of victory – though he has always had a lot of confidence!
I also can't wait to see what Pourcel can do now that he's probably good and pissed off about losing to "that little kid." I am a big fan of both Justin and Christophe, so this will likely be the race to watch this weekend, as well as much of the rest of the year. Add in
Jake Weimer
and
Trey Canard
this summer, as well as
Tommy Boy Searle
and
Tyla Rattray
and, well, you get the picture!
Ryan Villopoto
is riding with
RC
-like intensity. He knows he has his work cut out for him chasing down
Ryan Dungey
in the standings. With
Chad Reed
back soon (definitely not this week), plus
James Stewart
and
Josh Grant
and
Andrew Short
, there will be some more top riders around with the speed to get in between them. I think the AMA Supercross class is about to get very, very interesting!
By the way, I finally figured out which three broken bones
Josh Hill
has that have so far remained unnamed. It's his ribs. And they do have names: Barbecue, Spare, and Adam's.
Before I go get my game on, I want to mention the rumors swirling about
James Stewart
possibly returning to the nationals this summer. All I can say is what I've been telling him and his team since last spring: We will always have a place at the starting gate for him. If he does come, it will be fantastic for the fans and the sport. If he doesn't, it will just keep making us work harder, and we will still have a fantastic series for the fans and the sport. I know it's been some inspiration for myself and the rest of the gang at MX Sports, as well as all of the NPG promoters—though one did recently joke that in order to keep the competition close, we shouldn't tell him we moved the races to Saturday last year. Either way, it's going to be a great summer.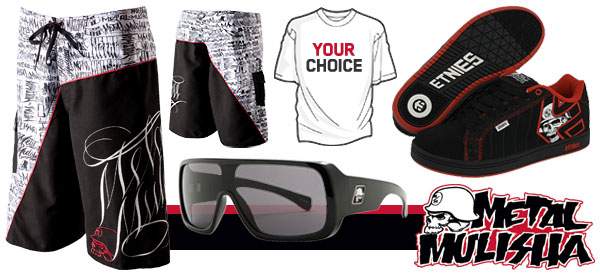 Want to win a Metal Mulisha prize pack? Check out our TGI Freeday contest by clicking the image above.


Okay, here's Ping:

I've been praying all week for Jesse Masterpool. I've never met the kid, but I hate hearing about accidents like that and I'm just hoping to get some good news soon. The same goes for Austen Biggers and his family.


Ben Townley
at 11:15pm, 11:17pm and 11:20pm. There was no message, but I had a feeling the news wouldn't be good. He injured his GI tract after missing a shift and getting thrown into the bars. He didn't even crash, but
the incident
will cost him a month of downtime.
The thing that pisses me off is that people started making comments on various websites about how often Ben and others get hurt.
Broc Hepler
was another easy target who took some bashing. "I think it's bigger news to hear when Ben Townley isn't hurt" was one of the comments thrown out there. These guys hang it out every day to be the best at what they do, fully aware of the risks. Just say "Get well soon" and get back to your life.
There, I feel better. Let me hop off my soapbox now.
So, supercross is headed to Dallas this week and I'm almost as excited to see the new stadium as I am to watch the race. This will be the first East Region round I've been to this year, and I'm anxious to see some racing again. I'll have a good seat for all the action, as I'm working on a story for an upcoming issue of
Racer X Illustrated
. If you don't subscribe to the magazine, well, you should. It costs less than twenty bucks ($19.98) for a full year subscription (that's 12 issues), and you can subscribe
right here
.
Tyler Bowers
looked like he had the Arenacross title locked up until a crash this week left him with a broken femur. Ouch. Been there, done that. What hurts worse, the leg or watching someone else take that plate home? Heal up quickly, Tyler.
Jason Lawrence
should be back this weekend. His probation likely didn't include trips out of the country to places like Toronto, but I think he can swing Dallas. He hasn't found the magic that he had a couple seasons ago, but maybe he can pull it out this weekend.
There was a lot of talk about the incident between
Jake Moss
and
Tevin Tapia
last weekend. Tapia plowed into the back of Moss and Jake proceeded to shove him … and then shove him again. Personally, if a guy had pulled that kind of move with me, I would have shoved him, brought Chu
ck Norris
in to roundhouse kick him, and then I would have dropped down and speed-bagged him in the crotch like
Lloyd Christmas
in
Dumb and Dumber
. In the LCQ, the same thing almost happened again except Tapia ejected over the bars and narrowly missed taking Jake out with his cartwheeling bike. Despite all that, the AMA has posted up a "hands off" rule, and I think it's probably a good one. So does it not include on-track incidents? I thought the Reed-Stewart debacle in Phoenix was the reason it was created. Maybe I'll track down an AMA official this weekend and see if I can get a clear answer. I'll let you know what I find out.
Matt
, his identical twin and Dungey's teammate, still isn't riding after breaking his back at an Australian supercross round at the end of 2009. Hopefully we'll get to see what Matt can do when the motocross series gets under way this May.
Also, I've been talked into Twittering. Or Tweeting. Or whatever you call it.
Dave Castillo
was relentless and I've broken down. Look for me soon.
Here's
Jason Weigandt
:
If you're boarding a plane from PA to TX like I am, or just tuning into the live webcast Saturday (now just $27.99 for the rest of the season) or watching on Speec, here are five things to watch for this weekend in Arlington.
1. Will RV and RD finally hook it up?

Still no Reed or Stewart to get into the mix, so if we are going to see racing, it's going to be up to the "last men standing" to do it. They are so darned close on speed it is bound to happen one of these weeks.
2. The building.

Industry types have been buzzing all year about visiting the Cowboys' new billion-dollar palace. These might just be the best digs on the tour. Heck, the place is worth checking out even if it wasn't holding a supercross.
3. Drama in the Lites class.

Christophe Pourcel
rarely makes mistakes, but he made a big one in Toronto when he opened the door for a
Justin Barcia
win. Yeah, he had a bad night and still scored solid points, but you know that old saying about once you win one, the rest get easier? Barcia may be a real thorn in the championship's side now (and if he is, the new Mr. Consistency,
Austin Stroupe
, is ready).
4. Racing back into shape.

Josh Hill
,
Ivan Tedesco
,
Justin Brayton
, and
Davi Millsaps
have taken on some bumps and bruises this year. They're still racing, but the season is getting away from them, with prime podium opportunities slipping away. Instead, replacement rider
Trey Canard
is getting the love and the win bonuses. Can anyone rebound?
5. Getting technical.
Take a walk of the Arlington track with Tommy Searle
and you will see, there are a lot of different jump combinations on this track. Even practice should be exciting as riders try to unlock the next level, and in the mains, things could change at any second as riders negotiate a tough track while fatigue is setting in. This is prime real estate for an upset.
Bonus: No surprise, Texas has a wild side, and if you're interested in an unforgettable night out, you will find it here. Don't drink too much, though, or you'll forget what was so unforgettable. And that would be a shame.
That's this weekend. For the full scoop from Toronto last weekend, check out
Racer X Redux presented by Renthal
.
In other news:

Michael McCulloch
spotted a ticket stub from the 1977 Dallas Supercross! What's funny is that the ticket dubs the event "International Motocross," and not "Supercross," which had become the go-to term for AMA Supercross by then. Check out the
whole story right here
.
Congratulations to GNCC racer
Josh Strang
on earning this week's
Cycle News
cover, as well as to
Racer X
contributor
Shan Moore
for making the shot!
Check out the all-new, revamped, reformatted, best motocross training website on the internet:
www.racerxvt.com
. Updates are provided every Thursday on Racer X online with daily updates on the site. While you're at it, follow VT on Twitter (
Twitter.com/RacerXVT
) and become a fan on
/pages/Racer-X-Virtual-Trainer/102985498374 " rel="nofollow noopener">Facebook
.
Maxim
magazine (April 2010), with some tips from Honda Red Bull Racing's
Andrew Short
. Shorty gives his top-three tips on how NOT to ride, such as "The tires on your $25,000 machine show wear only in the middle – i.e., you've never turned. Ever."
We'd like to send well-wishes to longtime subscriber
Tracy Anders
' daughter
Ashtyn
, who was seriously injured while playing goalie in a soccer game on her fifteenth birthday. Happy belated birthday, and get well soon, Ashtyn!
The 2010
Donnie Hansen
Motocross Academy camp and school schedule is now up at
www.dhma.com
. April classes will be at the Piru MX Track in Piru, CA, on April 2 and at The Sandbox Arena, New Richmond, WI, on April 24-25. The first spring camps will be on March 26-28 and April 30-May 2 at their private track in Colorado Springs, CO. Call 877-883-7260 or email
Donnie@DHMA.com
for information.
DC Shoes is proud to announce it has teamed with the Yamaha Motor Corporation to kick off the spring season with a new consumer contest launching today. Up for grabs are 2009 Yamaha bikes with custom DC x Yamaha graphics. DC and Yamaha first teamed up last December when DC launched its new motocross training facility, the DC Moto TF at the
Pala
Raceway. Yamaha came on as the official bike sponsor of the Moto TF, providing DC with exclusive bikes at the track. For more information on the DC Moto team,
click here
.
Racer X
Videographer
Matt Francis
sent this over:
Brad Lackey
Nor-Cal Classic this past weekend at the Historic Sandhill Ranch racing facility in Brentwood, California. This race was also the third and fourth stops of the AHRMA (American Historic Racing Motorcycle Association) National Vintage Motocross Series. AHRMA was responsible for the rebirth of classic vintage motorcycle racing in America. Additionally, the AHRMA Legends Group will be honoring Carlsbad Raceway as the most famous racetrack in the USA, according to Brad Lackey, who raced and won there from 1969 through 1983. Carlsbad Raceway was home of the 500cc World Championship in the USA for many years. For more information on the memorabilia of Carlsbad Raceway, check out:
www.CarlsbadRaceway.org
or
www.ahrma.org
.
Also, one of the coolest Vintage MX events you'll want to see or ride is coming up on Mar 27-28 at the OMC track in Boise, Idaho. This track hosted an original Inter-AM back in 1972. It's one of the most scenic tracks you'll want to see, and because of generous industry-sponsor support, there are no spectator gate fees or camping fees. Add in a video party and live music on Saturday night at a nearby pub, and you are in for a lot of fun! Considering all the retired motocrossers who live in Idaho, you might see some them walking around as well. Go to
www.idahovintagemx.com
for more details.
Here's a
video clip
from last year.
Finally, have you checked out the 2010 Honda CRF250R? If not,
click here
.
Well, that's it for Racerhead. Thanks for reading, and we'll see you at the races.