Hello, everyone, and welcome to the Rev Up. The boys make their way from one loonie bin to another this weekend. I'll give y'all a second on that punchline... Ok, sorry, I've never been good with jokes. But I'd like to think I have a pretty good handle on getting myself and others pumped up. Revolution is my name. To that end, it's time to stare down the Dallas Supercross, and the Lone Star State always gets me jacked up. For starters, my favorite metal band of all-time, Pantera, is from there and when it comes to fist-clenching, ass-kicking, get-the-shoulders-back music, nobody does it like The Cowboys From Hell. A coupe years ago, I wrote a Pantera-inspired Rev and I'm going to give it another shot. That said, anyone who can correctly name all of the songs or album titles embedded in this week's column will get a sticker from yours truly. So, if you're a core "C.F.H." fan, you should already know we're two songs into it.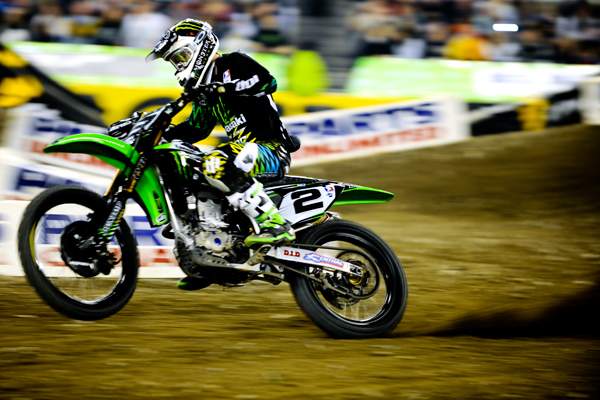 Ryan Villopoto is on fire.
Photo: Cox
On with the show...
Texans have long mastered the art of shredding. I made my first trip in 1984 thinking I was a pretty fast whipper snapper from Kansas until I met some names like Jeff Dement, Clint Latham, and Charlie Bogard. Those were just kids close to my age. Older Texans like Dennis Hawthorn, Clay Hoenshell, Tim Hodes, and Willie Bowden would cast a shadow on the local competition send them into throes of rejection. I always noticed Texans were fighters, too. They were never afraid to spend five minutes alone with anyone on or off the track. It's with that history and heritage that we should prepare ourselves for yet another barn-burner. Domination is a term that none of the big boys have been able to use their third arm to capture. The heavyweight title belt is still up for grabs, but
Ryan Villopoto
has made made it his turn to rise and make a run for it. He's 17 points down with seven rounds to go. If he keeps winning we just might see the ultimate brawl come Vegas. If you don't have some Pantera in your headphones as you read, click on your iTunes and double-click hostile right now. Let's get it revved up, Texas style!
250

Austin Stroupe
has ridden a masterful series and with four races to go, and points leader
Christophe Pourcel
can't hide. Many moons ago,
Timmy Ferry
won the 1997 title sans main event victory. If last week's winner let's his mouth for war continue to roar, we could see the gap between Stroupe and #1/377 become hollow. Barcia has sent a message in blood to his competition that he will not back down in the slightest. Main events typically reward a rider with a new level of confidence and power, and don't be too surprised to see the youth gone wild becoming a regular at the top of the steps. If he shows Pourcel a vulgar display of power, Stroupe will be there to snatch up the points lead.
Every riders take a little more with him around the track for the hometown, so I'd look for
Tyler Wharton
,
Kyle Cunningham
and Matthew Lemoine to use a little strength beyond strength.
450

Remember back in 2003, when
Chad Reed
started winning at Daytona and didn't stop? That was the only time in
Ricky Carmichael
's career that somebody truly had the measure of him.
Ryan Dungey
faces a clash with reality in the name of RV Park, and right now #2 has RD5 on the ropes. You know what race wins do to big points leads? It makes them disappear. I'm given up on finding out when or if Stewart or Reed are coming back. In the mega top secret world of supercross, where silence and rumors rule, who the hell knows? If they come back, the title chase will get hot and heavy.
Trey Canard
. Trey has a very real chance to win one of these before he gets back on his little bike. He'll likely get the holeshot, and if RV Park gets mired, Ice Trey could ride away on a psycho holiday.
Ok, guys, this one might have been painful to read, but hopefully you had fun with it. E-mail me at andy@racerxonline.com with all of the Pantera songs and albums I mentioned and I'll send you something in the mail.
I wish I could join all my friends in Texas this weekend, but a little place called Bristol Motor Speedway comes calling for me and I'm headed there to watch #33 hit 'em with a primal concrete sledge.
Tanks for reading, see you next week.