Between the Motos: Gary Bailey
Gary Bailey really doesn't need an introduction—after all, he's the pioneer of American motocross! Bailey recently wrote a book called Pioneer to Professor, which takes readers on a personal journey through American motocross, and he's donating a portion of the proceeds to his son David's foundation, Rider F1rst.


Racer X: What's up, Professor?

Gary Bailey: Well, I've been doing some classes, and I'm currently looking at my new motorcycle that I'm going to buy.
What are you getting?
I'm getting a new Honda Fury. Man, it's sweet!
Well, congratulations, another one of your pupils broke into the record book this past weekend in Toronto.
Whoa, how did you know that? Most people don't know that I've worked with Justin [Barcia]. That's one of the biggest secrets in the world because he's down there working and staying at MTF.
How long have you worked with Justin?
Well, when he was on the smaller bikes, every once in a while I'd help him out and we worked on his technique, helping him to be smoother and more fluid. When his style got all out of whack, his mom and dad would call me up and they'd bring him up for a couple of days and we'd kind of work on fine-tuning everything to get that better momentum. The speed and aggression is there, but sometimes too much momentum, which he tends to have, can sometimes bite you in the butt. So we just focused on cleaning him up.
Those hay-bale covers could also bite you in the butt.
[
Laughs
] Oh yeah. You know what? It's funny, he knocked it off and they put it back on the bale, and it wasn't even a half lap later when Pourcel got caught on it. Finally they moved it!
Did you think Justin had the potential to win on the pro level when he was back on a mini?
Actually, if you ask his parents, back when he was on an 85, one of the first few times I worked with him, I said this kid has the ability and qualities to be number one. He has got what it takes. His attitude, desire—just everything. It reminded me of
Travis Pastrana
; when I first saw him on a 65, I knew he had what it took.
So what's new with you? You said classes were already in session….

Well, I thought I was in retirement, then my wife told me it was semi-retirement, but now it seems I have more work than I know what to do with. I just looked at my schedule and I don't have a weekend off from now till the end of May.
As far as classes, I'm doing selected group classes, specialty ones for Loretta Lynn's. They're limited to twenty riders and I'm just going to push them till the end to try and create the track to be as close to Loretta Lynn's as possible. The problem I see with riders going to Loretta's is the reason they're not ready, no matter how good they are, is that the tracks aren't rough enough because they don't let the track get rough enough these days. Next, they don't get to run twenty-minute motos; it's usually a ten-minute moto. So I'm going to give the roughest, nastiest track, a little bit of nutrition, and just things to get them ready about three weeks before Loretta Lynn's.
I'm doing another group class, kind of like a summer camp thing, incorporating a little more fun activities, along with the riding part of it. And then I'm doing a lot of private classes. Right now I'm working with
Taylor Futrell
, and he's here every week working on timing and all of the issues with supercross that are different than outdoors. We're just trying to get him cleaned up to get in that top ten.
It looks like he's more comfortable each weekend.
Yes, he is. You know, he's never been on a supercross track till a month and a half before the season started.
Well, what I'm really calling you about is to talk your book, Pioneer to Professor.

Yeah, I looked at doing that for a few years, so we kind of got down to it, finally [
laughs
]. It took us a little over a year, but it finally came together. Everyone seemed to want to go in different directions, but I finally said, "Hey, this is my book, and I want it to be me." It doesn't have to be politically correct, because I'm not politically correct. My wife started changing stuff up, but I looked at what she changed and it looked good, but it wasn't me. It wasn't what I was saying, so I didn't have her change too much. When we got all done with it, we were really happy with it.
The response has been good when I've gone places. Everyone who's seen it likes it, but the problem I have is advertising. I spent so much on the book that I don't have much left to advertise, so I'm just trying to get the word out as best as I can.
I also understand that some of the proceeds are going to help your son's foundation, Rider F1rst.
Well, I have over 4,000 books here, and I figure I can donate seven dollars a book to David's foundation, which I don't have a problem doing. I didn't print the book to make a living off of it; I just want to get the book out there and do something to help David's Rider F1rst Foundation.
I don't know if you know much about the Rider F1rst Foundation, but rather than piddling a few dollars here and a few dollars there, they're taking a lump sum of money that they come up with and they're helping one or two guys. If they give someone a thousand dollars, that would be great, but a thousand dollars isn't going to help their problem. So they're waiting till they get fifteen or twenty grand, and then they're giving them that. I think it's kind of cool, the idea David come up with, and who would know better than David, because he's been there. It's a cool deal and I want to be a part of it.

Well, I hope this helps get the word out about your book, Gary. Readers can just purchase a copy on your website, right?
That's correct. They can go to
www.garybailey.com
,
PayPal it
, and boom, it's out in a few days.
Twenty bucks?
Yep. That was another goal I had. I wanted to keep it reasonably priced, so I hope that helps it sell.
It's a great-looking book, so I'm sure you'll sell those up. Finally, any openings for any of your upcoming classes?

Yes! As a matter of fact, we just scheduled them last week, so there are a few openings left, and they can sign up on
www.garybailey.com
.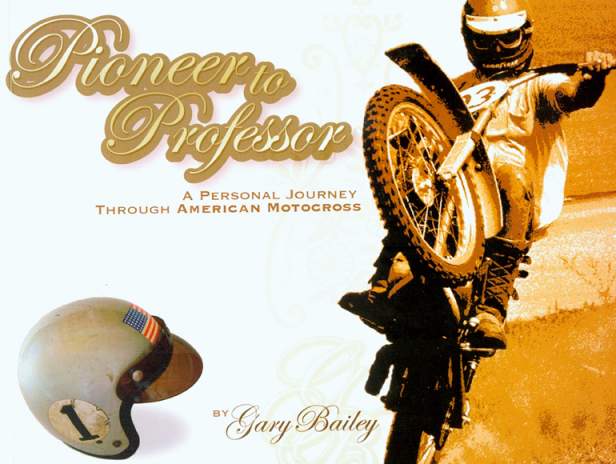 Pick up your copy right now at www.garybailey.com