Brash. Impudent. Brazen. Cocky.

When a rookie shows up and starts pushing people around, the veterans aren't going to like it. That's just a given. It's the same in any and every sport. Hell, for that matter, it's the same in the corporate world, at school... It's just true. Leave it at that.


So when GEICO Powersports Honda's
Justin Barcia
showed up at Indy this year and just started pushing people around, he did two things: 1) got a lot of other riders mad at him, and: 2) began making legions of fans.
By the time Toronto came around last Saturday night, it was clear that he didn't just have fans in the USA, but he's gone international. (Ignore the fact that Toronto is only a few hundred miles from where he grew up racing.) Add to that the fact that Barcia has apparently been storing up the ill will that his competitors hold for him (and demonstrate to him at times) and using it as fuel, and there was destined to be fireworks in Toronto.
In practice, Barcia was run into by a couple of different riders, and in his heat race, points leader
Christophe Pourcel
held his line on the inside of a sand turn and nearly caused Barcia to go over the bars as he went over the sand berm.
But when the gate dropped in the main event, all they saw of
Justin Barcia
was his back. The rookie took his first career win in his fourth attempt. Expect more.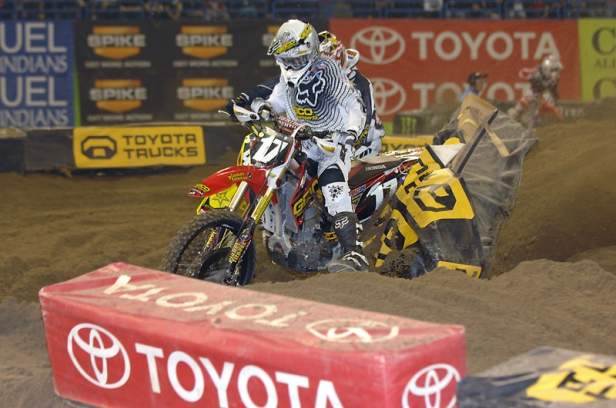 photo: Carl Stone