Monday Conversation: Justin Barcia
GEICO Powersports Honda's Justin Barcia broke through five rounds into his rookie season to win his first-ever AMA Supercross main event in the Lites class at Toronto last weekend. We talked to the likeable but controversial wild child after the main event Saturday night to get his take.
Racer X: Hey, Justin, that was all right...
Justin Barcia
: Yeah, that was all right! I guess you could say that. It wasn't too bad...
You were in the hunt at the first race, and even at Atlanta until you fell, but then you finished way back at Atlanta, and were never really in the hunt at Daytona, so what were you thinking?
Yeah, you know, I'm still a rookie like everyone says, and I've got a lot to learn still, but this track suited me really well. And actually at Daytona, I thought it was going to suit me, but it was really tight and hard to pass, and I didn't get the best of starts, but as you can see, a holeshot means everything out here, and that's what I did tonight. I checked out in the beginning, and then gave everyone a heart attack a couple times around some corners and picked up some haybales... I was doing a line no one was doing all night, jumping across that corner, but it was still legal, and I cased that a little and it slung me off the track...
Yeah, you almost hit me. You've got to be more careful...
Oh, did I? My bad! I'll be more careful! (Laughs) It was a crazy race, but all in all, it was awesome.
When you're out there leading, and first you're dragging a Tuff-Block cover, you knew that, right? So how difficult was it to stay focused when that was going on?
No, but I think I got the award for taking out the most Tuff Blox! It was gnarly. But I kept my cool, and that's what was good. I didn't even know I had that cover on me, though. I knew I was hitting haybales because that corner's really tight, but I didn't know I was dragging stuff until I saw it on the replay on the big screen after the race. Even the first lap, me and
Austin Stroupe
almost got tangled up because that [sand] corner, we didn't know how tight it was after they moved the sand around, so that was a crazy part of the race.
You've had to deal with Christophe Pourcel running into you, and Martin Davalos fighting with you, and things like that, so what do you think about that stuff?
I've had a pretty gnarly season. Everyone wants to kill me because I'm a very aggressive rider:
Martin Davalos
, Pourcel,
Vince Friese
T-boned me today in practice and almost broke my leg...
Today?!
Yeah, today in practice, I got T-boned wide-open by
Vince Friese
, and that was gnarly. It almost ended my night. Luckily, these guys are making me want to win more than ever, so keep on hitting me; keep on pushing me; I love it. It just makes me want to win more and beat all you guys. Thanks!
That is kind of the ultimate revenge, if you win...
Yeah, you know, I'll be aggressive back to anyone who's aggressive to me. In the heat race tonight, me and Stroupe rode clean, and it was good. We were both happy, and he's a really great guy, and he was nice to me this weekend. It's cool to have someone like that to race with who is really fast and is also cool to talk to.
Nobody likes it when a rookie shows up and is really fast and tries to push everyone around, you know?
Yeah, I'm sure. I'd be pissed, too, so I'm sure everyone's hating me. (Laughs)
But you're not out there to be buddies, right?
No, I'm out there to race and win – and have fun, most of all.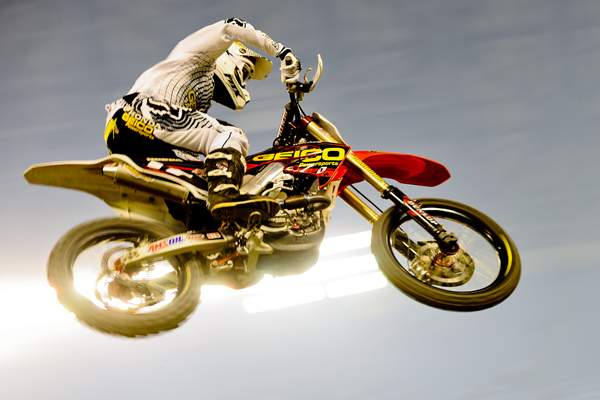 Justin Barcia
Photo: Cox
And how much fun is it to get the big trophy with the cup on it?
It hasn't set in yet, really...
But you won a National last year, so you've been on top of the podium before...
Yeah, but this is a little bigger than
Southwick
.
Southwick
was a big highlight in my life, but this is huge. Being in a different country is a little different, but all my fans up here were awesome.
(Factory Connection Racing's Darren Borcherding steps in and says, "Ask him if he's won at karting yet...") Okay, so what about that?
Borch has smoked me at go-karting, but he's coming down to my house soon...
The thing about Darren Borcherding is that he doesn't look like he hauls ass, but he does haul ass... He's a sleeper. He's really sneaky.
Yeah, he's really sneaky. I thought I'd have the weight advantage, but he was holding the corners tight and still pulling me on the straights somehow!
Throttle control! He's smooth, and if you drive karts like you ride...
Yeah, I was taking out all the Tuff Blox... At Pole Position, I was hitting those barriers that move on the side of the track, and I was pushing them all around. Whiskey throttle! I was leading when we were there, and I thought I had the race won, and Borch came up behind me and spins me out! I was looking backward on the track, and people were coming at me head-on... But he's helped me out a lot here in motocross!
Now that you've got one of these under your belt, what are you thinking?
I feel like I want to keep this up. It was great. The team was great tonight. We made a lot of changes in between practice and the heat races and the main, and the team was awesome to me. I'm going to go home, back to MTF [Millsaps Training Facility] and take a day or two off and hang out with my girlfriend and family and friends, and I'm sure we'll have a little party at the house or something and drive some R/C cars... I'll just go do what I've been doing and give it 100 percent.
Speaking of MTF, what's it like to be there with Davalos being there, too? Are you guys cool now?
No! It's funny you bring him up, because he hit me today in practice! I guess no one really knew that, but something's going to have to happen there...
Is someone going to burn someone else's room down or something?
Something! I don't know what's going to happen, but it's not going to be good.
That sucks.
Yeah, that does suck...
Thanks for your time, Justin.
No problem!