Monster Energy teams up with MERCEDES GP PETRONAS
Monster Energy teams up with MERCEDES GP PETRONAS for the 2010 Formula One Season
As an integral part of Monster's ongoing global push, Monster Energy will join MERCEDES GP PETRONAS as a Team Partner for the 2010 Formula One season starting from the first Grand Prix in Bahrain this weekend.
The glowing Monster Energy logo will feature prominently on the helmets of the team's drivers, Nico Rosberg and Michael Schumacher, and on their silver racesuits, as the new Silver Arrows race cars compete around the globe during the 19-race Formula One season.
After winning 91 races and seven World Championships, Michael announced his retirement in 2006, before deciding to make his return to the sport with the new Mercedes-Benz works team. Nico, the son of 1982 Formula One World Champion Keke Rosberg, has 70 Grand Prix starts to his name and is considered to be one of brightest young stars of the sport and tipped by many to be a future World Champion.
Nico, Michael and their MGP W01 race cars will kick off the new season on Sunday 14 March at the Bahrain Grand Prix. Look out for the two Mercedes drivers and the bright green Monster Energy logo at the sharp end of the field!
Mark Hall, President of Monster Energy, said: "At Monster Energy we don't hold back. Following our success with sponsoring the current Formula One World Champion Jenson Button in 2009, we're delighted to have stepped up our involvement in the sport and joined with the current Constructors' Champions MERCEDES GP PETRONAS. The team has such an exciting driver line-ups with seven-time World Champion Michael Schumacher teaming up with emerging star Nico Rosberg and they will undoubtedly deliver Monster's "Go Big" message to the hundreds of millions of fans around the world that follow every race. The team's competitive approach and commitment to achieving success is a perfect fit for Monster Energy as we continue to expand internationally."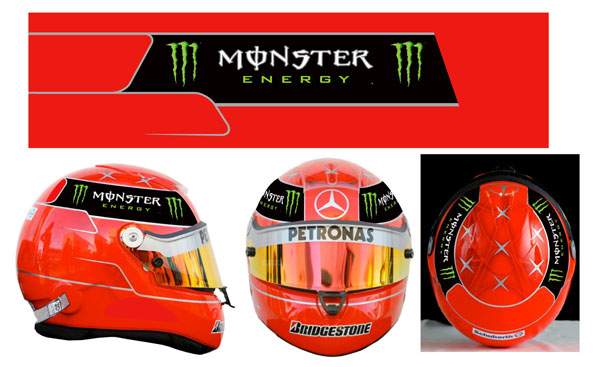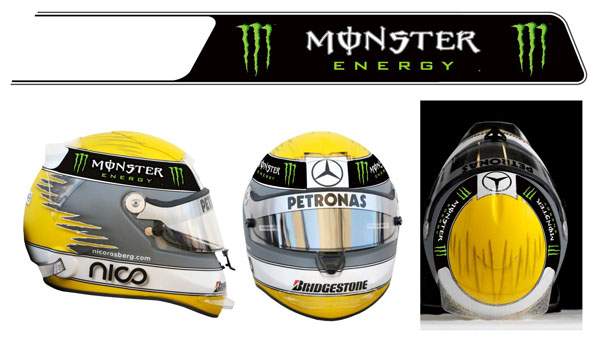 Monster Energy supports the sport. Be it MX, rally, insane distance jumping, SX, MotoGP, road racing, supermoto, off-road, FMX, skate, MTB, rock crawling, wake, mini bikes, surf, snow, BMX – name it – the athletes are rockin' Monster Energy more than anything these days. Check out all the types – Original Monster Energy, Monster Lo-Carb, Monster Assault, Monster Khaos, Monster's fruit juice hybrid dubbed "M-80," the party-friendly MIXXD, the ground-breaking Java Monster premium coffee & cream drink line supercharged with our Monster Energy blend, along with the new Monster Energy "Hitman" energy shot. The Monster Energy-backed guys and gals putting it on the line dig 'em – so will you. On the 'Net at
www.monsterarmy.com
and
www.monsterenergy.com