Limited Edition David Bailey Racewear Now Available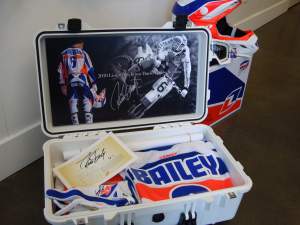 ONE Industries is proud to announce that the complete line of Limited Edition David Bailey Racewear is now available for purchase. A limited run of only 300 complete sets have been produced. Each set includes a helmet, jersey, pants, and gloves along with a certificate of authenticity signed by the Icon himself. ALL proceeds from the sale of the racewear will go to the RIDERS F1RST organization.
RIDERS F1RST is a charitable organization established by ONE Industries to provide support to athletes who have suffered career-ending injuries and are in need of substantial help. With the help of David Bailey, the goal is to find these people and address their needs with the money raised by the program to make a big difference in their lives.
To purchase the limited edition racewear,
click here
.
For more about the project, see photos from the launch event and to view the video,
click here
.