Your Collection: Old Event Programs
DC was working on a history piece and dug into his vast collection of event programs that stretches back to the early seventies. We asked him to pull a few of his prized gems out and tell us about them.
1971 Moto-Cross des Nations:
This is maybe the rarest book I have, even if it's written in French and doesn't contain a single motorcycle photograph in it! Team USA was there, "Amerique" they were called. Bryan Kinney, Gunnar Lindstorm, Barry Higgins, and I believe Billy Clements. Sadly, they got smoked.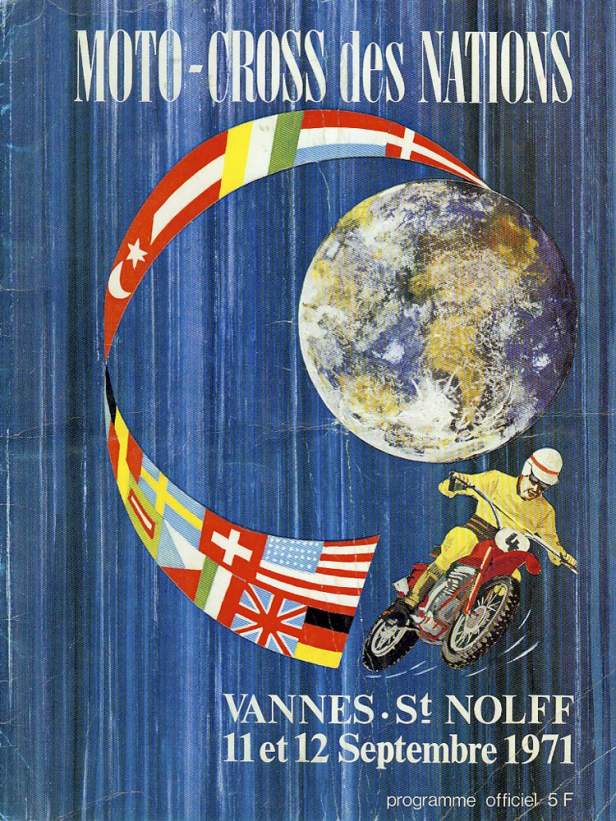 1976 Dallas SX program:
Hard to believe that a Can-Am rider named Jimmy Ellis, from Cobalt, Connecticut, was the defending AMA Supercross Champion in 1976. "Captain Cobalt" was his nickname, coined by either Hall of Fame SX announcer Larry "Supermouth" Huffman or Hall of Fame photographer Jimmy "the Greek" Gianatsis (nicknames were bigger and better back then). The back cover is the best part: It's for the old Camel Pro Series and features a camel on a sportbike, smoking a Camel. Good times, good times…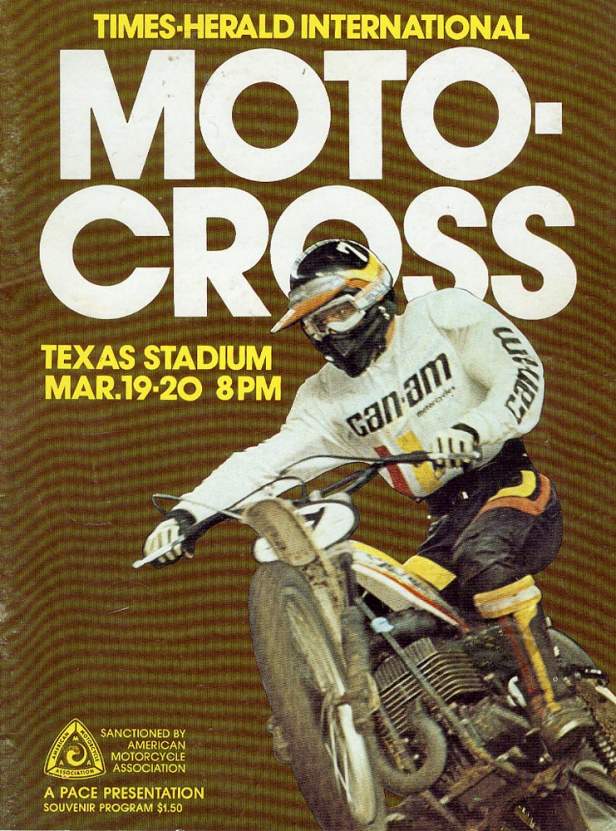 Back cover: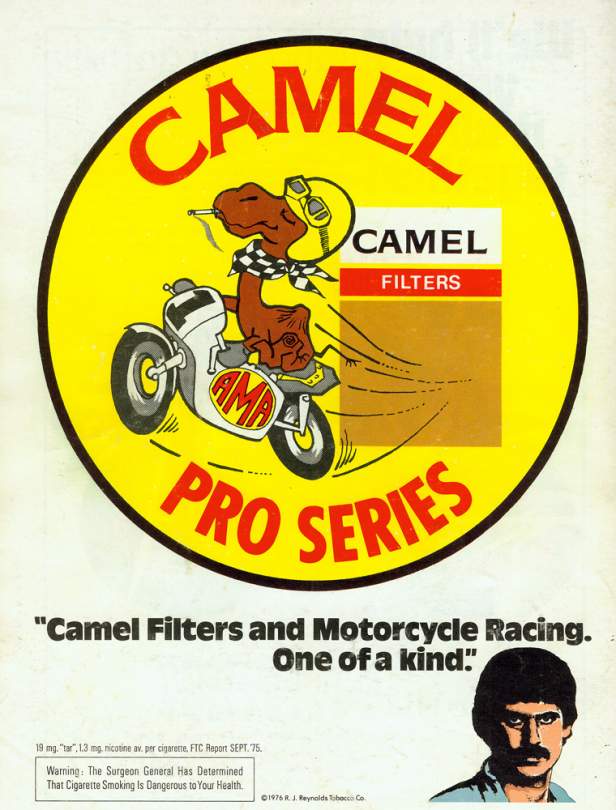 1970 Inter-Am Series:
Gavin Trippe gave me this one, completely with the seventies' box style of design, and featuring several very fast Swedes like Ake Jonsson, Bengt Aberg, Christer Hammergren (what a great name!), Arne Kring, and of course Torsten Hallman.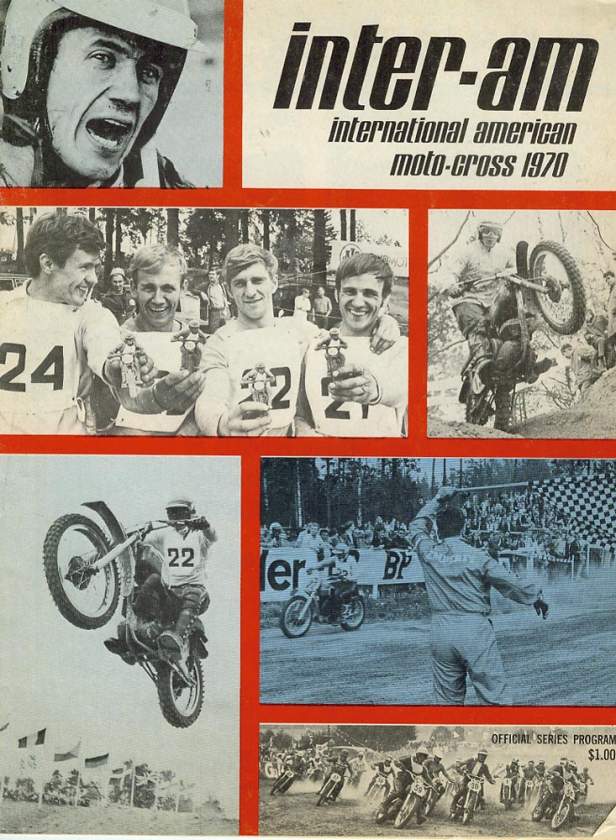 1971 Trans-AMA at Saddleback:
This is one of my latest additions, having out-bid my good friend Tom White at the
Cycle World
/Joe Parkhurst Foundation at the Indy Trade Show. It was part of a pack of five that also came with a couple of Dirt Diggers'
Hangtown
books, the '75 Hopetown race, and two "Hang Ten" Carlsbad USGP programs. The Saddleback book includes the cast of the seminal motorcycle film
On Any Sunday
, as well as a history of motocross.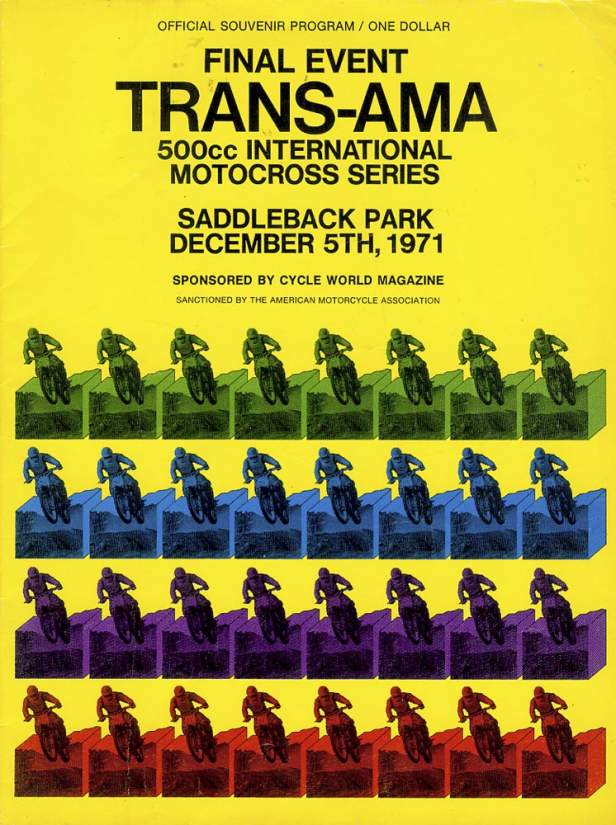 1981 High Point National:
My mom Rita actually designed this whole program on a light table, using an Exacto knife and scissors! She always wanted to work in a printing shop, so I guess I got that gene from her. What I think is really funny is the fact that the main sponsors, Krause Racing's Vic "Mr. Knot It All" Krause and Keystone Racing's George Quay, were drawn and placed on the cover! Quay now owns Pro-Action Suspension and is still involved in all of our events.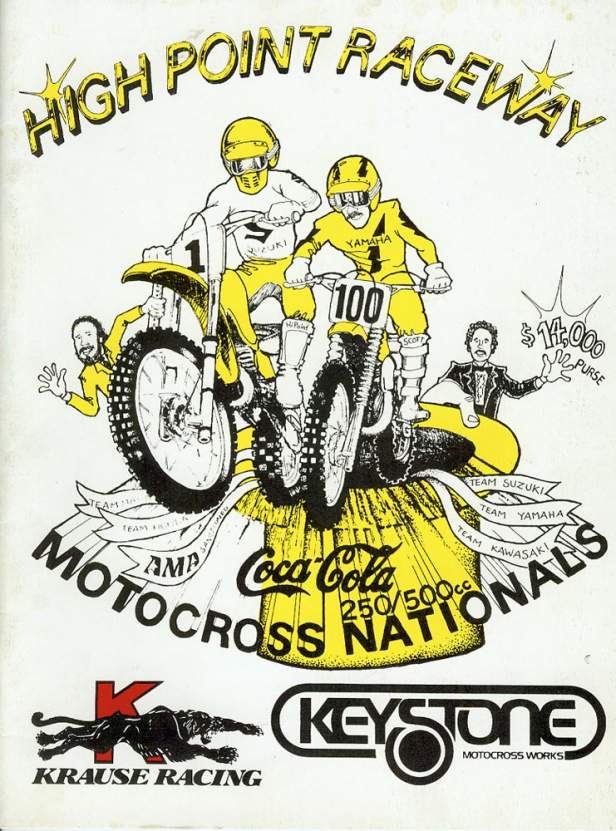 1973 Florida Winter AMA Motocross:
Bill West was the promoter of this series and he gave me this back a few years back when we did a big feature on him. Th title sponsor says it all: Hialeah Jaycees. Oh, and the track was called Amelia Earhart Park, believe it or not.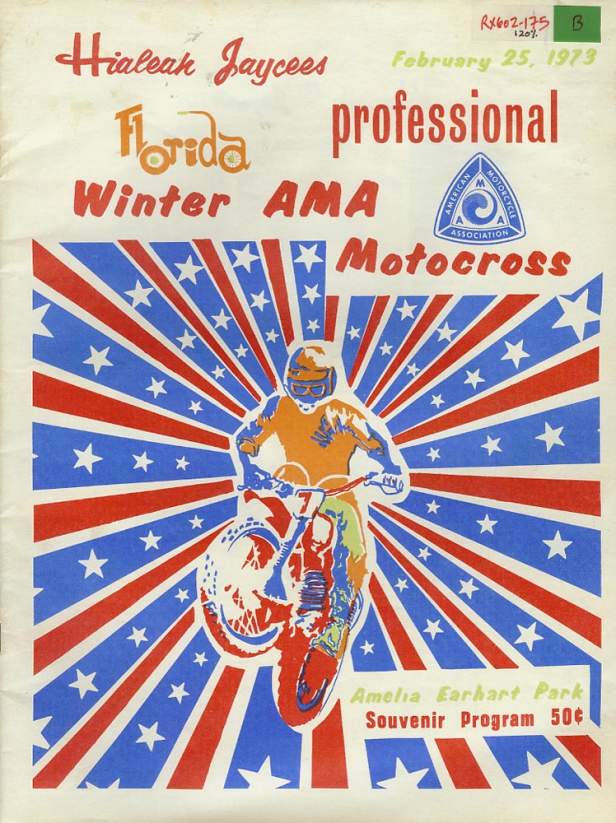 1985 Rodil Cup Supercross:
When Steve Matthes wanted to pen a feature on the very bizarre "Rodil Cup" Supercross World Championship, the race with the inverted starting order that led the likes of Ron Lechien and John Van den Berk to bag it and get a better start, I showed him this rare book. I actually raced on the East side at the event, but I broke my shoulder in the second moto (it was a three-main format for 125cc riders) when Bader Manneh landed on me. But on the way out of the stadium and to the hospital, I asked my dad to please make sure he bought a program for me! The best memory from this race? A very pissed-off Rick Johnson getting on the PA, wearing "Life's A Beach" shorts over his
Fox Racing
gear, calling out the guys who sand-bagged in the qualifiers. It's a YouTube gem!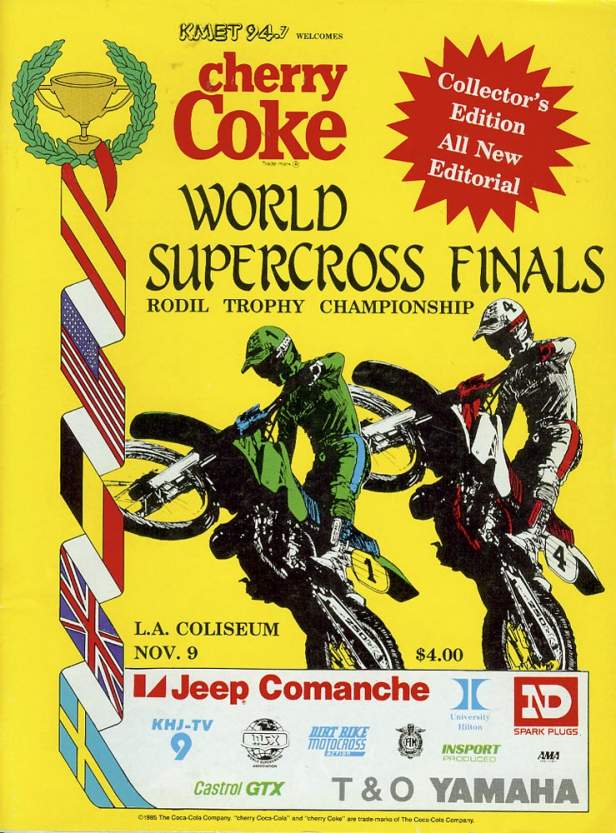 1989 Irish Moto Cross Grand Prix:
I went to Northern Ireland (and Hawkstone Park the week before) while chasing a story for
Dirt Rider
magazine for a very mysterious, practically unknown American rider who was turning the GP world upside down. Trampas Chad Parker was so such a mystery that some actually thought he might be Vanilla Ice! The track was amazing, and Parker was one of a half-dozen Americans racing 125 GPs at the time, along with Bob Moore, Mike Healey, Ricky Ryan, A.J. Whiting… There were also some very young future legends in Stefan Everts, Pit Beirer, James Dobb and Andrea Bartolini!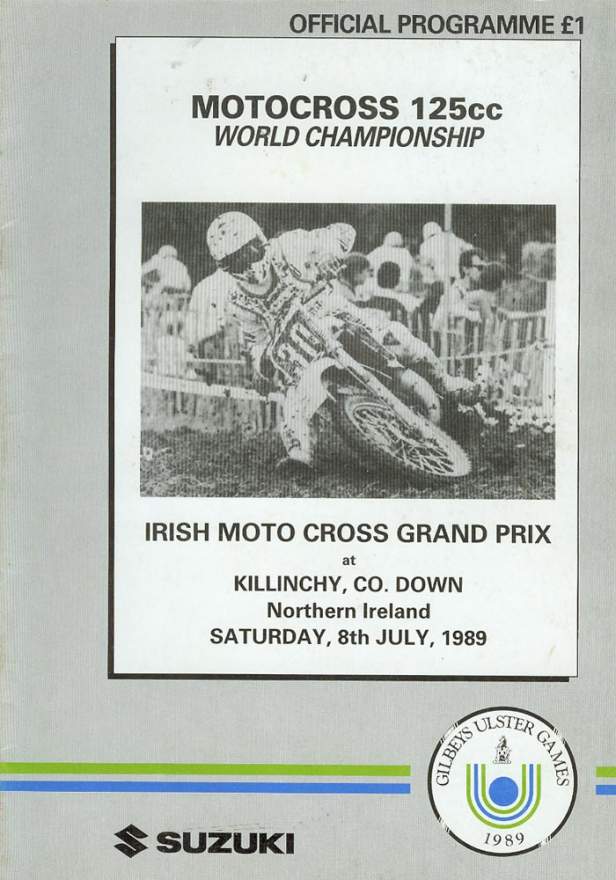 1982 Trans-Cal Series:
This series covered some amazing tracks I never got to ride on: Saddelback, Hollister, Huron and San Hill. And yes, that's Danny "Magoo" Chandler on the cover!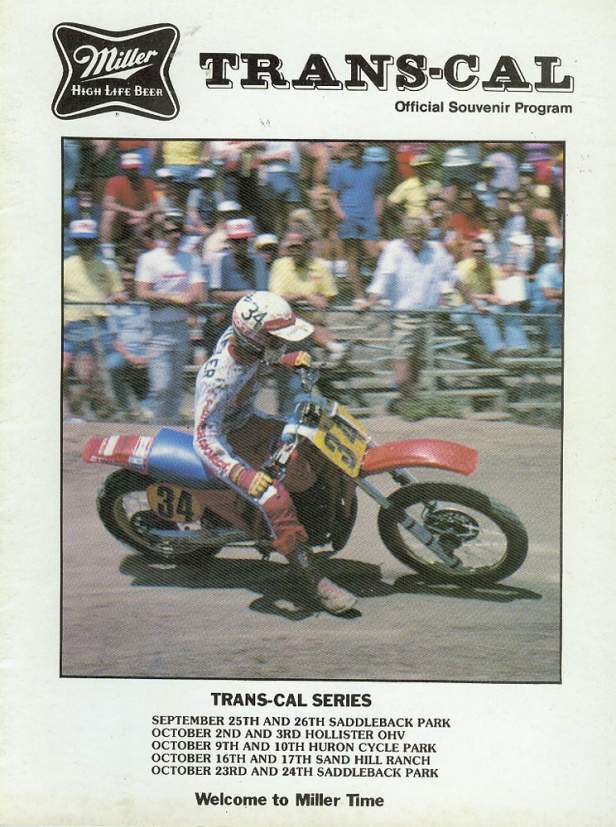 1987 Namur 500cc Grand Prix:
This must have been the glory days of the 500cc World Championships, what with the likes of Eric Geboers, Georges Jobe, David Thorpe, Kurt Nicoll, Heinz Kinigadner and more…. Not sure how I ended up with the book, but it's a treasure for an American motocross fan who never got to go that late, great Grand Prix.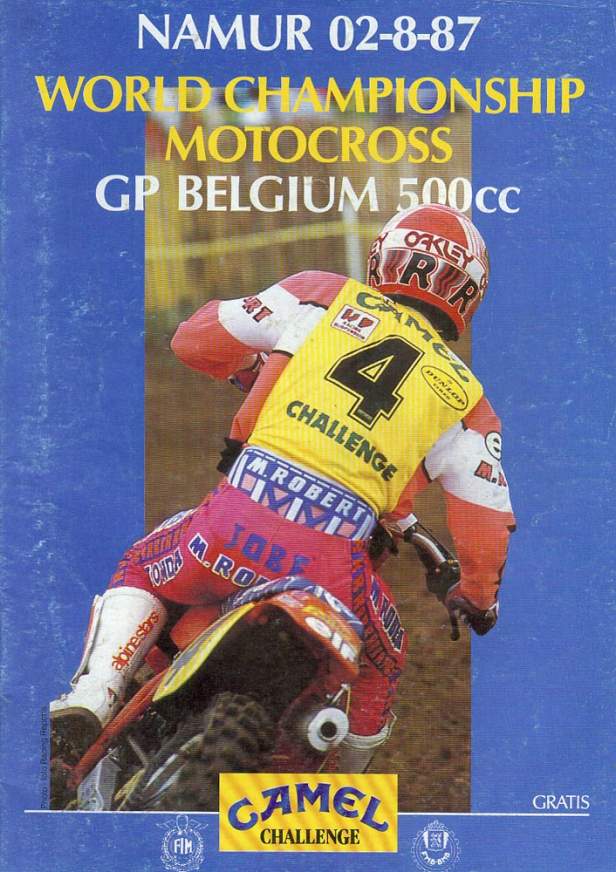 ATTENTION READERS: WE NEED YOUR COLLECTIONS!
Do you have something cool you'd like to show off? Submit a piece from your collection as well as your name and mailing address to
madavis@graphicslab.com
and be entered to win a
Racer X
cover poster and Throttle Jockey stickers. You will be notified via e-mail if you are the winner!
*
Please note that while international readers may submit their Collections, we are only able to award and ship prizes to winners within the United States.

Click
here
for the Your Collection archives.