Welcome to the Spring Break version of Racerhead, coming to you from the pressroom at Daytona International Speedway. There is road racing going on outside, with the Daytona 200 later on tonight. Then tomorrow night it's the oldest AMA Supercross of all, the Daytona Supercross by Honda. The race will air live on SPEED Television, and it should be a fantastic race. It will be followed on Sunday by the
Ricky Carmichael
Amateur Supercross Championship, which marks the first time amateurs have races at DIS in more than two decades. So it's going to be a fun weekend, the weather is going to be great, and the track looks like it's going to be very, very rough! Check out the
iPhone slide show I pulled together
this morning while walking off the effects of a long night at the Ale House.
You can watch the Daytona 200 tonight at 9 p.m. on SPEED, and then the Daytona Supercross will air tomorrow night live on SPEED beginning at 8 p.m. If you haven't seen the animated track map for this weekend's race, or if you just want to see another lap, here it is.
"Please pass on to Ricky what a great job he did on the track design," none other than David Bailey wrote me this afternoon. "I know how many restrictions there are out there in that grass from all the years watching my dad do it and he really kicked ass! I guess that's why they call him the GOAT!"
Alas, after some scuttlebutt during the week, Monster Energy Kawasaki's Chad Reed will not be returning to the track tomorrow night. The winner of last year's Daytona SX is still on the mend and just not ready to race tomorrow night, according to team manager Mike Fisher. But hopefully he's in for Toronto next weekend.
Also, I spotted Ryan Morais' Rockstar/Makita Suzuki RM-Z450 in the garage area (all of the teams are pitting in the garages rather than under the tents), so it's good to see him back. The team is hoping he will have the same kind of great night Trey Canard had in Atlanta, where he stepped up to the 450 class to ride Andrew Short's Honda Red Bull Racing CRF450R and ended up finishing second.
And speaking of Canard, Warren Johnson from Fox Racing dropped me an interesting note: "I was talking with Paul & Jack Carpenter this morning and Jack brought up the fact that in 2003, Paul got the call up to ride Nathan Ramsey's Factory Honda CRF450R. His number was 38 and he was a Fox/Shift rider…. Fast-forward to 2010 and Trey Canard gets the call up sporting #38. As you know Trey is a Fox rider as well!"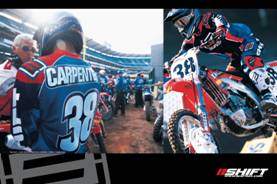 FYI, both of those guys are both doing great. Paul is retired at the moment and working hard in upstate New York. Jack, who's Pauls's cousin (but is more like a younger brother), will race some GNCCs, Nationals, and even some Canadian Nationals this summer.
And speaking of Canada, I think we owe an apology to the professionals in the Canadian Nationals, as last week Eric Johnson mentioned that the Indianapolis SX was Dean Wilson's first pro race. It wasn't, if you count the Canadian Nationals he did early last summer. I think EJ's point was that Indianapolis was his first AMA Pro race. And like EJ, I think Dean's going to do pretty well tomorrow night in his first Daytona Supercross.
We also owe an aplogy to Jessica Patterson and Star Racing Yamaha, because when I posted the Ryan Hughes Between the Motos interview, he had mentioned how pumped she was to have a Yamaha deal, and I inadvertently added "Moto Concepts" when it was actually Star Racing. Sorry, JP$!
Speaking of Hughes, he's not only training Jessica and Monster Rally team driver Ken Block, as well as running the Rynoland track and Ryno Institute, he's also working directly with Fox Racing and featured in the 2010 Spring Fox Eyewear Catalog showcasing the new Duncan Sport. This new eyewear is a true technical athletic eyewear piece that merges fashion and functionality. Stay tuned for more exciting Ryno and Fox athletic product news this Summer.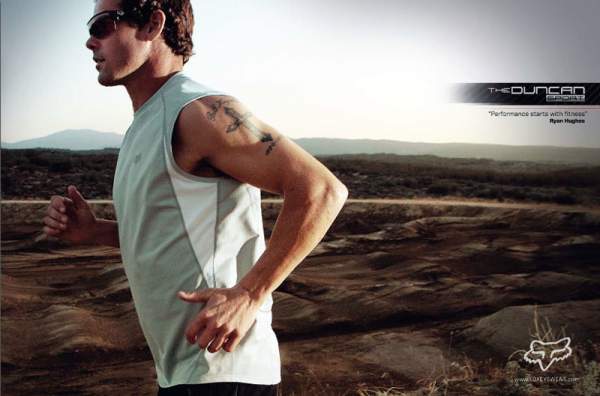 Speaking of Ryan Hughes, here's a note on his track: "Rynoland Ride Days are now only $20 per person. Come out and ride with us Tuesdays, Wednesdays, Thursdays, and Saturdays on one of our six tracks that we offer: MX, two Off-Road Loops, SX, Outdoor MX and the Hillside MX tracks." For more info, check out www.rynoland.com.
DMXS Radio has been holding a give-Justin-Barcia-a-nickname contest, and it appears Barcia has settled on "Bam Bam," which makes sense after Atlanta! Besides, I don't think "that little kid" is going to stick….
I really thought last weekend's racing in both classes in Atlanta was fantastic. Ryan Villopoto had what was looking like yet another win before he threw it away, then packed his muffler with Georgia clay. That, of course, led to an uncomfortable and brief interview with Erin Bates, for which she took some grief on the boards, but I know that's part of the job and she was doing her best to let everyone know what happened. But at that point, I don't think Ryan knew what was wrong!
So Ryan Dungey emerged as the points leader again, only for the first time in three weeks, he alone is out front. Tomorrow night should be a war between these two—and hopefully a civil one.
In the Lites class, Christophe Pourcel did a smart job of letting the race come to him. After seemingly getting rattled by Barcia, he recovered, then saw Stroupe go down and ended up with a second win in a row. His interview afterward was funny, and he also took a little grief for appearing to not know Barcia's name, but after Justin's earlier run-in with Martin Davalos that ended up getting Martin DQ'd, I imagine Pourcel and some others are starting to think of Barcia as the aggressor out there. But then he also crashed and the point was moot.
Stroupe recovered for second, Brett Metcalfe was third, and Dean Wilson a solid fourth in his second AMA Supercross. EJ caught up with Dean earlier for this Racer X interview.
Todd Jendro
. He and his wife,
Amy
, just welcomed
Jordan Lea Jendro
into the world on Thursday. She's 7 pounds, 15 ounces, and is doing fantastic. And how's Todd's planning? He gets one weekend off between December and May and he nails it on the baby-planner charts!
Think of it as the end of an error: Alessi Weekly is now the responsibility of Danielle, Mike's longtime girlfriend, and not Tony anymore. According to her first installment, the family is now back in America after a somewhat successful trip to Europe. I say "somewhat" because while Mike did not do very well in the one race he entered in Valence, France, it seems like he made some new friends with multi-time Grand Prix champ Tony Cairoli and also got out of there without damaging his injured shoulder more. His poor showing on the KTM 350 in France followed an uncertain week where he took some heat from highly respected GP veteran and KTM team boss Pit Beirer for not racing the previous event at Mantova, though that appears to have maybe been a misunderstanding about whether his pullout was over the bike or his shoulder injury.
The newsletter went on to say that Mike's shoulder is almost healed: "Shoulder injuries have been taking a lot of riders we have noticed these last few months. Mike did a great job of pushing through the pain and getting his job done the last few weeks." This now raises the question of whether Alessi will return to Europe to race a Grand Prix or three as a warm-up to the 2010 Lucas Oil AMA Pro Motocross Championship. What is known is that Ben Townley is still in for those first three rounds as a means to continue getting back into racing shape after two full years on the sidelines with various injuries.
USA Today
on the Atlanta Supercross, and it contained a photo of the event winner, Rockstar Suzuki's
Ryan Dungey
.
USA Today
has long been an advocate for AMA Supercross and AMA Motocross, but there's a little back story to this particular write-up that speaks volumes for the young man in the photo. When Feld Motor Sports'
Denny Hartwig
let Dungey, the series points leader, know Nate Ryan was coming to the event, Ryan turned around and sent a note to the
USA Today
reporter inviting him to dinner on Friday and asking how he could help him with his story. Dinner didn't work out because of scheduling, but according to Hartwig, Nate Ryan and
Ryan Dungey
spoke at length on Saturday before Dungey went out and won the main event at the Georgia Dome. There's a lesson in there somewhere….
Bad news on a couple of fronts. Team Faith's Kevin Johnson crashed hard last week and broke his neck, punctured his lung, and injured his liver. He is not suffering from paralysis, thankfully, but he does have a long road to recovery ahead of him.
Also, Scott Bell, the brother of 1980 AMA Supercross Champion Mike Bell, was seriously injured in an auto accident while leaving his friend Jeremy McGrath's private track late last weekend, hitting a tree. Here's an update from his brother Mike:
"Scotty went off the road early Sunday morning and hit a tree and is in critical but stable condition, with a torn aorta (which obviously they fixed), fractured vertebrae, multiple broken ribs, one collapsed lung and the other punctured. He is in ICU on a respirator. They tried to remove the respirator yesterday but he couldn't breathe that well on his own so they had to put him back on it. Once he's off the respirator and breathing on his own I think we'll all feel a lot better. Please keep him in your thoughts and prayers."
To celebrate tomorrow's Daytona 200, www.life.com presents a gallery of rare and unpublished photos from Daytona in 1948. You can view the entire gallery here.
Okay, here's David Pingree from the West Coast:
I talked with former motocross national champion Mike Kiedrowski this week. Since retiring from motorcycle racing professionally, the "MX Kied" has been working his way into the fire department. He got his EMT license, went through a fire academy, and is now volunteering at a fire station in California City.
"It's crazy how tough it is to get hired on as a firefighter," he explained. "I've been running as many calls as I can and trying to get all the experience I can get. I love it. Hopefully, I can land somewhere real soon."
Do you know what Real Tree is? I had absolutely no idea until one of my mechanics started bringing in an energy drink with the brand's logo on it. He explained that in the hunting world, it is as common as Coca Cola. I guess it's a brand of camouflage products that hunters use. Anyway, one of the guys behind the energy-drink side of it is Danny Palladino, former MDK team manager. He has been helping with their marketing and lined up some graphics for Grant Langston to run in Atlanta. They are also working on a moonshine product that is a Popcorn Sutton signature beverage. I didn't know who that was either, but in the world of moonshine, he is some type of hero. Who's the guy behind all that? Mr. Supercross After-Party himself, Jamie Grosser. I guess he's doing well. Good for him.
Did anyone else just start signing the Dukes of Hazzard theme song when I wrote the word moonshine" I love Waylon Jennings.
Did anyone else listen to Brett Metcalfe's interviews after his third-place finish last week? I started laughing because I couldn't tell what kind of accent he has going on now. A few words still come out with an Aussie sound but it's mixed with full-on American dude-speak and some Southern drawl. Chicks dig that Australian accent. I know he's married, but maybe he should book a vacation down on the Gold Coast sometime this year and get back to his Down Under roots. Steve Irwin would be rolling over in his grave. Regardless, great ride for Metty with a banged-up ankle.
What do you think of this hands-on rule the AMA has now? I don't know, some of the most talked about rivalries in history included some helmet jabs and shoving. It is entertaining, but the safety of the riders and the professionalism of the sport have to come first. I feel bad for Davalos here, because it seems like he's being martyred. But honestly, I'm just glad the AMA is sticking to a rule and not waffling.
Ben Townley
and his wife,
Lucy
, had their first baby this week.
Levi Townley
came out at 8 pounds, 13 ounces and ready to cheer Daddy on in 2010. Ben says he is a super-mellow little guy and they are having a blast with him already. Congrats, guys.
Thanks, Ping. Okay, seeing how David Pingree has managed to offend all of France two weeks in a row (and an even dozen since last August or so), I have asked him to now make his peace with our moto brothers in France—and in French, to show his sincerity:
Premierement Christophe est un pilote phenomenalement talentueux sur une moto et je pense que beaucoup de pilotes dans la categorie 250F pourraient apprendre de lui sans oublier les autres en 450. Je realise maintenant le chemin qu'il a du accomplir pour arriver au niveau ou il se trouve et les fans americains ont vraiment beaucoup de chance de pouvoir admirer son pilotage dans notre championnat AMA. Je sais que si j'avais demenage en France au
Thanks, Ping. Not sure what he said, but I know it was sincere. Join us next week when Ping apologizes to Brett Metcalfe—in Australian!
Simon Cudby was in Tallahassee on Monday for a Fox photo shoot. Premier-class points leader Ryan Dungey was riding with RC at the Carmichael farm, along with Ivan Tedesco, who stayed back East between the Atlanta and Daytona SX rounds. RC had set up a track that included a few lanes of his SX track, along with an off-track section featuring some tight sand turns, in preparation for the Daytona track. The guys were doing one-lap sprints, and they
Here's Steve Cox:
I headed out to Glen Helen yesterday because I knew Jake Weimer would be out there testing some outdoor stuff for his Monster Energy/Pro Circuit Kawasaki team, and I figured a lot of other people would be out there too. But Weimer was basically the only one. I think there may have been twenty-five other people there, and half of them were quad guys. Regardless, Weimer worked hard, his corners were crisp, his lines were tight, and he was on the gas. He reported that he feels really good, which is the same thing he told me before the supercross season started, and we all know how that has gone so far.
Why was he the only guy testing for the team? Well, his West Coast teammate Josh Hansen is essentially a supercross-only guy and Pourcel and Wilson are racing the East, while Tyla Rattray is just about back from an injury (should be riding next week). So really, Weimer's the only guy who can test right now. And again, he looked like he was going pretty damned fast to me!
Being that I didn't see any other big-name West Coast guys out there, it makes me wonder if Pro Circuit is getting a leg up on the competition yet again by getting the testing out of the way right now, with almost three months before round one of the outdoors.
And speaking of outdoors, J.R. Boyd, who has served as Mike Alessi's practice-bike mechanic for the last year and a half or so, is looking for work. He'll be flying to Daytona to check out the scene and talk to anyone who needs someone, but he gave his notice with Alessi, and his last day was yesterday. Boyd lives in Southern California. Prior to working for Alessi, he spent almost three years working at Team Solitaire as a race-bike technician for Justin Buckelew, Jiri Dostal, Ricky Renner, Bobby Kiniry, and Kyle Partridge; prior to that gig, he was a suspension technician at Paloverde Suspension. He graduated from MMI in 2005 with a 3.81 GPA and actually won the MMI Top Tech Award at San Diego in 2008. He's a very good mechanic, and he's in need of work right now, so if you need a guy like that, shoot him an email at jboyd@netscape.com.
Jake Weimer and Peter Frampton?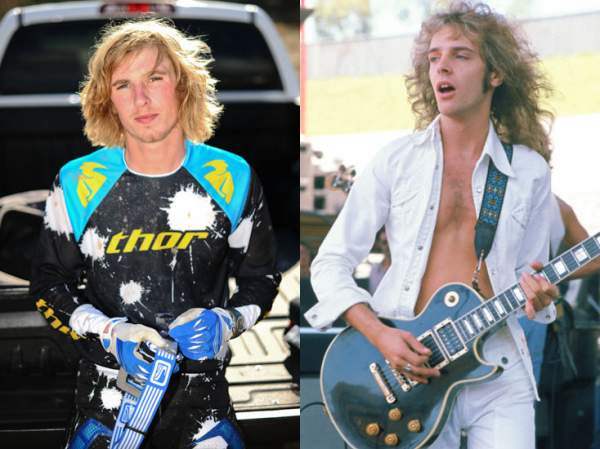 ... or Jake Weimer and Tom Petty?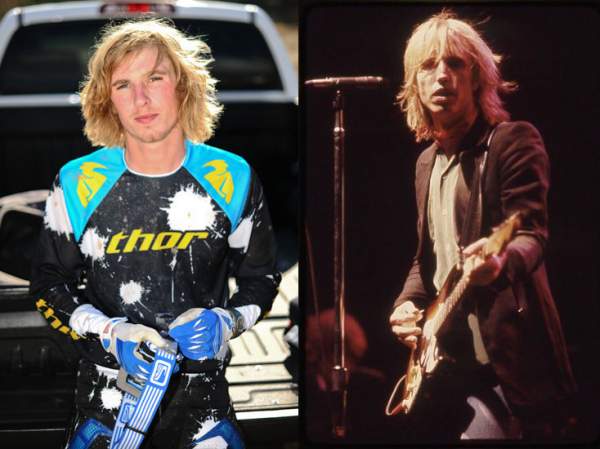 ... or Jake Weimer and Owen WIlson?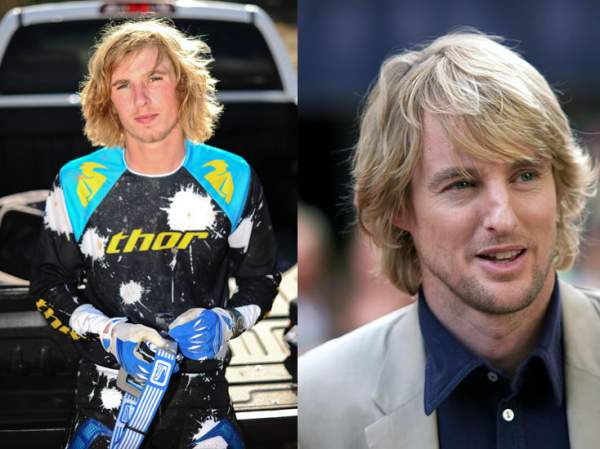 If you missed Matt Francis' video on Ashley Fiolek last weekend, now's a good time to check it out.
Here's Jason Weigandt:
A crazy supercross season is set to get even crazier, as a bunch of big-name spoilers are readying for their returns. We all know Chad Reed will likely be back next week now, thanks to Cox's 5 Minutes with him from earlier this week. Also, in Atlanta, I heard from Justin Brayton that Josh Grant was going to start riding on Monday, which means he has almost a full week back on the bike by now. A few more weeks and JG should be back at the races. And what about James Stewart? Navicular injuries are notoriously tricky to recover from. We'll see him when we see him, I guess, but the word is that he is now riding too.
Still, throwing any combination of these guys into the mix will be interesting. Of course, the riders who are racing the series right now are going to say they have stepped up in the absence of Stewart and Reed, that they're going as fast as anyone can possibly go, and that they will still be up front no matter who comes back. And usually that's the case, because it's tough for someone to just jump right onto a moving treadmill and run the pace that others were already running. But Reed and Stewart aren't ordinary riders. And all you have to do is go back to Budds Creek in 2003. Ryan Hughes and Mike Brown had an incredible race at High Point earlier in the season while Stewart was out with a broken collarbone, and many though those two were going as fast as any two humans could possible go on a 125.
Bubba
Scrub to the crazy new level that influences everyone even today. So it's possible.
After the Indy race and going into Atlanta, there was a lot of talk about lapped riders, since Ryan Sipes got held up by Adam Chatfield late in the Lites race and Kyle Chisholm held up Ryan Dungey late in the SX class. I talked to Chisholm for his take, and as always, you find there are two totally different sides to every story.
"I saw a yellow fender behind me, and I thought it was Tommy Hahn," said Chisholm. "And I'm one point behind him for top ten in the series, so I had to hold him off. Once he got around and I realized it was Dungey, I felt bad, but it was too late."
I know people think lapped riders are dead in the water and should move over and basically quit the race, but they're often battling for position themselves, and no rider in a five-way duel for twelfth place should be expected to pull over and drop to seventeenth. That's big points and money there. The AMA rule says lapped riders should simply hold their line, not pull over and stop, anyway.
At Atlanta, Hahn ended up crashing in the LCQ and missed the main, so Chisholm took advantage to try to get into the top ten. However, Michael Byrne grabbed a solid seventh to move past both—the points are that close at the tail of the top ten.
For pretty much everything else I could come up with from Atlanta, read Racer X ReduX, presented by Renthal and my Race Report, presented by Thor.
After Atlanta, I helped out at the DMXS Ride 4 AT Charity event at Bremen MX, which raised nearly $19,000 for ataxia telangiectasia, a rare childhood disease. Go to www.ride4at.com to learn more, and thanks for everyone who came out and donated, as well as all the riders and gear companies who donated stuff for the auction.
On Tuesday I was down in Lake Wales, Florida, for the Can-Am GNCC opener. Looked like Charlie Mullins had it won on his return to Yamaha, but he fell victim to a really deep water crossing (the top riders were hydroplaning across!) and sucked some water into his airbox. The bike stalled and he lost time, allowing last year's number two, Josh Strang, to take the lead. Should have been a lock for Strang after that, but instead a complete upstart named Chris Bach ran him down and challenged him all the way down to the final lap. Bach, from Indiana, was last year's GNCC Top Amateur and earned national #14. No one expected his XC1 pro debut to go this well. The series races again this weekend in Washington, Georgia, where Bach will get to show if he is for real.
Big thanks to new GNCC reporter Shan Moore for making my life easier this year. Moore will be writing and shooting at the GNCCs this season, freeing me up to do more for Racer X with supercross and motocross. For more (and Moore) on the GNCC opener, check out Quick Fill, the Racerhead of GNCC, here.
No SX webcast this weekend for Daytona. I'm switching over to be part of the live announcing staff for the event, though, so you'll hear me if you come to the race on Saturday night. And you'll still hear me on Sunday, as DMXS' Kevin Kelly and I are announcing the first-annual Ricky Carmichael Daytona Amateur Supercross. Really excited about this weekend. I'm headed to the Speedway now for some meetings; if I get done in time, I'll post some pictures up here in Racerhead. Don't count on it, though—anyone who works with me can tell you I'm late for just about everything I do. One of these days I'll even be late for a broadcast.
Thanks, Weege. New England photo legend
Paul Buckley
let us know that they're getting together some racers from the past NESC races for another big reunion.
2nd Annual NESC Motocross Reunion
Who? Racers, fans, family and friends who attended NESC motocross races in the '60s, '70s, '80s & '90s.
What? The Second annual reunion, bench racing, catching up with old racing friends, see who's gotten faster with age. Cocktails and snacks from 3:00 to 6:00, buffet dinner at 6:00.
When? Saturday March 20th 3:00 PM until 10:00 PM
Where? The Lodge Restaurant & Pub 148 Gore Road (Rt.16) Webster, MA 01570
How? Send $20 per person to Paul Buckley 2 Damico DR Franklin, MA 02038.The Lodge has a 200 person capacity, if you'd like to attend get a ticket early. Last year's reunion sold out. Tickets can be picked up at the door but no tickets will be sold at the door.
Ticket order deadline is March 8th and YES there are still tickets available as of 2-24-10
Still have more questions? 508-541-7491 is Paul's number or you can call David Clemence at Razee's 401-295-8837
Bring your old photos, magazines and stories. There is a small amount of space to display old race bikes, please call to make arrangements if you have a bike you'd like to show off.
Seth is Not Dead! Remember those old T-shirts? Well, the freestyle folk hero who crashed onto the radar in the original Crusty Demons of Dirt videos apparently broke a world record for long-distance jumping on a Harley-Davidson motorcycle down in Australia. Seth used a set of ramps in Sydney Harbor to shatter the previous ten-year-old record—twice, actually. Enslow first flew 175 feet on his Harley XR1200, then flew 183.7 feet to break Bubba Blackwell's previous record by more than 25 feet. The record was originally owned by (who else?) Evel Knievel.
That's it, time to go watch some road racing! Thanks for reading Racerhead, see you at the races.