Ricky James Takes On Off-Road
San Bernardino, CA—SoCal SuperTrucks and Ricky James, the 21 year-old paraplegic race car driver from Murrieta, CA, are prepared and ready to race within the SuperLite class of the Lucas Oil Off Road Race Series this weekend, March 6th and 7th in Las Vegas, NV.
Coming into the 2009 series late, James quickly made his presence known by winning his rookie debut races in Lake Elsinore, CA during rounds 7 and 8 of the Lucas Oil Off Road Race Series (LOORRS). Ricky finished that season by winning 5 of 6 rounds, and one runner-up position, making him the favorite to take home the 2010 SuperLite championship.
Racing has always come naturally to Ricky and his accolades speak for themselves. At just 16 years-old, he was injured in a Motocross accident at one of the largest Amateur National races in the country. The blow to his T7 vertebrae left him paralyzed from his sternum down.
Since that time, Ricky has competed in the Baja 500, Ironman Triathlon, X Games (where he earned a Silver Medal in 2008) and 4-wheel racing.
He started his 4-wheel racing career on the pavement, racing in the West Coast Pro Truck Series. He won the series, recording an amazing "Hat Trick" by capturing the 2008 Rookie of the Year Honors, the Toyota Speedway at Irwindale Championship and the Overall West Coast Pro Truck Champion for 2008. He did this by putting his truck on pole in 10 of 12 races, recorded 3 wins, 9 top-3 finishes and 2 track records. In 2010 he will also race a Late Model to further his progression in Oval Racing.
His race vehicles have been outfitted with hand controls that allow him to control the throttle, brake, clutch and shifting with his left hand while leaving his right hand free to steer.
"I am excited to get back in the truck and do what I like to do the most," said Ricky James. "We faced some technical challenges throughout 2009, but the team has put a lot of hard work into the truck during the off-season and I feel we will be hard to beat with a well-running truck."
The team is also excited to announce the addition of some new sponsors to the 2010 team which include a major associate sponsorship from Bully Dog Technologies, as well as BFGoodrich, Speed Designs, Walker Evans and Rockwell Time. Returning sponsors include K&N Filters,
Fox Racing
Shox, Alpinestars and AOKNick.org.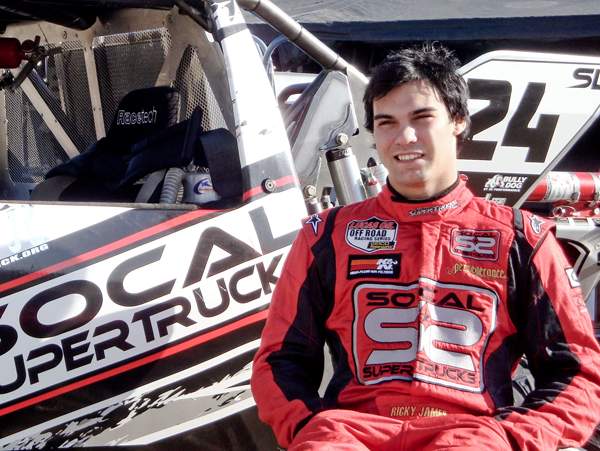 About SoCal SuperTrucks
Located in the heart of Southern California, SoCal SuperTrucks has positioned itself as one of the premier automotive and UTV aftermarket retail/ fabrication shops in the Country. With a deep heritage in the world of Off-Road Racing, Action Sports and Motocross, SoCal SuperTrucks has worked with some of the sport's biggest entities.
SoCal SuperTrucks carries the finest, race-proven products for your vehicle, including such premier brands as Bully Dog Performance Parts, BFGoodrich All Terrain/ Mud Terrain Tires, Walker Evans Wheels and
Fox Racing
Shox. Other brands carried include CST Performance Suspension, Total Chaos, Icon Vehicle Dynamics, Toyo, K&N and KMC Wheels. Whether it's a complete suspension build up for your pre-runner truck, modifications to your UTV, wheels & tires for your ride, or merely advice on what tire might work best for your driving style, the team at SoCal SuperTrucks has the knowledge and expertise to satisfy all your custom truck, UTV and auto needs.
For more info, please check out:
http://www.socalsupertrucks.com or visit us at:
SoCal SuperTrucks - 774 South E Street, San Bernardino, CA 92408
You can also follow the SoCal SuperTrucks Superlite at www.facebook.com/socalsupertrucks
About Bully Dog
Bully Dog Technologies manufactures high performance products that increase power and fuel economy for your gas and diesel powered trucks & SUVs, the type of performance that provides the back in your seat, white knuckle, teeth gritting, eye watering, heart racing, adrenaline pumping, neck breaking driving experience.
Check out www.bullydog.com for more information.
About Speed Designs- Motorsport Eye Candy
Speed Designs was started in 2008 to meet the needs for the Speed Technologies off-road truck and bike team. Today we have expanded to offer the most innovative custom graphics and wraps for any type of race team or anyone who wants the highest quality custom work. Speed Designs is run by racers who know the abuse graphics take and understand the need for high quality custom graphics that these sports demand. Speed Designs' specialty is not only in motor sport graphics, also in commercial advertising. From signs to box vans, we have the ability to meet all your printing needs.
Please visit www.speedesigns.net
About Rockwell Time
At the heart of every Rockwell watch is commitment. A commitment from us to stay devoted to quality, obsessed with style, and loyal to everyone who buys Rockwell and joins our brand-family. A 100% commitment from our athletes to their sport, and their representation of Rockwell on the track, court, cage, and field.
And a commitment from everyone who rocks Rockwell to live a life of uncompromising action and confidence — confidence fueled by the weight of the watch on their wrist and the story it tells.
So, it's your call. Are you willing to step up? Are you ready to rock Rockwell?
www.rockwelltime.com
About BFGoodrich
Using motorsports as a proving ground for more than 30 years, BFGoodrich Tires is involved in every type of racing, including oval, sports car, drifting, drag, desert, dirt, rally and extreme rock-crawling. BFGoodrich Tires combines technological expertise with vast motorsports experience, delivering a high performance tire for every type of vehicle.
www.bfgoodrichtires.com
About Walker Evans
If you read the two bio's of our owners, you'll get all of the history you need. We've been around the off road industry for a long time and have the knowledge, equipment, technology and staff to make quality performance products.
Our mission is to design and manufacture quality, performance, race-proven products that can used for aftermarket applications.
The very same product we produce is the very same product used on numerous race winning vehicles.
www.walkerevansracing.com
About K&N
K&N Engineering, of Riverside, California, is the inventor and leading innovator of reusable cotton gauze filter technology for automotive applications. From humble beginnings as a family run business over 40 years ago, K&N Engineering, now a truly global company with offices in the U.K. and the Netherlands, continues to exist as a family owned business with an enthusiast mindset and a direct connection with motor sports that carries over throughout all levels of management and manufacturing.
Today, K&N exists as both the sales and brand leader for performance filters, and maintains a stocking catalogue of over 3,500 part numbers, including an extensive line of both factory replacement drop-in filters, FIPK (Fuel Injection Performance Kit) applications, and its line of innovative Performance Gold oil filters.
www.knfilters.com
About Fox Racing Shox
For 35 years, FOX Racing Shox has been the industry leader in the design and development of high performance shock absorbers and racing suspension products for snowmobiles, mountain bikes, motorcycles, ATVs and off-road cars and trucks.
In 1974, Bob Fox started racing his products in motocross and we haven't stopped racing since.
FOX Racing Shox equipped vehicles and racers have stood atop podiums in every sport we have competed in; from the sands of Baja to the dunes of Dakar.
Our team of engineers performs rigorous tests with our athletes year round. The data we collect from performance testing and our application of that knowledge to our product is what separates FOX Racing Shox from every other suspension company.
www.foxracingshox.com
About AOK (Acts of Kindness)
Nick Baldwin sold his successful development company in 2006 and focused more of his effort and time on "Acts of Kindness." He is committed to helping the people of Baja California and other underdeveloped areas simply because there is a need. AOK exists and functions with Nick's funding, time, and talented team of friends/volunteers. Thus far, Nick's AOK is committed to finishing the re-construction of seven schools in the Baja area and these serve as only the beginning.
AOK has successfully completed several schools already, delivered clothing and supplies to the people of Baja, funded the building of a well in the Philippines, supplied money and technological support to a school in Costa Rica, and continuously delivers a monthly donation of baked goods to a local retirement home in Southern California. Nick is not done or limited to these "Acts of Kindness," he is always willing to listen and learn of new ways to meet a group of peoples' needs.
www.aoknick.org
About the Lucas Oil Off Road Racing Series
The Lucas Oil Off Road Racing Series is the evolution of the long standing support of short course racing by Forrest Lucas and Lucas Oil Products. Steeped in the Midwest tradition of short course off road racing infused with a West Coast influence, Lucas Oil Off Road Racing brings intense four wheel door to door action to challenging, fan friendly tracks. Lucas Oil Off Road Racing Series: This is Short Course.
For more information please visit www.LucasOilOffRoadRacing.com
About the SuperLite Championship
The SuperLite Championship provides a highly competitive off-road racing series at an affordable price. The SuperLite Championship Trucks will run at each and every round of the Lucas Oil Off Road Racing Series (LOORRS) 2010 short course off-road racing schedule.
The SuperLite Championship Series features extensive national and international exposure through the Lucas Oil Series television package, which airs on such broadcast TV networks as SpeedTV, CBS Sports, Versus and MavTV.
www.superlitechampionship.com