Yamaha Sets Tone for Daytona

Yamaha Sets the Tone for Daytona
---
Cypress California, February 26, 2010
….In the two-wheeled world, it's difficult to utter the word "Daytona" without the word "Yamaha" also coming to mind. The two names are almost synonymous, based on the mutual successes that Daytona International Speedway and Yamaha have enjoyed together over the years.
After all, Yamaha has an enviable total of 19 Daytona 200 wins to its credit. Those 19 wins encompass an unprecedented, unbeaten string of 13 Daytona 200 victories in a row as well as a win by Ben Bostrom in last year's inaugural night time running of the 200.
This year's Daytona Bike Week is shaping up to be an event like no other, with an army of big-blue Yamaha transporters, Yamaha bikes, and Yamaha competitors all descending on the World Center of Speed.
From road racing, to supercross and even to freestyle, the Yamaha brand will be represented by one of the company's largest and most diverse racing efforts, with motorcycles and riders poised to compete and win in several disciplines.
Off the track, Yamaha has several events planned with displays, demos, sales and team autograph signings.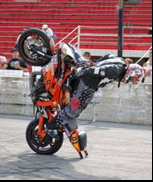 Yamaha kicks off Daytona Bike Week to the extreme with 2009 XDL Sportbike Freestyle Champion Bill Dixon competing in Round 1 of the 2010 XDL Championship on February 26 through 28. XDL Championship Series events will take place behind the Lockhart and Keech Grandstands on the West End of Daytona International Speedway.
Bill is widely considered one of the nation's top freestyle riders and is best known for his monster stoppies and backwards wheelies. Bill holds the unofficial world record for longest stoppie at nearly 1200 feet and is looking to eclipse that mark as well as several other Guinness records on his YZF-R1 and YZF-R6 sportbikes.
A brand-new event on the schedule, the season kick-off of the XDL Sportbike Freestyle Championship will mark XDL's fifth season as the only national sportbike freestyle championship and the series' first visit to the state of Florida. Bill will be available for autographs on Saturday the 28th from 1 to 1:30 pm and on Sunday the 29th from 12:00 to 12:30pm at the Yamaha display area in front of the Speedway.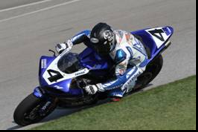 Josh Hayes, who won seven American Superbike races for Yamaha in 2009, is back on a 2010 YZF-R1 and is now part of the formidable Graves Motorsports Team. Returning with Graves Motorsports is the Daytona Sportbike duo of Josh Herrin and Tommy Aquino, whose 2010 YZF-R6 racers will be all aglow in the Daytona 200 on Friday night, March 5.
Reigning Daytona 200 winner Ben Bostrom headlines the Pat Clark Motorsports Team and will compete with his trademark competition number 155 aboard a 2010 R1 in the American Superbike class alongside teammate Chris Clark, who will also be R1-mounted.
The Project 1 Atlanta team will field riders Dane Westby and Clinton Sellers in the Daytona 200 on Graves Motorsports-prepped 2010 YZF-R6s. Rounding out the Yamaha Roadracers is MPH Racing rider Melissa Paris. The first woman to qualify for a World Supersport Championship round, Melissa is the highest-placing female rider in Daytona 200 history, and she and her 2010 R6 will be trying to better her result in this year's 200.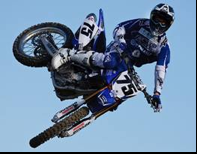 Currently third-place in the championship and poised to move up is San Manuel Yamaha/L&M's
Josh Hill
who will be piloting his revolutionary, reverse-engine 2010 YZ450F at the Daytona Supercross—which will be held under the lights on Saturday night, March 6. Also aboard 2010 YZ450Fs are the Muscle Milk/Toyota team of
Justin Brayton
, J Law Racing's
Jason Lawrence
and
Grant Langston
, Valli Motorsports'
Ivan Tedesco
and Moto Concept Racing's
Dan Reardon
and Kyle Chisolm.
The Star Racing team of
Nico Izzi
and
Martin Davalos
will be competing aboard their 2010 YZ250Fs in the Supercross Lites competition, also on Saturday night, March 6. Joining them will be Moto Concepts Racing's
Ryan Sipes
and
Vince Friese
, and Valli Motorsports'
Kyle Regal
.
Not far from the Speedway's racing events, Yamaha will have displays and demos of the 2010 Yamaha and Star models. To get up-close and personal, visit the display Saturday, February 27 through Saturday, March 6 from 9am to 5pm. Yamaha Genuine Parts & Accessories will be on sale during display hours, with installation available for your bike.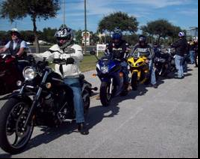 To demo a Yamaha or Star model, be at the display Saturday, February 27 through Friday, March 5 from 9am to 5pm and Saturday, March 6 from 9am to 3pm. You'll need a valid motorcycle license (permits are not allowed), a DOT-approved helmet, long pants, enclosed shoes, a shirt, and eye protection to take your ride.
Additional Yamaha activities scheduled at Daytona include an autograph session with the roadracing team on Friday, March 5 from 2 to 3:15pm at the Yamaha display.
Also on Friday morning, beginning at 8am, Star Motorcycles will host the annual Star Touring and Riding Association Breakfast at the Hampton Inn Hotel located at 1715 West International Speedway Boulevard.
CONTACT: TIM OLSON
(714) 761-7547
tim_olson@yamaha-motor.com