Welcome to Racerhead, coming to you from the Arctic Circle, formerly known as Morgantown, West Virginia. Yet another paralyzing snow has hit, and much of the Racer Productions crew that was headed south for the fortnight just barely made it over the mountains and down into North Carolina before the latest blizzard hit. Wonder if Pingree still has that TLD snowbike all mounted up in his garage….
Tomorrow night the AMA Supercross tour rolls into Atlanta for what is annually the single biggest crowd of the series—the Southeast fans come out in droves to see the stars of the sport do battle on the floor of the Georgia Dome, and tomorrow night will be no exception. For the second week in a row, there's a tie atop the points standings—that's probably never happened this late in the series, with two ties at the top on successive weekends—and momentum has tilted in the favor of Monster Energy Kawasaki's
Ryan Villopoto
over Rockstar Suzuki's
Ryan Dungey
. The former Ryan has won three of the last four rounds; the latter needs to stop the bleeding here, though he did ride a great main event in Indy after spending the better part of his afternoon in an entirely useless sparring match with class clown
Jason Lawrence
. More on that later.
Once again, Monster Energy Supercross fans owe a huge thanks to the folks at Feld Motorsports for airing the Atlanta Supercross almost-live (there might be a slight delay of ten minutes or so) tomorrow night, beginning at 7:30 p.m. (ET) on Speed. You can also listen to Supercross Live! on www.supercrossonline.com at the same time. The Georgia Dome will be packed, just as Lucas Oil Stadium was last Saturday night, so live (or close to it) TV obviously doesn't affect the gate as much as some may think.
Also, don't forget Sunday's CBS Special called Four Legends, which airs at 1 p.m. ET. It's about Jeremy McGrath, Ricky Carmichael, Chad Reed, and James Stewart.

"I think if you're a fan of SX/MX or don't know anything about it, you will enjoy the stories as told by Jeremy, Ricky, Chad, and James," says Todd Huffman, the director of the show, as well as the highly acclaimed Motocross Files and more. "A bunch of stuff even die-hards might not have known. I'm sure some will find certain stories or races that weren't covered but we tried to cram in forty-five minutes, eighteen seconds, and two frames as much that pulled the stories along. I think MC, RC, CR, and JS did a great job at telling it like it was/is…."
And here's an animated preview of the Georgia Dome track, courtesy of Racer X, Monster Energy, DC Shoes and Daniel Ahlgren:
So was it live or was it Memorex? I'm talking about the Indy Supercross last Saturday night. I was there watching live, but I was Twittering some info, and people were responding that the race was not yet on Speed. Turns out that the actual race program started slightly earlier than it played on TV and stayed just a little behind. So while technically not live, it was damn close, and everyone who tuned in saw a great race. Twitterers beware! If it's delayed again, we'll still be tweeting live, so you better tune us out if you don't want us to spoil it for you.
Dungey
and
Jason Lawrence
, which really started a day earlier when
Josh Hill
—
J-Law
's old BFF—Twittered something that Lawrence texted him: "Please text me dungeys number so I can let him know I'm comming to indy!" [sic!] (There's got to be an Alessi Weekly joke in there somewhere.) Then in practice Dungey and Lawrence started blocking each other, and that led to some stuffing, a black flag for Lawrence, and a last-to-the-gate punishment for both. For me, it seemed like a colossal waste of time and focus for Dungey, who really needs to be worried about
Villopoto
, not
J-Law
. And it was also another strike, or at least a foul ball, for Lawrence. He can't afford to get into another scuffle, on or off the track. The AMA will be watching them this weekend.
The drama did not stop there, however, and Dungey's dad apparently went to Lawrence's motor home after practice to give Jason a piece of his mind. No doubt he went on his own accord, but that could have really gotten ugly for everyone.
And what about Josh Hill? He played a small role here, and according to some reports I saw, he gained a point at the end of the race when Lawrence "gifted" him ninth by slowing down. Hill was on a great roll for the first six weeks of the series but then looked out of sorts all evening long in Indianapolis. Was it a bad night or does Lawrence have the effect of knocking him off his game too? If I'm Larry Brooks, I'm not going to wait to find out. Hill's teammate James Stewart will be in Atlanta to watch too, so I imagine he will be a little more serious about his own race this time.
The big winner in all of this of course was Villopoto, who "pulled a Jeremy": he qualified for the main event through the LCQ and still managed to win the main event. RV is really riding well right now, and he looks absolutely comfortable on his KX450F. He's always been able to manage not letting Lawrence get to him over the years, and maybe Dungey needs to ask him how to focus on what's ahead of him and not behind him…. Yeah, like that's going to happen!
Add it all up, and it's been a fantastic start to the 2010 season. Huge crowds on successive weekends will make up for slightly disappointing crowds at the weather-plagued San Diego race and the second and third Anaheims, and while we've watched a lot of the top guns drop out, they should be loading up for a return to the series en masse, likely at Toronto (though Reedy could be back for Daytona, according to his Kawasaki PR interview). Then it's going to get really interesting.
If you're headed to the ATL right now for the races, here's a couple of other supercross-related events you're not going to want to miss: the annual DMXS Pre-Race After-Party at Door44 in Atlanta (www.Door44Atlanta.com) and then on Sunday it's the annual charity ride known as Ride-4-AT out at Bremen (www.Ride4AT.com). One is a worthwhile cause; the other is a worthwhile excuse to party on one of the many, many Peachtree-related streets in Atlanta.
Here's a good spot to turn it over to Ping:
It's easy to say that confidence isn't a big deal when you have plenty of it. I think Ryan Villopoto is figuring that out right now. When he was winning 250cc races and titles left and right, he believed confidence was some imaginary thing made up by people who just couldn't get the job done. And then he moved up to the 450 class. As the season keeps moving, I think Ryan is starting to believe in confidence more and more. I also think this title is his to lose right now.
Jason Lawrence almost didn't make the race in Indy. Did you know that, even for the races in SoCal, he could only be away from his house for twelve hours? He would leave his house just in time to make the track walk and then race home again as soon as his last lap was over. Well, leaving the state is a no-no when you're on probation. Jason had to work things out with the judge on Friday, and by the time they got a GPS put on his ankle bracelet, it was later in the evening. He took a red-eye out and got to the stadium on time with just a few hours of sleep. It sounds like he has everything sorted out now, though, and he can make plans to travel normally. I'm sure he can improve upon his tenth when he's rested and ready.
Chris Blose had a great ride last weekend to finish sixth. I picked Chris as the top privateer this season but he got off to a pretty slow start. He explained to me that he had some setup issues that they have been figuring out, and it looks like they finally have a handle on them. Blose should be a regular top-ten guy from here on out. I'm not sure if he can still score the top-privateer award or not, but he should impress from this point on. Keep an eye on him and check out this interview that Steve Cox did with him right here.
Did you get a good look at the Honda of Troy team bikes? Something about them looks eerily familiar—the all-red plastic, blue seat cover, black sprocket and bars, black wheels, and QTM brake rotor look like something I've seen before, but I can't put my finger on it. They remind me of something … but they do look very cool!

Christophe Pourcel
look just like
Orlando Bloom
? I guess his agent was in a huff last weekend about me saying that he "doesn't like anything American." Hey, I'm sure he's stoked on those American paychecks every weekend. And how can you not like a burger from In-N-Out? But if you're listening to and reading the same interviews from him that I am, it's no secret he doesn't plan on retiring here. If his agent really wants to help Chris, he'll give him a history lesson on his predecessor, Jean-Michel Bayle. Bayle was very open about how unhappy he was here, and as a result many fans were openly anti-JMB. I completely understand if he doesn't like Southern California. I don't even like Southern California. But if he keeps alluding to how much he dislikes it in America and how great France is, the U.S. fans are going to turn on him faster than you can say
crepes
. (And despite what any uncultured American swine says, crepes are delicious.)
Despite all that drama, Christophe is pure magic on a motorcycle. I can't wait to see him on a big bike where he'll actually have to put in more effort. He wasn't even sweating when he got off the bike! I hope nobody else on the East Coast or the 250 MX class had their hearts set on winning a bunch of races this year.
And what's going on with Dean Wilson's short, non-hippie hair? Did he not get the memo that all PC riders must grow their hair out to look like homeless men, pro surfers from the 1970s, or … well, Orlando Bloom? Dean, either comply or risk immediate termination.
Quick note to Austin Stroupe: Great ride, but work on your post-race look. I mean, I've hit deer on the highway that didn't look that blindsided staring into my headlights.
Did I miss the memo about some kid named DeCotis? I'm not sure if I even spelled that right. I don't know what happened in the main event, but he rode awesome in his heat race. If he keeps riding like that, I might need to get his phone number.
And here's Jason Weigandt:
I have some info for Ping (and everyone else) right here. Last week I wrapped up some more Arenacross TV with John Dowd. We were heading to the airport and Dowd told me, "Hey, watch out for Jimmy DeCotis, he's wicked fast." (Okay, I added the "wicked" part.) Of course, going into the opener of any series, you can probably find a thousand different friends/parents/coaches/agents/managers/mechanics saying to watch out for their favorite rider. Everyone thinks they're going to do damage when the season begins. So Dowd explained DeCotis' deal: he's 18 and one of the fastest kids in NESC. But Jimmy has never really practiced on a supercross track or gone anywhere warm to keep riding during the winter months. Finally, this year, to prepare for supercross, he headed out to California to train with Ryan Hughes.
According to Dowd, Jimmy settled in once he realized he was leading a race in front of 65,000 fans. He finished third in the heat. And in the main, he fell in the third turn, fought up to about fifteenth, and crashed again, finishing twentieth. But he's really pumped on the kid's chanced this weekend in Atlanta. And this time I believe it!
As for Dowd, he was kicking around the idea of coming to Florida to do some street bike riding and maybe bringing a dirt bike, and then everyone started trying to convince him to do the Daytona SX, but he decided he's not even close to ready for any of that and bagged the whole trip. He's be racing Southwick, though! See you at the podium, Dowdy!
Check out the privateer profile with Decotis here.

If you missed the race altogether, read my race report, presented by Thor, here. For everything else I know about the Indy SX, read Racer X ReduX, presented by Renthal, here.
Can-Am Grand National Cross Country Series
kicks off this weekend in Lake Wales, Florida. ATVs get the weekend show and bikes practice Monday and race Tuesday as part of the Daytona Bike Week schedule. As it was with the supercross teams, this off-season was a blur of budget concerns, and everyone is probably just happy to have that all behind them and just go racing again. The favorites are all still there, new champ Paul Whibley (who is now on an Am-Pro Yamaha after he couldn't put another deal together with Kawasaki), runner-up Josh Strang, third-place Charlie Mullins (also moving to Yamaha), Jimmy Jarrett, Nate Kanney, Barry Hawk, Thad DuVall, Kailub Russell, Cory Buttrick, Glen Kearney…. Should be fun! Be sure to tune into
live timing and scoring
for all results as they happen.
By the way, Travis Pastrana was going to try to give this race a shot again on an RM250, but he broke his collarbone training for it. Hard to keep lightning in a bottle. Anyway, if you're heading to Daytona, bring your bike and race the GNCC. This will guarantee you get in all the riding you could possibly want (and maybe a little more). GNCCRacing.com for info on the race.
Time for Steve Cox:
As we saw in the video posted by Kawasaki, things are looking good for Monster Energy Kawasaki's Chad Reed to return to action perhaps as soon as the Daytona Supercross, where he has done exceptionally well in the past, including actually beating Ricky Carmichael straight-up there on two-strokes in 2005. That's next weekend, folks.
But what about San Manuel Yamaha's James Stewart? This week, his team manager, Larry Brooks, said Stewart hasn't started riding yet, but he's guessing Stewart will return for Toronto or Dallas, only one or two weeks after Reed comes back. Essentially, in the next three weeks or so, we will probably see the return of the two historic top guys in the series. And that brings forth a few questions.
It's obvious that the rest of the field is working under the assumption that they can win now, and some of those guys have a caveat to that belief: "I can win now … because James Stewart and Chad Reed are out." So when those two return, what does that mean for those guys? Will the mere presence of those riders be enough to cause them to not try as hard to win? Or will some of those guys realize their speed is really good, and carry their confidence into a battle with James and Chad? I hope it's the latter, because the series has been epic so far.
Trey Canard
since his crash in his 450cc debut in Indy, on
Andrew Short
's bike/girlfriend. Yes, it took him a long time to get up, but it's because it knocked the wind out of him—that's all. He pulled off the track because the crash broke the bike, which I'm sure Shorty is none too happy about.
But Canard will be back in action at Atlanta this weekend, where he won the Lites main in 2008—in his first AMA Supercross. Look for the .38 Special, because with some luck and some starts, he should mix it up in the front somewhere.
Also, I talked to Kevin Windham this week, and he's always a pleasure. The interview was posted this morning here, so check it out.
You can also check out my Monday Conversation with Christophe Pourcel here, and my wallpapers from Indy that went up on Tuesday. And before you freak out about my wallpapers, some of those are supposed to be blurry, and since my loaner D3 freaked out on me (I've got a new loaner this weekend while mine's in repair), I had less to choose from this week as I would normally.
See y'all in ATL.
Fox Racing
's
Warren Johnson
sent us this note: "At last month's Phoenix SX, a fan had a replica of the original Moto-X Fox team gas tank. He asked Roger DeCoster to sign it, which he did. Then Roger mentioned to the guy, 'You should have him sign it, he's Pete Fox.' So Pete complied & signed it too and then went on to talked with the fan for a while about old moto times. Very cool!"
David Bailey
was a guest of
Joey Legano
, courtesy of
Mike Hodges
, at Fontana for the big NASCAR race last weekend, "Our passes allowed us to go anywhere so I figured I'd be the fan I am of NASCAR and get a pic with the winning car!" David said. That, of course, was Jimmie Johnson, who is featured in the current issue of
Racer X Illustrated
. Johnson grew up in San Diego and was friends with
Rick Johnson
, Bailey's great teammate and rival. He also raced motocross as a kid, even going out to Ponca City one year.
"Years ago, Rick introduced me to Jimmy when they were both driving Chevy trucks at a test out at Carlsbad," recalls Bailey. "Rick said, 'This is Jimmie Johnson, I think he's going to be pretty good.'" RJ was spot-on! Also on hand was Travis Pastrana.
Vurb Moto has an excellent video interview up by Ryan Walters, featuring TLD Honda's Christian Craig discussing his nearly career-ending back injury. Check it out.

We recently told you about the wonderful work Steve Hudson and the Motor Racing Outreach folks were doing in trying to get food, clothing, and other necessities down to Haiti for the earthquake victims there. Turns out VP Racing Fuels also stepped up and helped the suffering people of Port Au Prince and beyond by covering the costs of fuel for humanitarian flights to Haiti by renowned aerial acrobat Freddy Cabanas and friends. Each plane carried nearly 800 pounds of Pedialyte, premixed baby formula, and other food for the victims of the devastating earthquake. Also, VP Racing's Steve Burns and his wife, Sandi, donated an additional $2,000 to help cover the cost of the supplies. Well done!


Tim Ferry
, who is still on the mend from a busted ankle: "A couple of the young gun Stellar MX riders,
Cullin Park
and
Jordan Bailey,
were out tuning it up last weekend with
Timmy Ferry
, getting ready for Texas, Daytona, and the Loretta qualifiers."
Former pro Chris Ridgway is raising money for Limbs For Life, the foundation that supplied him with what he needed to win races after he had his leg removed. "I'm trying to sell $100 raffle tickets for a 1953 Porsche 356," Chris told us. "Only 2,000 tickets will be sold in total, but as of now, we are not reaching that goal. The drawing is this Saturday. If we reach the 2,000-ticket limit, the Limbs For Life Foundation will literally put 93 people back on their feet with the prosthetics they need. It's such a rad program and we really need help to spread the word. Time is running out for us!"
here
.
Speaking of helping people in Haiti, Racer X publisher Scott Wallenberg is asking anyone in the Boise, Idaho, area to attend the kick-off event for the Idaho Potatoes for Haiti effort. The Feed My Starving Children organization was selected because they produce a Dehy Potato product called Manna Pack-Potato. The goal is to pack and ship 230,000 meals. Scott's band, the Blues Addicts, are scheduled to perform as part of the program. This will be held at 7 p.m. this Saturday night in the Simplot Ballroom at Boise State University.
In last week's Racerhead, we mentioned some pro riders-turned-promoters, but unfortunately, we missed a few:
Ohio native Joe Oehlhof and his wife, Kristen, now operate Competitive Edge MX Park in Hesperia, California.
Reader Phillip Lamb writes: "Privateer hero Scott Davis runs two tracks in Marysville, California, and is rumored to be running the Prairie City OHV track, also known as Hangtown, in the near future. Also, another local pro, Jared Fisher, runs a new track that is also located in Marysville, California. Not sure if this is a record, but there are three different facilities in the same town of Marysville."
Aaron Hansel is just getting started in the moto-journalism field and has written a few pieces for Racer X Online. He now has a new site up and running that you might want to keep an eye on: vision-mx.com.
The Northern California MX community is mourning the loss of the highly respected Jan Houtermans, who passed away on February 12. Paul Swinney sent us this remembrance of Jan:
Jan Houtermans, a native Dutchman, began working as a mechanic in Northern California in the early seventies. He opened Euro-Cycles on his own; the name came to him naturally while turning in the forms for a business license. Jan went on to become an icon/legend in the local MX community. From the beginning Euro-Cycles had only one purpose—to go racing—and Jan lived on that premise for years. There are countless riders who Jan helped over the years, from promising amateurs to some of the best national riders: Kevin Henry, Dave Longcor, eventual 1982 500cc National MX Champion Darrel Schultz, AMA National winner Eric Eaton, Randy Losh, Eric McKenna, Jerome Hieberger, and the all-time wild man of American motocross, Danny "Magoo" Chandler, plus the super-fast Larson brothers, Phil and Mike Larson. "Hout makes 'em scoot!" R.I.P. you've were always a best friend…..
The long list will remember Jan always. Some of us will be gathering to remember him 3/6/2010 12:00p.m. at (where else?) Euro-Cycles. Call 916-988-8322 if you lost your way there. If you would like any additional details or wish to have anything posted at the memorial on your behalf send it to: euro-cycles@southwestmfg.com.
Godspeed, Jan.
Thank you for reading Racerhead. See you at the races.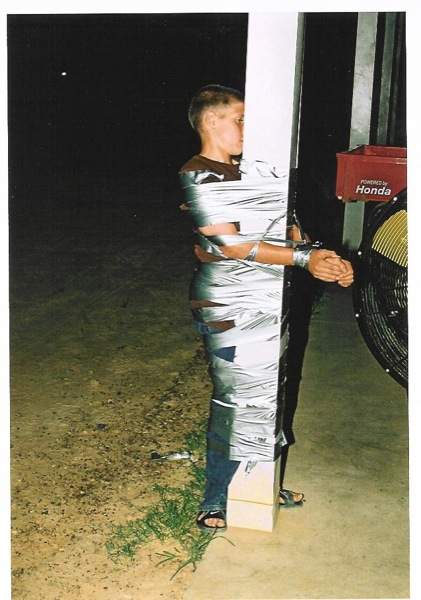 Justin Barcia in 2005, courtesy of Colleen Millsaps