Team T.I.S.C.O. Heads East with Kyle Cunningham
Kingston, IL – DeCal Works, the industry leader in semi-custom pre-printed number plate backgrounds and motocross graphics, would like to take a moment to showcase Roy Thacker's professional motocross team that operates under the Team T.I.S.CO. Racing banner. Based out of Fort Worth, TX, Team T.I.S.CO. Racing is managed by long time industry and racing veteran Ronnie Dement. Ronnie brings a long history of racing experience to the team stemming from almost two decades of the world, professional and amateur racing success he experienced with his own son Jeff Dement. Ronnie has assembled a very diverse team of professional riders for the 2010 season. Casey Hinson is the team's Supercross rider and has had some great races thus far this season, missing the main event by one spot on two occasions. Taylor Painter has raced all the West Coast Lites races and is improving every moto. Ronnie is extremely excited with the progression both riders have made thus far and says he could not be happier.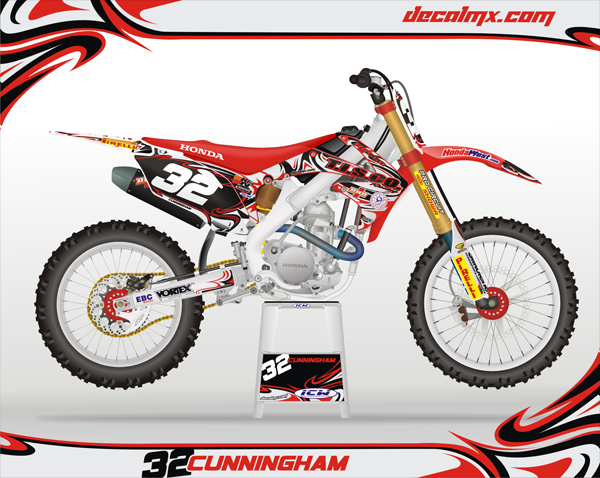 As the AMA Supercross Series moves to the East this weekend in Indianapolis, IN Team T.I.S.CO. Racing is excited to introduce its newest member to the team,
Kyle Cunningham
. Cunningham has a very impressive professional record thus far and Team T.I.S.CO. Racing is confident that Kyle has what it takes to be competitive for that elusive podium finish. Joining Kyle in the Lites class will be Roy's son Michael Thacker. Michael will be using this opportunity to gain the experience he needs to secure a bright future within the sport.
MotoMatt of DeCal Works says that the professionalism this team brings to the sport is rare these days. "Team T.I.S.CO. Racing is a great asset to our sport. In these tough times it is a breath of fresh air to deal with such a well organized team with such a great roster of riders, owned and managed by true professionals. Every sponsor on their graphics is well represented and Team T.I.S.CO. Racing adds value to all their sponsors programs".
Team T.I.S.CO. Racing 2010 sponsors include – T.I.S.CO., NAACO, DR. D Exhausts, Honda West, Silkolene, DeCal Works, Pirelli, MSR, ICW, Vortex, K&N, Oakley, Shoei, SDG Seats, Cycra, Hyde Racing, TCX Boots, Gamble Guest Care and Christian Motorcyclists Association.