Welcome to Racerhead, once again on the road, once again headed to Indianapolis. The East Region is finally upon us, which means a whole new ballgame at Lucas Oil Stadium tomorrow night. The race is going to be shown live on SPEED (thank you very much, Feld!) and the world will get its first chance to see not only
Justin Barcia
on a supercross track, but what
Christophe Pourcel
looks like with a year's experience under his belt on the AMA circuit.
As for the 450 class, it really can't get any closer than it is right now. Three guys within three points of one another after six races, and none of them are named
James
or
Chad
or
Ricky
. It's been a wild season of racing, full of drama and intrigue, rivalries and upsets, and we're only a third of the way through AMA Supercross!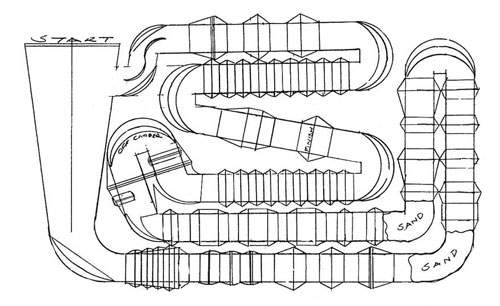 Check out the race tomorrow night at 8 p.m. EST and 5 p.m. PST live on SPEED.
The riders following the 2010 Monster Energy AMA Supercross tour are probably arriving in Indianapolis today wondering how Lucas Oil Stadium got moved to Alaska, or at least that's the way it seems here in the East. The snow has been coming down hard for two weeks now (schools in my hometown have been closed for eight out of the last nine school days!) and Indianapolis was not spared. After six weeks in the Southwest, even with some weather in San Fran and San Diego, this is going to be weather-shock for pretty much everyone! Thank goodness that Lucas Oil Stadium is well-roofed and heated! It's probably the best stadium on the circuit right now, though the new Cowboys Stadium will likely wrestle that distinction away when it debuts on the schedule one month for now.
It has also been a busy time over in Europe, where the first big race of the off-season is already in the books, and heavy favorite
Tony Cairoli
was the overall winner at the Mantova Starcross, to no one's surprise. What was surprising to many was
Mike Alessi
's decision not to race due to a shoulder injury. But he says he's now at 80-percent and will spend the next few weeks getting ready for outdoors – including a race in Valence, France, this weekend that will also feature fellow ex-pat
Jimmy Albertson
.
Okay, here's
Ping
's stuff:
Something is definitely off when the Dirt Wurx guys are saying, "I can't wait until we head east next week... Then we won't have to deal with all this rain!" Isn't California supposed to be the place with the warm, sunny races? As the series heads east for the climate-controlled events with roofs over the tracks, there is a close race for the 450 title, a moderately close race for the 250 West title, and a massive pile of dirty plastic tarps outside Angel Stadium. Seriously, I would love to know what Feld paid Home Depot the past six weeks because I'm sure it's more than most of us make in a year.
The 450 class is basically wide open. It sucks that so many guys got hurt early on, but it's making for some good racing. And how about the East Coast 250 series? Normally, it would be considered to be a little lighter than the west coast when it comes to talent, but I think it might be flipped this year.
Chris Pourcel
is the guy with the lowest number (yes, the Feld and the AMA says he has to wear his #1 rather than his customary #377) but look at the rest of the roster:
Austin Stroupe
,
Nico Izzi
,
Ryan Sipes
,
Martin Davalos
,
Jake Moss
,
Matt Lemoine
,
Justin Barcia
,
Brett Metcalfe
,
Blake Baggett
,
Tyla Rattray
,
Dean Wilson
,
Darryn Durham
,
Kyle Regal
and
Barry Carsten
are just the guys off the top of my head. That is going to be a good series to watch.
Could Pourcel be any more of a question mark? This guy hides out on his couch and only rides occasionally as it is. Now he's coming off a shoulder or collar bone injury and I don't think anyone, including
Mitch Payton
, knows if he's really ready to go or not. Here's what we know for sure: He likes to Jet Ski, he's not a big fan of anything American, and he is crazy talented on a bike. That's about all we know as of right now. Oh, and Mitch did say that he has a new superhero that he is modeling himself after this year. Last year it was
Superman
but he's switched it up for 2010. Maybe after he lost the outdoor title he lost faith in the man of steel. Payton couldn't remember which one it was but I'm guessing it's
Batman
. Or maybe it's
Puffy
, the mascot of a giant French tobacco company. He wears a beret, entirely too much
Jean Paul Gaultier
cologne and defeats lung cancer daily despite chain-smoking unfiltered Gallois cigarettes. (Yes, the last part was a joke and supposed to be funny.)
I was surprised to see the all-time Motocross World Champion,
Stefan Everts
, hanging out at Anaheim with his family. The last time I saw him we were both in leather suits in the pouring rain in Mettet, Belgium... No, not for a techno rave! It was for the International Superbikers event in October. We joked about how crazy it was riding in that much rain and then I think he made a joke about how bad I was once it started raining. Maybe I heard him wrong. I told him that I remembered watching him ride a Suzuki right there in Anaheim back in 1992.
"Oh, yeah, in that awesome Beiffe gear," he joked! I also remembered him dabbling in the DJ business back then. He made a couple of techno albums that were pretty bizarre. We talked about
Ben Townley
and Stefan said that they [KTM Europe] came really close to putting a deal together with Ben earlier this year. He agreed that Townley should be a championship contender in this year's AMA Motocross series. It was good to hear that the greatest GP rider ever saw the same things in Ben that I do.
Little known fact: Stefan's son,
Liam
, is a factory Yamaha rider. That's right, he signed a three-year deal with Yamaha for, wait for it... wait... one Euro per year. They actually signed a contract and everything, though it was meant as a joke. Still, in this economy it isn't that bad of a deal. Stefan said that he has been riding with his son a lot lately.
Lastly, I want to send a quick get-well out to
Max Anstie
. The young Brit took a brutal hit in the heat race at A3 and scared the heck out of me. He didn't move at all from the time he hit the ground and it looked awful from where I saw it. Thankfully, the injuries are somewhat minor and he should be fine in no time. He's been riding great. The kid has a future for sure.
Oh, and a quick wag of my finger to
Jake Weimer
, who clipped Asterisk Medic
Dr. Bodnar
as he came by Anstie's crash. The red flags were waving but Jake and
Trey Canard
were practically side-by-side as they neared the crash. Bodnar walked up to me later with a bloodied, scraped-up elbow from the contact. Mind the flags, guys. Mind the flags. Okay, that's it. Buh-bye.
Here's
Weege
:
Ryan Dungey
started this season riding like a man on fire, and when
James Stewart
and
Chad Reed
went down with injuries, the future looked even brighter for the rookie. But he made a few mistakes and lost a bit of that momentum he had built. How tough is it to maintain the lead all season long when you're a rookie? Well, I decided to ask the only rider who ever won the supercross crown in his rookie season, the all-time King of Supercross,
Jeremy McGrath
. Is Jeremy worried that someone might tie his record of winning the crown in their first shot?
"Well, I am happy on one hand but a little nervous on the other," says MC. "Ryan is a good kid and it just shows how rare winning a title in a rookie season is. If he can tie me and pull it off, I will be happy for him. The best part of records are that they are numbers. You can't take them away.
"I don't see him winning 10 races this year in SX, which I did as a rookie. Nevertheless, he is looking real good and if he does it, we should all be proud of him."
That's good stuff from the King. And in talking with him, I found out one other cool piece of McGrath trivia. MC not only graduated from public high school, but he did it with honors. That's probably a record no other rider is going to match!
That's it, Weege is out the door to Indy, too! Here are
Steve Cox
's weekly thoughts:
I got an email forwarded to me from our GP series organizer Youthstream, and it comes specifically from our old friend
Stefy Bau
, who is the Women's World MX Championship Manager. Stefy sent out an email to all of the prospective participants in the 2010 Women's World Motocross Championship announcing that not only are the ladies going to be riding for free (still) this year, but now they have to pay to race, similar to the men. The cost is 350 Euros per race, per rider, for 2010 (that's about $475 per race, though it is still less than half what the men have to pay in Europe). And if the teams pay the season in full for each rider up front, they get one race discounted. It was explained in the email that this fee is there to help offset the costs of putting together the championships, which most people assume is why there are sponsors in the first place...
Well, not to be super-promotional guy, I want to make the point to the ladies in Europe that here in the USA, we have awesome tracks, and the entry fees are only $125 per race. There is a $5000 purse every race, which right now is only divided among 25 racers, so we have room for more. (For those doing math, $125 times 25 racers is only $3125, so in terms of "off-setting expenses" in the USA, the nearly two grand lost every race on this deal is offset in the proper way – by sponsors and ticket sales.)
To bring it further into perspective, that's twice as much as the men pay in entry fees in the USA, and they get something like a $70,000 purse.
David Bailey
, I've been talking with his dad
Gary "The Professor" Bailey
about his book, "Pioneer to Professor: A Personal Journey Through American Motocross." Well, there are a limited number of these books available, but The Professor has a deal that's too good to pass up: For every book he sells through his
website
for only $20 plus shipping, he will donate $7 to the Riders F1rst Foundation. If you want one of these books, and to help a good cause at the same time, go check it out.
And speaking of good causes, last Friday from 8 a.m. until 8 a.m. Saturday, Kawasaki held its first ever 24-hour training program where all donations were turned over to the Susan B. Komen Breast Cancer Foundation. They had 75 enthusiastic first-timers take part in five different four-hour riding courses throughout the 24-hour period. And there's good news: For all of you that didn't get signed up in time, Kawasaki is determined to see and train all of you, so if you missed the sign-up for the event, but you still want to take part in the training course for a good cause, email
here
and let them know you want to do it. This way, no one misses out.
And a tip of the visor to Feld Motorsports, the Los Angeles Angels of Anaheim baseball team, and all of the people who really got involved and contributed to the Pink Race for the Cure at Anaheim. Well done,
Shasta
!
And finally, for all of the people who were freaking out about
Josh Hill
saying in his 5 Minutes With interview
here
that he thinks he's better than his competition right now, just knock it off. First off, he was joking, which is why it was pointed out that he was laughing during the interview. He was trying to make a point that he has an appreciation of motocross history and idolizes the guys who were racing when he was a little kid. And secondly, make no mistake about it, anyone capable of winning on the top level believes they're better than their competition; it's just that most don't say it. But you can't line up next to 19 other dudes thinking they're all great and still have a realistic shot at winning. That's just how racing works.
Hilly is a really good guy. In the pits, there really aren't any nicer guys than Josh when it comes to dealing with fans, or with the media, or really with anyone or anything. There are some that are as nice, but none nicer. But he's a racer, and racers have to believe they're better than their competition to win. It's just part of the deal. So, I guess what I'm saying is ease up off the throttle a bit and think things through before you go lambasting a guy for stating the obvious. He didn't say he was better, just that he thought he was. Big difference.
That's it from Cox.
Brian Converse
for winning last week's Nuclear Cowboyz VIP passes for the ATL round of the freestyle extravaganza. Brian and five of his family members and friends got the red-carpet treatment at the event, including admission to the after-party, where they got to meet the whole NC crew. Stay tuned to Nuclear Cowboyz' (Cowboyz's? How do you make possessive a word that ends in Z but the Z is replacing an S that serves to make the word plural?)
Facebook
page for future ticket discounts and contests.
Caption: The Converse family with Nate Adams at the after-party.
Add
James Povolny
's name to the list of professional riders who began a second career as motocross promoters. Povolny and his wife Donita just took the reins of Horseshoe Bend MX, which is located in Owenton, Kentucky. The park is a complete motocross practice, race and training facility for its membership, but their
website
says they will also have dates for open practice and race events coming up.
The facility boasts two motocross tracks, a supercross track (professional and expert riders only) and a kids' training track. For more information, check out the website, or Google Earth it right here:
Horseshoe Bend MX
9810 Hwy 355
Owenton, KY 40359
Who are some of those other pro-riders-turned-promoters?
Larry Wosick
(Honey Lake in NorCal),
Trampas Parker
(Desoto Raceway in Shreveport, Louisiana),
David Hand
(Ravenna in Ohio),
Ryan Hughes
(Rynoland in SoCal),
Robbie Reynard
(Reynard Raceway in Oklahoma),
Bobby White
(Arizona Cycle Park outside Phoenix), and
John Martin
(former off-road factory rider who now owns Spring Creek in
Millville
, MN).
From time to time, I mentioned the old Appalachia Lake Motocross Park. Check out this old flyer my friend
Jeff Greenberg
sent!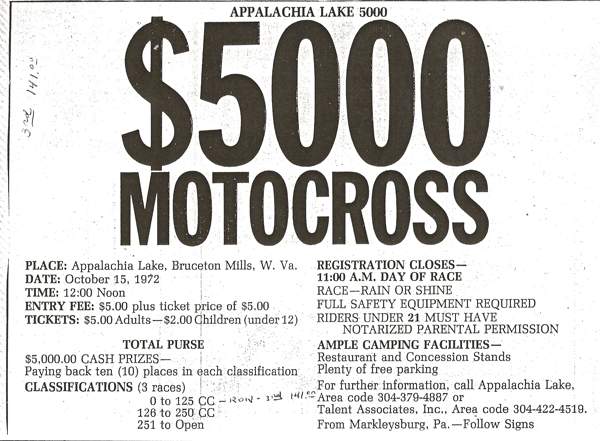 Chase Borders
was a promising rider from the southeast who suffered a life-changing neck injury just 24 hours after he graduated from high school. That was four years ago. Chase and his father
Johnny
are doing the best they can to get by, keeping a positive outlook and making the drastic adjustments in their lives that came with this devastating turn of events. You can follow Chase's progress right here on the new
webpage
he has built:
And for those wondering how to do it, here it is: How to load a KTM:
Okay, that's it from the road to Indy. Thanks for reading Racerhead, make sure you watch the races this weekend live on SPEED! See you at the races.