Bobby Bonds Injury Update
Bakersfield, CA:
Bobby Bonds
' season has had a slight set back due to an injury he received Saturday night while competing at Round #6 of the 2010 Monster Energy Supercross series. At Anaheim this past weekend, Bonds was doing this kicker section right before the triple, and on lap 3 or 4 of his heat race while running 10th, he hit the infamous neutral which catapulted him over the bars and into the face of the triple ahead, breaking his collarbone and ending his night early and most likely putting him out of Rounds 2 and 3 of the WORCS series.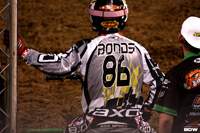 Says Bonds: "This is something I definitely hate is when accidents happen over simple obstacles. I was having fun doing these supercross' on my off time from WORCS and making money at it as well. I'm just bummed for my sponsors and myself. I felt I had this year dialed in, and while Round #1 was a fluke with the fuel issue, I felt I had a decent shot to bounce back and remain consistent with the rest of the season. Now, with the collar bone, I might be out until at least Round 4 (Adelanto, Ca). Jason immediately got ahold of Dr. Cohen Sunday morning, an orthopedic surgeon out of Modesto, Ca with the help of Steve Achey and Marc Prince. I see him Tuesday morning and find out exactly what he wants to do. I just want to say again, how bummed I am about this, but at least its not a career ending or season threatening at this point. Like I said earlier this month, I'm more driven than ever and will be back soon. Thank you to my sponsors and everyone for your support and I look forward to seeing you out at the races."