A word that Ricky lives by everyday, "Perseverance" probably best sums up his weekend at Toyota Speedway at Irwindale. After turning some very competitive lap times in each of his practice sessions on Thursday evening and Friday afternoon it was discovered that his car had a mechanical issue. His team of Dean Kuhn, Steve Durler and Kenny Pariza worked late into the night to try to repair the damage. Saturday morning it was determined the engine could just not be repaired at the track so Ricky pulled his entry from the event.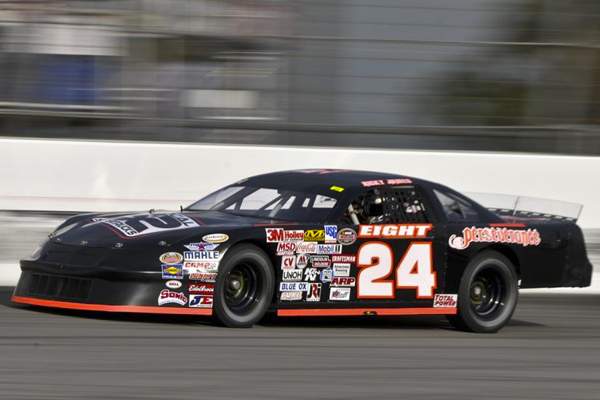 Photo: Cox
After hearing of Ricky's dilemma, in an incredible gesture of sportsmanship, Mr. Clay Wooster approached Ricky and offered the use of his team's spare engine. After some discussions with the Management Team of Toyota Speedway and the NASCAR Officials, Ricky was given the clearance to re-enter the event if he could have his car repaired and through tech inspection in just a few hours. His team went to work and had the engine changed out and the car prepared for the race in short order.
Ricky was placed at the rear of the starting order (47th place) due to his late entry. His plan was to try and stay out of trouble for the first 25 laps and then start making his move. By lap 36 he was in 23rd position and really starting to get his rhythm. During a restart on lap 37 Ricky was collected up in a 6 car wreck on the front straight which was unfortunate since his SoCal SuperTrucks/Dean Kuhn Racing prepared #24 Whelen Late Model was getting faster as the race progressed and Ricky was on a mission to the front of the pack.
A huge thank you goes out to Mr. Clay Wooster, The entire staff of both NASCAR and Toyota Speedway, SoCal SuperTrucks, Alpinestars, Dean Kuhn Racing, Steve Durler, Kenny Pariza, James Weston and Auto Pro Racing Engines, Total Power Racing Batteries, Racing Plus and Sunset Graphics.
www.rickyjames824.com