Suzuki City Announces 2010 Team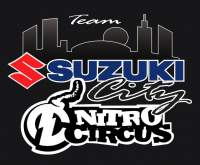 Biloxi, MS
– Team Suzuki City is pleased to announce their 2010 race team line up. The 2010 team will include
Steven Clarke
and
Matt Lemoine
, who will contest the East Coast Supercross Lites Championship Series as well as the AMA Outdoor Lites Championship Series. Sherri Cruse will compete in the Women's Motocross Championships.
This is Team Suzuki City's third year in existence and with each year the team has gained momentum and improved their race results. In 2009, Team Suzuki City riders placed solidly inside the top ten of the AMA East Coast Lites Championship Series.
Steven Clarke
is returning the Team Suzuki City in 2010 and has high expectations for himself. Clarke said, "Everything is coming along great. I'm healthy and looking forward to Indy. If I ride to my potential, I know I can easily come away top 5 in points."
Matt Lemoine
, new to Team Suzuki City is anticipating an awesome 2010 race season. "I'm 100% happy, the team is great. The guys have done everything to make the bike exactly what I want. I'm looking forward to Indy so we can get to racing," said an excited Lemoine.
Sherri Cruse finished third overall in the 2009 Women's Motocross Championship is also new to Team Suzuki City this year. Full of enthusiasm, Sherri said, "I am really excited about being part of Team Suzuki City. I think with their bike and race knowledge we are going to have a great season. I especially like working with creative and positive people and am happy to be representing women's pro motocross on the team"
Team owner, Michael Nasakaitis is looking forward to the 2010 race season, "Everything is going great with the team, the guys are riding well and are ready for Indy. The whole team has worked really hard to prepare for this season, and with Matt, Steven and Sherri on board, I know this is going to be a terrific year".
Suzuki City is also very excited to announce their partnership with Nitro Circus for the 2010 race season. This is an exciting venture for both Team Suzuki City and Nitro Circus. Nitro Circus has become one of the most recognized brands in the action sports world.
Travis Pastrana
and his crew's action adventures have become as much mainstream entertainment as Supercross racing.
Andy Bell, Nitro Circus "Partnering with the Team Suzuki City SX team is an exciting move for Nitro Circus as the entire Nitro crew are huge SX fans. The partnership made even more sense considering team riders
Matt Lemoine
and Sherri Cruse are both close friends of the Nitro Circus family, having appeared on multiple episodes of the show throwing down some pretty big stunts of their own."
Nasakatis adds, "We are excited to be working with Nitro Circus, the level of excitement they bring to everything they do is unbelievable".
Look for Team Suzuki City riders Cllarke, Lemoine and Cruse to bring home great results in 2010.
Team Suzuki City Nitro Circus sponsors:

Suzuki City, Biloxi, MS; Nitro Circus, www.suzukicityracing.com, Parts Unlimited, Moose, Dunlop, Sunstar, Renthal, Renegade Racing Fuels, K&N, RG3 Suspension, Shoei, Crower Performance, TLR Performance, Motion Pro, Boyesen, Alpinestars, Thermo Probe, Hansen & Associates, MGX Unlimited, Mishimoto, CV4, Two Brothers, ICW, Crew Wear, Millenium, Stomp Grip, Bravo Condoms, Renthal, KG Clutches, and Skull Candy.
About Suzuki City:
?Suzuki City is a full-line Suzuki dealership based in Biloxi, Mississippi, which offers a complete line of Suzuki superbikes, sportbikes, cruisers, dual-sport bikes, motocrossers, dirt bikes, and ATVs as well as a big selection of parts, accessories, and apparel. They also offer engine and suspension services


Cruse's additional sponsors include: Parts Unlimited/Thor MX, NTS Inc.,

Roxy, Von Zipper, RK Chains/Excel Rims, Leatt Neck Braces, Rekluse, Vortex and ODI Grips.
For sponsorship opportunities, e-mail
suzukicity@bellsouth.net