A2 Pre-Race Injury Report
Chad Reed – Hand
Comment: Reed had surgery on Monday to repair his broken left hand. He had a plate inserted and will be out for at least six weeks. Read Kawasaki's official PR here.

James Stewart – Shoulder/Ankle
Comment: In his online video posted earlier today, he said, "I'm pretty sore. Both of my shoulders and my ankle…but I'm healthy enough to go and race next weekend."

Nate Adams – Thumb
Comment: Dislocated his thumb following Anaheim 1. Will not return to supercross in 2010.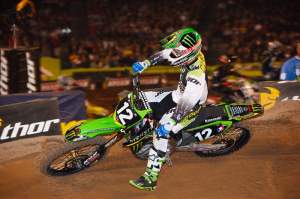 Trey Canard – Foot
Comment: Canard sprained his foot on the first lap of his qualifier in Phoenix, which obviously affected his performance throughout the night. He will be racing Anaheim 2.

Jake Weimer – Foot
Comment: "I landed right on my arch, and I'm pretty sure my toes touched my heel," Jake said in our Monday Conversation. "Initially, when I did it, I was like, 'Oh, great, there goes my season! My foot's broken!' I'm okay, but man, it's painful."

If we missed something or have an update, shoot us an e-mail to letters@racerxonline.com.

Previous injuries:

Josh Grant – Shoulder
Comment: Underwent surgery last Friday and is recovering

Dan Reardon – Head
Comment: Sat out Phoenix to recover and will be racing this weekend in Anaheim.

Topher Ingalls – Ankle
Comment: According to his website, Ingalls suffered a broken ankle in the second qualifying practice at Anaheim 1 and underwent surgery on Tuesday. A plate and screws were inserted to aid in recovery. No word on when he'll return.

Brett Metcalfe – Sprained Ankle
Comment: Moved from Western Coast Lites to East for the GEICO Powersports Honda team.

Christian Craig – Broken Back
Comment: Currently has rods in his back and won't be back on a bike for well over a year.

Matt Goerke – Broken Right Leg
Comment: The latest we heard is that he'll be try and be back by Daytona, but more than likely Jacksonville or Houston.

Matt Moss – Broken Back
Comment: Recovering well and is expected to race most of the SX season. Prognosis is positive.

Jake Moss – Wrist
Comment: Injured at the opening round of the Australian Super X Series.

Dean Wilson – Thumb and Shoulder
Comment: Should be 100 percent ready for the Eastern Regional Lites opener on February 20, 2010, in Indianapolis. Josh Hansen will be taking his place on the Monster Energy/Pro Circuit Kawasaki team alongside teammate Jake Weimer.

Steven Clarke – Wrist
Comment: The Suzuki City rider started riding a few weeks ago after breaking his wrist in the off-season. He will be 100 percent for Indianapolis.

Teddy Maier - Leg
Comment: Teddy broke his tib/fib while training at MTF. It actually bent the rod in his leg from a injury last year. He's working hard to get healed up and is planning on being ready for east coast supercross.

Christophe Pourcel - Collarbone
Comment: Broke his collarbone while practicing at his home track in Florida, but should be 100 percent in time to defend his Eastern Regional Lites championship starting in Indianapolis.