MONROE, N.Y. – As the some of the worst storms in past decade continue to slam southern California with torrential downpours, flooding and gusting winds, the site of this weekend's third round of Monster Energy AMA Supercross, an FIM World Championship, is, rest assured, in good hands as supercross fans anticipate the arrival of the second of three Anaheim SX installments on Saturday (Jan. 23).
With 18 years experience dealing in the highest level of stadium supercross track design and construction situations – many not unlike the one southern California's facing right now - Dirt Wurx USA, in cooperation with Feld Motor Sports, went to some amazing lengths this past weekend to insure the best possible racing surface for the upcoming race. While crews thrashed in three different cities this past weekend in order to pull off not only the Phoenix supercross, but also monster truck events in both Anaheim (Calif.) and Tacoma (Wash.), Dirt Wurx USA's staff ended up pulling off a herculean feat in bringing the Anaheim 2 SX track together early.
As major rain pounds southern California while you read this – some predicting as much as eight inches of rain throughout the week – Rich Winkler and the Dirt Wurx USA crews completed the Anaheim track by this past Sunday night and had it covered with plastic when the rains hit Monday.
"We'll literally took half our crew from Phoenix and sent them back to California before the gate even dropped on Saturday," said Winkler. "They got to Anaheim and teamed with our monster truck guys who were already on-site, started pulling the crushed cars off the floor Saturday night and worked through Sunday night to finish the Anaheim 2 track. The rest of the crew, including Feld's operations team, loaded the starting gate in our truck and the Tuff Blocks, stage structure, other Monster Supercross enhancements and signage into seven of Feld's semis and high tailed it out of Phoenix on Sunday morning to help finish the track on Sunday afternoon. Then it's was all-hands-on-deck to get the track covered for Monday's rains."
Winkler said he and his guys have built tracks fast before, but added: "This was the fastest-ever full supercross track build we've done – by far. It was a joint plan between Dirt Wurx USA and Feld Motor Sports' Director of Supercross, Dave Prater, to be proactive in the face of the incoming weather in an effort to preserve the best possible racing surface for this Saturday."
With the track now complete, including structures, towers and banners, Dirt Wurx USA worked to dig down to the road base on the track's infield to improve the drainage. Ten truck loads of coarse sand mixed with a drying agent is on hand and ready to be spread in areas where they'll have to remove mud prior to Saturday's race.
"Again, we're doing everything we can under the circumstances," said Winkler, who gave a good deal of credit to Dirt Wurx USA's longtime dozer operator, Norm Bickley, and his foresight of the impending weather situation. "At times it's like a waterfall coming down the stands and onto the field … our guys have been standing in the low part of the tunnel (right at the field level) with water up to their knees and were pumping what they could out of a six-inch hose into the parking lot.
"We're hearing the weather's supposed to clear on Saturday and be in the 60s, so the race will come off without a hitch despite the conditions this week."
DIRT WURX USA - the premier SX/MX track design and construction company in the world - is the exclusive supercross race track design and construction firm for Feld Motorsports and the Monster Energy AMA Supercross Series. With more than 18 years of global experience in the field, DIRT WURX USA's highly talented crew of designers and heavy equipment specialists not only build the world's most visible tracks, but are also accessible for affordable track design and construction at the local level. For more information, please visit www.dirtwurx.com
High Profile Public Relations, LLC is a multi-faceted communications agency specializing in strategic media relations - both industry and mainstream - for the powersports and action sports communities. Dialed in with all forms of power and action sports, its participants, manufacturers and live event promoters, HPPR's Pat Schutte can be reached at (734) 369-2170 and pat@highprofilepr.com. For more information, please visit www.highprofilepr.com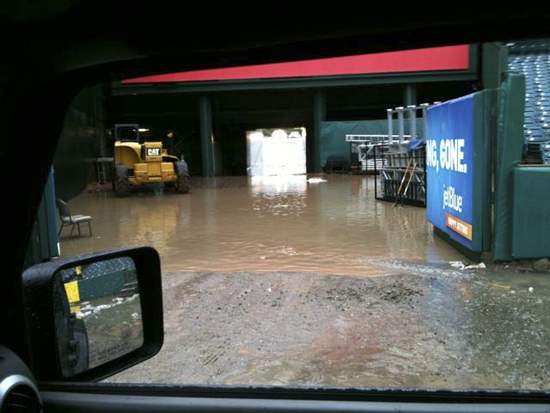 The tunnel heading down to the track from the pits.